26
Nov
2005
Details

Category: Community
Written by Meres J. Weche
An interview with the founders of Unleashed Legacies
"We at Unleashed Legacies believe in making a difference. Basically what we're doing is not really to make money, but to make history. … There's certain people that are here for a reason. Based on what you do in life, later on, you'll be remembered. What we're doing right now is something that was not in place, but yet, we did show that it could be done. We are a legacy!"
- Stanley Lilavois, Unleashed Legacies
It was clear from the outset of my meeting with the founders of Unleashed Legacies that there was a genuine purpose and vision behind their chosen name. This young and dynamic entertainment company has not only envisioned the future and are going for it, but they are likewise determined to build a legacy while carrying the cultural torch of those who have come before. Their goal? The promotion and sharing of Creole culture right here in Toronto. As one of the founders of Unleashed Legacies, Stanley Lilavois, says:"There is a big Creole community up here in Toronto. That's why there are a few radio stations that are broadcasting. We have people from Dominica, St-Lucia, Martinique, and Haiti. These are all people that also speak Creole and also listen to Creole music. So yes, there is a need for Creole music, for Creole bands to come up here and perform for them. Usually, they have had to travel to Montreal. But we can now bring that to them."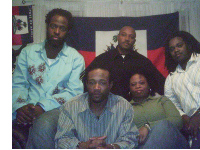 >> The Unleashed Legacies Crew (left to right): Jimmy Aristide, Amir Sénat, Stanley Lilavois (back), Lydia St-Joseph, and Patterson Louis-Jean.
Stanley Lilavois recalls not seeing much around Creole music happening in Toronto five or six years ago after moving here from Montreal. So through his wife''s already existing company, Creole Creations, Lilavois came up with Unleashed Legacies. Since it was a brand new company, he created exposure for Unleashed Legacies by making it the title sponsor behind Creole Creation''s 2002 Caribana successful project to bring superstar Haitian Kompas artist Sweet Mickey.
Likewise, around the same time, Patterson Louis-Jean recalls feeling the same urgent need to do something about promoting Creole culture in Toronto. Quoting Louis-Jean: "Just the fact that going to a few Caribanas at that time, there was nothing Haitian ,,, sometimes it was even more about the Americans coming. I was quite frustrated about that so a team of friends and I just decided that we had to make sure that the community and Haiti was represented well on Caribana. That's how we came out with a food booth to make sure that the Creole taste was represented."
Essentially, that''s how the various members of Unleashed Legacies met and joined forces. Each had their own strengths and talents, but the combination of forces has resulted in a truly potent formula.
Despite that palpable lack of profile for the Creole community which they are working diligently to remedy to, the Unleashed Legacies team is greatly aware of the fact that what they are mainly doing is promoting and facilitating the "continuation" of a Creole history that runs deeper than many might think in Toronto. As Unleashed Legacies'' newest member Jimmy Aristide points out: "A good aspect of working with Unleashed Legacies is that we finally get to meet the pioneers. The Haitian pioneers, who have been here for thirty years. When I came here (3 years ago), I didn't think there would be Haitians who had been here for thirty years. To me that was not possible. Haitians, to me, gravitated more towards Montreal or New York from the '60s and '70s on after the first migration. Nobody came directly to Toronto. But by being around Unleashed Legacies, I'm discovering that we Haitians have been there for thirty-some-what years. … I've worked with their kids and they say: "I was born here." … And by being involved with Unleashed Legacies, doing that kind of work, the people come out of the wood works. It gives them an opportunity to come out and enjoy Kompas music from the good old days."
All this is essentially what''s behind the name in itself of Unleashed Legacies. As Stanley Lilavois points out: "The name itself is self-explanatory. It's an unleashed legacy. Basically, it's anything that's been around for many years like music and culture that we are unleashing. ... Anything that has to do with Creole culture. ... Various Creole people have been around for centuries but, up here, there's a tendency to forget where we come from. So unleashed legacies is about anything from that cultural legacy which we forget about and we try to unleash it. Reminding people that we're still around. It doesn't necessarily have to be music. It could be culture, art, books, anything that's been around and which we aren't doing anything about."
To those ends, the Unleashed Legacies group has been instrumental in keeping Creole culture alive in Toronto by bringing to this city live Creole bands. This coming week-end, they are bringing a Florida-based Kompas band named Fahrenheit (click here for details). The buzz around the event has been tremendous. The enthusiasm has not only been confined to the Creole community but is also generating genuine interest in the African, Latino and general Caribbean communities. This is their third live band event. What distinguishes Unleashed Legacies from others who have hosted Creole DJ nights or events in the city over the years is that Unleashed Legacies is dedicated to "consistently" continue to not only hold DJ nights but they have also become the main group bringing Creole bands to Toronto on a consistent basis. "We want to be part of history. That's why we keep it going even though there's no money in it" says Lilavois.
In their efforts to bring Creole music to as many cultures as possible in Toronto''s multi-cultural mosaic, Unleashed Legacies always makes sure that there is a good varied mix of music at all their events. As they proudly say: "We try to bring the culture to every other culture. Because at the end, music is one." Moreover, Stanley Lilavois specifies: "In all the events that we do, we play all kinds of music. Wherever you're from, you're not going to feel left out. But you will be exposed to Creole music."
So what''s in the future for Unleashed Legacies? They are quick to let us know this is only the beginning: "The company itself is incorporated as an entertainment company, but we have a branch for videos, movies, and also clothing … Right now, we're concentrating on the events part only -- promoting the Creole culture. But later on, we're planning on introducing the people to much more. We want to go as far as even producing a movie. Maybe write a book about the Creole community up here. There are lots of projects that we have in mind."
So stay tuned people! Or better yet, kimbé la ...

Info:
Come celebrate the sounds of the Caribbean and Africa with Fahrenheit and DJ Moussa at The Primrose Best Western (111 Carlton Street) on December 17, 2005
Dance to Kompas, Makossa, Zouk, Soukouss, Coupe-Decale and more.
Tickets are $25 in advance and doors open at 9:30 pm. Part of the proceeds will go to Third Word Awareness. For tickets information please call 416.433.0643 or This email address is being protected from spambots. You need JavaScript enabled to view it.