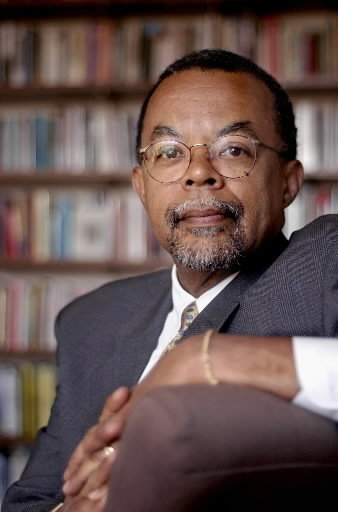 A renowned scholar and literary critic, Dr. Henry Louis Gates Jr. exudes an infectious enthusiasm for genealogical research, the arts, and life. As Director of the W.E.B Dubois Institute for African and American Research at Harvard University, Dr. Gates is in the unique position of being a historian, producer and cultural commentator. In each of these roles the central theme underlying his work is one of commitment, a loyalty to unlocking the pieces of the puzzle of our collective roots but more specifically african roots. Housed at the Du Bois Institute's archives are 26,000 images of black people in Western art, it is a collection created by french art collector Dominique de Menil.
According to Dr. Gates, Madame de Menil and her husband relocated to Texas in the 1960s and embarked on a mission to showcase exemplary images of africans in European art. What was intended to be a modest under-taking resulted in an extensive collection of images from classical Greece and Rome to the 21st century, highlighting African nobility, writers and scholars.
As the key speaker at the Eva Holtby Lecture at the Royal Ontario Museum, Dr. Gates' passion for the collection is evident. He praises the effort of de Menil who wanted to show only positive images of Africans, but also makes an argument for including the not- so -positive representations to provide a complete retrospective of African representations in the arts. The most fascinating discussion of the evening focused on his final selection, Les Demoiselles d'Avignon or The Young Ladies of Avignon by Pablo Picasso. In this painting, Picasso uses African masks in an evocative portrayal of five women in a brothel.
Dr. Gates is also known for his PBS documentary series African American Lives which uses genealogical resources and DNA testing to explore the genealogy and history of prominent African-americans, from Malcolm Gladwell to Tina Turner, Quincy Jones to Oprah Winfrey.
So being treated to scenes from Dr. Gates' latest series Faces of America, was a pleasant addition to the evening. In the show he unravels the genealogy of Dr. Memhet Oz, Meryl Streep, Stephen Colbert and Eva Longoria-Parker. We learn Eva''s ancestors arrived from Spain before the Mayflower even reached America''s shores and we also learn that Kristi Yamaguchi''s grandfather enlisted in the army at a time when it was virtually unheard of. These clips were mere glimpses into a body of work that provides a fascinating look at nation building, race and the nature of past historical discourse.
Dr. Gates' engaging presentation ended with an eloquent proposal for an epitaph, one which highlights his commitment to uncovering the truth of our collective history.
His legacy will not only include his work in genealogy but the impact his discoveries have had on how we see ourselves as a society. Hopefully, discussions on race relations and our history will no longer engender cultural polarization when proof of all our contributions have been made public, when we are all aware of the rainbow of ethnicities that came together to create who we are today and the communities we now live in.