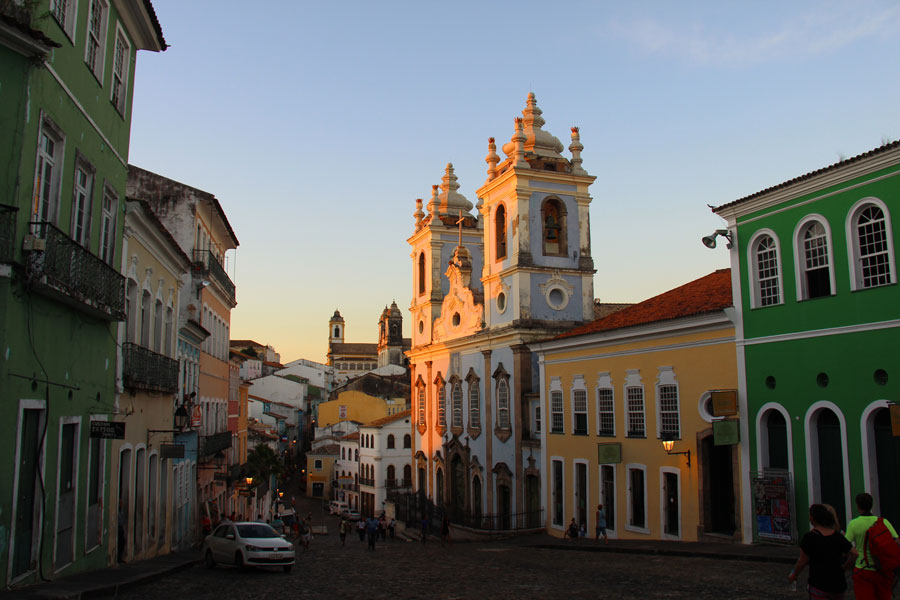 Earlier this summer, I realized my longtime dream of visiting Brazil. Of course, I made sure to check off the old bucket list the obvious highlights such as Rio de Janeiro's Copacabana and Ipanema beaches, the Christ the Redeemer statue, and even the colourful Escadaria Selarón (Selaron Steps) featured back in the day in Snoop Dogg and Pharrell Williams' video, Beautiful. But my trip to Brazil wouldn't have been complete without a visit to Salvador de Bahia – the birthplace of Afro-Brazilian history and culture; as well as one of the oldest colonial cities in the Americas. From 1558, Salvador became the first market in the so-called New World taking enslaved Africans from the transatlantic slave trade to work on sugar plantations.
The capital of the Brazilian northeastern state of Bahia, Salvador is the country's third largest city following São Paulo and Rio de Janeiro. After catching a two-hour domestic flight from Rio, a taxi ride took my wife and I on a 28-kilometer journey through the city to our hotel in the historic Pelourinho district. Listed as a World Heritage Site by UNESCO since 1985, this Portuguese colonial section of town has a unique vibe with its cobblestoned streets, bright coloured buildings and abundant street art.
It's hard not to immediately feel the sense of culture, history and pride of the local residents in their African roots. Around 80% of Salvador's population is of African descent, Black or mixed race. Salvador has been a major hub of Brazil's growing Black pride movement. Despite being home to the largest Black population outside of the African continent, and half of its population identifying as Black or mixed race, Brazil has long been struggling with the negative effects of colourism.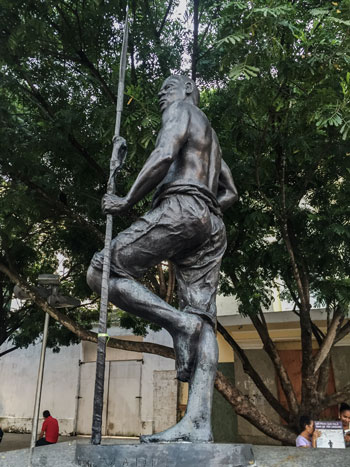 In recent years, the Brazilian government instituted National Black Consciousness Day. Held on November 20th, the day celebrates Zumbi dos Palmares – who was a 17th century African liberation fighter and Maroon leader of fugitive settlements (known in Brazil as quilombos or mocambos) – from the modern-day Brazilian state of Alagoas. A symbol of freedom to this day, a monument honouring Zumbi stands in Salvador. Many celebrations and cultural events take place in Salvador on National Black Consciousness Day and throughout the month of November.
Strolling through the streets of the historic district, it's easy to see why Salvador de Bahia is considered a unique place in the world where the heritage of enslaved Africans has been the best preserved.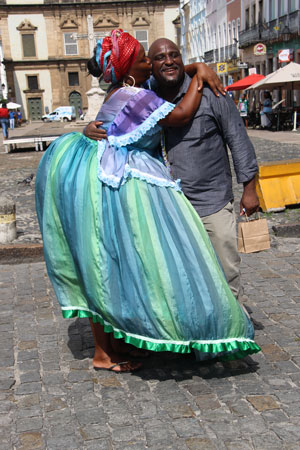 There is an abundance of cultural centres, music schools, dance groups and capoeira practitioners. Baianas, dressed in the "white of Oxalá" from the Candomblé religious tradition, can be seen everywhere. They are often found selling a local snack called tabuleiros do acarajé. It's a recipe comprising of palm oil, okra and shrimp tracing its origins from West Africa.
In addition to the cuisine, music and dance, Salvador's African roots are still strongly evident in the population's cultural and religious practices. The enslaved Africans brought to Bahia by the Portuguese were mainly from the Yoruba people (present-day Nigeria) and also belonged to the Igbo, Fon, Ewe, Kongo and Bantu ethnic groups. Today's Afro-Brazilians in Salvador hold ancestries from Angola, Benin, Congo, Ethiopia, Nigeria, Senegal and Mozambique.
As a form of resistance against forced conversion to Catholicism, the enslaved Africans preserved their religious belief by developing a syncretic religion known as Candomblé. Originating in Salvador de Bahia, Candomblé absorbed elements of Catholicism into traditional Yoruba beliefs. Yoruba deities were secretly worshiped in the form of Catholic saints. To this day, Candomblé rituals are performed in Yoruba, not Portuguese. Moreover, the houses of Candomblé far outnumber the Catholic and other Christian churches in Salvador.
[powr-multi-slider label="Enter a Label"]
The other side of the tourist brochure
The fact cannot be lost that Salvador is the second most popular tourism destination in Brazil after Rio de Janeiro. This essentially means that Afro-Brazilian culture is big business in town. I must say that it sometimes felt like I was visiting a "plantation resort."
The beautiful colonial style hotel set in a 17th century building where we stayed had Afro-Brazilian staff but the establishment was bought and renovated by a couple residing full-time in Europe – the woman is Brazilian and her husband Italian. A beautiful coffee shop we visited, doubling as an upscale souvenir shop selling African art, also happens to be owned by a Spanish entrepreneur who additionally opened both a travel agency and restaurant around the corner.
The political and economic realities are stark.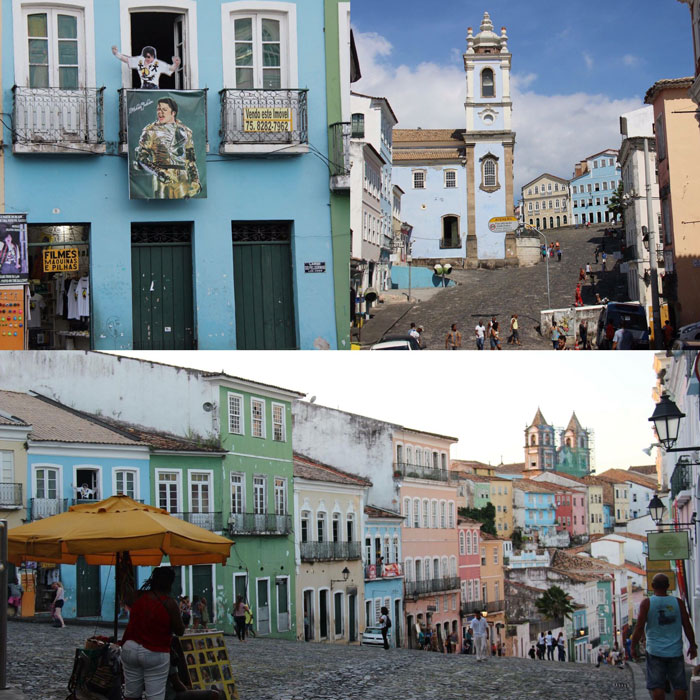 Reports show that Whites in Salvador earn 3.2 times more than Blacks. An overwhelming majority of the Salvador city council members, as well of the rest of the political class, are White. Other studies at the national level demonstrate that Afro-Brazilians make up only 17.7% of Brazil's wealthiest group, known as "Class A," and disproportionally comprise of 76.3% of the poorest section of society, "Class E."
Given this context, it's not surprising that poorer and racially marginalized residents seek to benefit from tourism traffic the best way they can by selling various arts and crafts items. Capoeiristas and Olodum drummers also regularly perform to earn a living from visiting tourists. In an obvious attempt to protect Pelourinho's status as the municipality's bread and butter, there's a strong presence of militarized "tourism police" patrolling the narrow streets day and night.
Despite these social ills, there still remains, at the base, a strongly felt commitment by Salvador's Afro-Brazilians to preserve, celebrate and share a positive representation of the Candomblé religion and their African culture -- which has survived through the centuries. In the words of João Jorge Rodrigues, the president of Brazil's most famous Olodum drumming band, based in Salvador:
"The religion is the basis of our music, from the rhythms right through to the way we sing. The fans elsewhere in the world don't understand our lyrics but they can feel the energy of the sound. The whole world understands our drums!"
Getting around
Visiting Salvador's historical district is easily doable on foot. The cobblestoned roads going up and down relatively steep hills are filled with great coffee shops, restaurants, art galleries, churches and museums.
As per my usual travel experiences, I made a point of going outside of the beaten path to explore the real Salvador beyond the touristic Pelourinho district. Public buses located near one of the main squares offer a cheap and effective option to venture into the main town.
One of the buses going downtown also goes all the way to the airport. It's a much cheaper option than a taxi and also stunningly beautiful scenic route travelling along the seashore. Salvador is also known for its splendid beaches. While taking the airport bus is definitely worth the sightseeing tour, it's a long two-hour journey. So make sure to factor in enough time not to miss your flight back.
Before leaving Salvador though, make sure to make a stop at the Afro-Brazilian Museum (Museu Afro-Brasileiro) located in the Pelourinho district. It houses Bahia's main collections of wood carvings, pottery and other artwork from Brazil's African artistic traditions.