14
Feb
2011
Details

Category: Music
Written by Patricia Turnier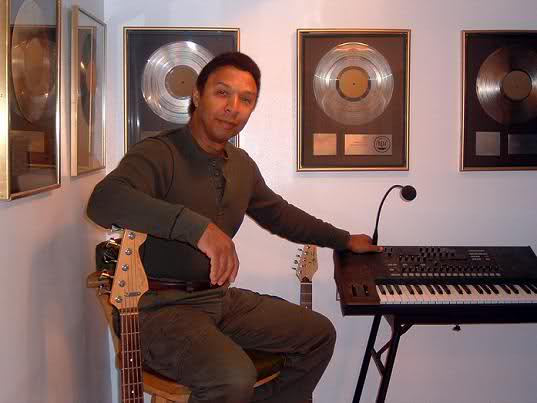 Chris Jasper (born Christopher H. Jasper, Cincinnati, Ohio) has been involved in music since his childhood. At age seven his mother noticed that he was a gifted musician and could play Motown's songs by ear on his piano; she encouraged him to take piano lessons. The Isley Brothers[1] and Chris Jasper grew up on the same block in their native Cincinnati. In 1959, the group scored their first big hit, ''Shout,''[2] (a soul single that reflected the call-and-response style of gospel music and the vocal style of the group) and their second big hit "Twist and Shout" later covered by the Beatles in 1962[3]. More hits followed such as ''This Old Heart of Mine (Is Weak for You)'' with Motown Records in 1966, produced by the Dozier&Holland team.
In 1969, the Isleys got a manufacturing and distribution (custom label) deal with Buddah Records and later with CBS Records in 1973. That same year, Jasper became an integral member of both The Isley Brothers and later Isley-Jasper-Isley. Jasper''s first appearance on an Isley Brothers album was 1969''s It''s your Thing. This funk-flavored single became a major success in the summer of 1969. Between 1969 and 1971 other great funk successes were released with Jasper's contribution, such as "Work to do" and "Get into Something". His keyboard and Moog synthesizer work became a primary ingredient of The Isley Brothers sound of the 1970s and 1980s. This period was the gold and platinum years of the group from the "3+3"[4] (1973) to "Go All The Way" (1980) albums. These CDs mixed soul with elements of folk rock and funk rock. On the "3+3" album, Chris Jasper co-wrote with Ernie Isley "That Lady" which became a hit reaching number six on the Hot 100 and number fourteen in the UK. Their follow-up song, "What It Comes Down To" was a top five R&B hit. "Live It up"[5] (1974) and "The heat is on" (1975) delivered social messages regarding problems that African-American were encountering. During this time, Jasper had an opportunity to work with synthesizer pioneer Malcolm Cecil, who was a key influence for Stevie Wonder on his album, ''Music of My Mind''. It is important to add that these were the years when The Isley Brothers were a self-produced and self-contained major recording act. Chris Jasper contributed to the writing and production of the group's music during this period, including great love songs such as "For The Love of You Pts. 1&2" and "Between the Sheets". The group later released other hits like "Harvest for the World" and "Fight the Power Pts. 1&2" (the latter was co-written by Chris Jasper and Ernie Isley, also produced by Chris Jasper). Fourteen years later, this song became another success when a more militant rap version was recorded by the group Public Enemy. "Between the sheets" a classic funk song released in 1983 was later sampled by Notorious B.I.G. with "Big Poppa".
In this respect, the classically-trained background (from the prestigious Juilliard School of Music in New York City) of Jasper with an expertise on the keyboards with Moog synthesizers are the foundations of the legendary "Isley Brothers Sound". Thus, Jasper is a classically trained musician and composer. In addition to his education at Juilliard, he received a degree in music composition from C.W. Post, Long Island University, New York, where he studied with the jazz pianist and composer, Billy Taylor. Jasper also earned a J.D. at Concord University (School of Law).
In 1984, Jasper and the younger Isleys (Marvin[6] and Ernie Isley) left The Isley Brothers to form the splinter group Isley-Jasper-Isley. Their first release was ''Broadway''s closer to Sunset Boulevard'' (including the popular track on U.K. soul radio ''Can''t Get Over Losing You''). Chris Jasper brought his special sound and musical talents to the new group. Jasper sang lead vocals on the group''s biggest hit, "Caravan of Love" (1985) which was covered later by English recording group, the Housemartins, an international number 1 pop hit. "Caravan" was also used in commercials as part of a Dodge Caravan advertising campaign. The final Isley / Jasper / Isley album was 'Different Drummer'. Jasper received the CEBA Award for Excellence for a Miller Brewing Company commercial that featured "Brother to Brother" from the final Isley/Jasper/Isley album 'Different Drummer'. The group separated in 1987. Jasper and Ernie Isley went on to solo careers. Jasper''s solo career spawned the #3 R&B hit, "Super Bad", in 1988. This single topped the urban charts. Chris Jasper pursued his songwriting and produced his own R&B/Gospel music, as well as other artists, for his independent record label (that he founded) Gold City Records (www.goldcitymusic.com).
Thus, Jasper is a successful solo artist and album producer, recording a number of his own solo CDs, and producing artists, for his New York based record label, Gold City Records, distributed by CBS Records. Moreover, Jasper has produced, performed and written music for other artists, including Liz Hogue''s debut album "Vicious & Fresh" and "Make It Last" for Chaka Khan''s C.K. album. Many recording artists covered and sampled Chris Jasper's music: Whitney Houston, Jay-Z, Fantasia, Will Smith, Aaliyah, Ice Cube, Queen Latifah, Notorious B.I.G, Tupac, Natalie Cole, just to name a few. Jasper is an eclectic artist who has contributed to many genres such as R&B, Jazz and Soul. After becoming a born-again Christian, Chris Jasper released a succession of gospel albums. 1995''s ''Deep Inside'' marked Chris Jasper''s return to R&B/pop music, with a good cover of Marvin Gaye''s ''What''s Going On''.
In January 1992, Jasper was inducted (by Little Richard), along with the rest of The Isley Brothers into the Rock and Roll Hall of Fame. The work of The Isley Brothers has spanned over six decades and has significantly influenced popular music. It is important to note that The Isley Brothers is the only group in history to chart in six decades. Their music is timeless. The group received two Grammy Awards respectively in 1970 and 1999. Their music has been part of ten movie soundtracks such as Friday, Wedding Crashers and Boys Don't Cry.
Jasper's latest CD "Everything I Do" was released on June 2010 and is dedicated to his wife Margie Jasper. Chris Jasper sounds like Marvin Gaye in the song "Don't Take Your Love Away" from his latest CD. The entire album has a nice funky beat as listeners will discover.
In conclusion, throughout the years, many of the compositions for The Isley Brothers, which involved Chris'' songwriting input, have been sampled / covered by a wide range of artists from Ice Cube to Aaliyah. The series of U.S. hits (of the Isley Brothers) from the '50s to the '90s and their musical diversity (gospel, doo-wop, R&B, soul, funk, rock and roll and disco) have been a major influence on the music industry. Chris Jasper placed himself at the avant-garde (with his independent thinking) by using the keyboard before it became a trend. Jasper has made a significant contribution on the music scene with the synthesizer which defined in a major way the sound of the 80s. He looked after the music and the lyrics of most of The Isley Brothers' recordings while he was a member of the group. On a personal level, Jasper resides in New York with his wife of 28 years, Margie Jasper, an attorney and writer, and their three sons, Michael, Nick and Christopher. Interview conducted by the columnist of Afro Toronto Patricia Turnier and the Editress-in-Chief of Mega Diversities in January 2011.
Patricia Turnier talks to Chris Jasper:
P.T. Which artists did you admire during your childhood and did you have a mentor?
C.J. I had a few artists that I admired growing up…Sam Cooke, Jackie Wilson and Marvin Gaye. I liked their styles of singing and their phrasing. I guess that's a big influence on the way I sing today. I didn't have a mentor for popular music but for classical music, that would have been Professor Gibbs of the Cincinnati Conservatory of Music. I started studying piano with Professor Gibbs at the age of 7 and continued until I was about 14. He was a classically trained pianist and introduced me to many composers: Bach, Beethoven, Mozart, and Debussy. I was most influenced by Debussy. I was intrigued by the chord structures that he used and his melodies. I used those elements in the music I wrote when I was with The Isley Brothers which I think gave their music a different sound from everyone else. I still use those elements in the music I continue to write, in particular the ballads.
P.T. What did you learn from your experience at the prestigious Juilliard school?
C.J. One thing that stands out is that I learned how to compose different types of music which included atonal music; before this genre was completely foreign to me. It required some getting used to, but since I was a composition major, it was something I did and found out the different uses for it. It wouldn't be useful in popular music; however, in motion picture scores, atonal music had already been employed. In that sense, it broadened my musical horizons.
P.T. Should young people have a classical background to obtain longevity and success as artists?
C.J. I think classical training is important because it broadens a musician's knowledge of musical structure, musical history, music theory and analysis, which is important because the more you know about music, the more you can produce. As far as longevity is concerned, that
depends upon the success of the projects, the artist's talent level and their determination to succeed.
P.T. When you joined The Isley Brothers in the '60s, you were a pioneer as a synthesizer musician. How did you know at the time that this instrument would have such an impact on the music scene, especially Funk which evolved from Soul music and incorporated psychedelic elements?
C.J.The first time I was introduced to the synthesizer was at Juilliard. The professor I had at the time was not using it to compose popular music. However, as I heard some of the songs that the synthesizer could create, I realized that the instrument had a vast capability of producing sounds that would be accepted in the popular genre.
Also, at about the same time, I was introduced to the synthesizer, another pioneer by the name of Stevie Wonder, had recorded an album entitled "Music of My Mind" which validated my idea that synthesizers could be used in popular music very effectively. After that, I began to use synthesizers in many of my compositions such as "Highways of My Life", "Lover's Eve", "For the Love of You", "Fight the Power", "Live it Up", "The Heat is On", "Caravan of Love", and the list goes on and on.
P.T. It is rare in popular music to see females playing an instrument in groups or solo. In the '80s, we started to see more of them like The Go-Go's, Klymaxx, Sheila E., The Bangles, etc. How do you explain the lack of female musicians in popular songs?
C.J. When I was coming up, there weren't that many women playing instruments, especially those instruments that comprised the rhythm section such as drums, bass, and guitar. It may be just a personal choice because those instruments are physically demanding.
P.T. About your latest album "Everything I do", what message do you want people to take away from it?
C.J. I guess the main message I would want people to take from it is the message in the title song…that is, the relationship between a husband and wife is very important. Like the Bible says, "husbands love your wives as Christ loves the church and gave Himself for it", which the lyrics of the song try to convey…"Everything I do, revolves around you." Also, my last album, "With Love", was all love songs, so, I wanted to put out an album that showed my other musical side which is the funk side.
P.T. It is seldom that artists sing about the importance of education. Can you talk about your song Superbad which covers this theme on your latest album?
C.J. "Superbad" was written to encourage young people to focus on education rather than what they may see and hear out on the street. It is even truer today than when I wrote the song in 1987. It seems that education is more accessible now but for some reason many young people are not choosing to take advantage of it. I don't believe, just like the song says, that you can be "cool" without being educated. And the line in the song says "Education really makes me cool, the word's out, that I'm number one in school" and I hope that young people will embrace more this message.
P.T. You have been involved in the music business for decades. In the past, very few African-American artists owned and controlled the production of their music. What is your assessment as an artist and jurist on this issue for today? Do you think that some riders and solutions are required?
C.J. I believe it is important for an artist to control the production of their music; if they are capable as a producer. It is important for an artist to be as versatile as possible, to be an artist, to be a songwriter, and to be a producer. If they can do those things, they will be able to control the total production of their music and also have ownership of their copyrights. Ownership is important because the owner of the copyrights is the person who controls the exploitation of the music and also controls the income streams. If it is not possible for one person to do all of those things, they should strive to do the most that they can. However, this goes back to what I was saying before about learning as much as possible and not just entering the business to be a performer. Many artists today do not grasp the importance of training and education. This situation puts them at a disadvantage.
P.T. Do you think that music has been integrated longer than people?
C.J. In America, the arts sort of reflected what was going on in society. However, in some of the big bands of the 20s, 30s and 40s, you had integrated bands and even later. For instance, America had the interracial group Sly & Family Stone (of the late 1960s) which had a similar soul funk sound like The Isley Brothers. This is an example of integration in music which started decades ago. It included Blacks, Whites and women as well as men who had national visibility in the 60s and 70s.
The music industry, however, was segregated in the past. So, I guess you can say on one hand, musicians played together, but the music was marketed to different audiences (Black America/White America). Even during the 50s, 60s and 70s, there were pop stations that played primarily white artists, and the R&B stations played primarily black artists. The charts reflected that and it was more difficult to cross over. This situation has changed a lot now and it is more about the music than the artist's race or nationality. So, within the world of musicians, there was some integration before it was made known to the public.
P.T. You wrote in the past for high caliber artists such as Chaka Khan. Are you planning in the future to pen for others?
C.J. If the right opportunity presents itself, that is something I would consider. We have also developed a pretty substantial catalogue of music for our publishing company and I would like to place some of that music with the right artist. However, right now I am focusing on the projects I have released on my Gold City label, including my son Michael's CD, "Addictive," a dance, pop, techno CD which we co-produced.
P.T. Throughout your career, what was your favorite CD to make and why?
C.J. I think my favorite CD was "Caravan of Love" with Marvin and Ernie Isley when we formed "Isley-Jasper-Isley." It was a kind of turning point in my life. This song has such a universal and timeless message. It is the first song which I sang lead and it went number 1. It also became an international hit, especially after the English group, the Housemartins covered it.
P.T. How did you feel in 1992 when you were inducted along with the rest of The Isley Brothers into the Rock and Roll Hall of Fame?
C.J. To be inducted into the Rock & Roll Hall of Fame is a great honor. It was recognition by the industry of all of the things that were accomplished by the group.
P.T. Can the fans expect a comeback in the future with the entire living former Isley Brothers?
C.J. As you know, there are some members that are no longer with us. O'Kelley Isley passed away in 1986 and Marvin recently left us last June. Right now, there is no longer a group performing as The Isley Brothers. Ronald and Ernie are solo artists and Rudolph has retired. In this respect, it would not be easy to have everybody for a reunion.
P.T. Few people in the music business are able to maintain a marriage for 28 years. What is your secret?
C.J. Number one is that I have a wonderful wife. It is not often that you find a perfect match. I have been fortunate enough and blessed to find that perfect match. If there is a secret, it is that we have a relationship where it just feels natural to be together all the time…friends, lovers and business partners.
P.T. Do you have some advice to give to people who want to be in the music business and who wish to find balance in their personal lives?
C.J. I tell aspiring artists that, first of all, your personal life is more important. Who you are as a person, your values, your integrity as a person…it's more important than anything else and that should carry over into your career.
P.T. Do you have a message for young people who want to be in the music industry?
C.J. You have to be wise, educated and of course talented. It is important also to be honest with yourself about your talent. If you maintain your integrity and good judgment, you are less likely to get caught up in the hype and traps that some aspiring artists fall into. To finish, a classical training helps because it makes you less vulnerable to just become the new flavor of the month.
P.T. Thanks for this great interview, it was an honor to interview you Mr. Jasper!
Discography
Superbad (Gold City 1987)
Time bomb (Gold City 1989)
Praise the Eternal (Gold City 1992)
Deep Inside (Gold City 1995)
Faithful And True (Gold City 2001)
With Love (Gold City 2003)
Amazing Love (Gold City 2005)
Invincible (Gold City 2007)
Everything I Do (Gold City 2010)
Official Web site of Gold City Records, Inc.: www.goldcitymusic.com
---