23
Aug
2014
Details

Category: Music
Written by Meres J. Weche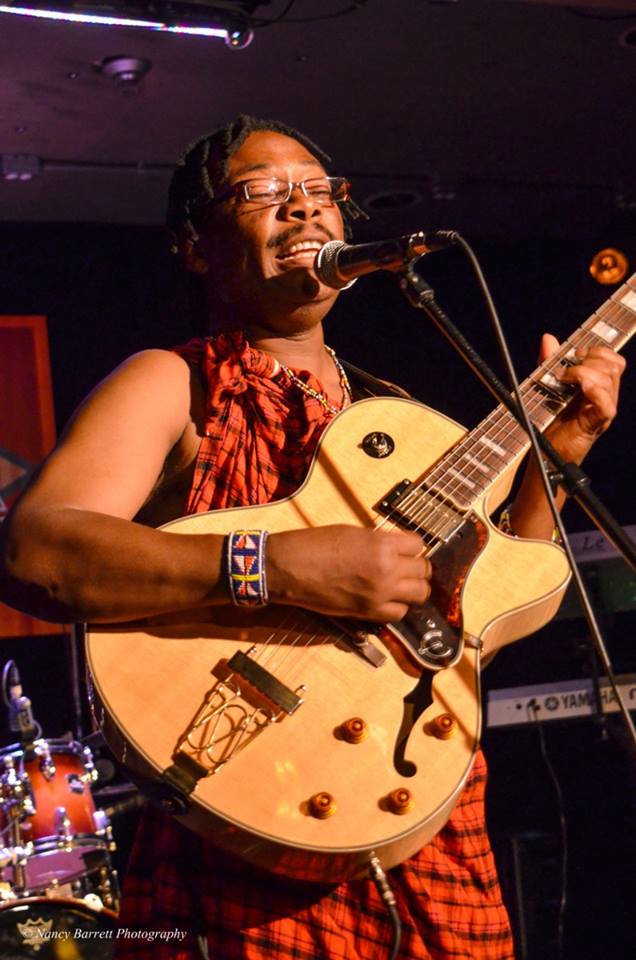 "Music plays a big part in the world," says Kenya-born Toronto musician Adam Solomon. From the sound of birds singing outside to a TV ad, music manifests itself in many different ways to speak to our souls. Solomon was raised in a musical family in Mombasa, Kenya. He recalls how his father played guitar as a regular hobby until the day he stored the instrument away, leaving it to collect dust. One day a cousin retrieved it, cleaned it, and started teaching Adam how to play. "We played together in a family band. I later progressed and left the family band to develop on my own and with other collaborators," as he recounts. He also played kivoti (flute) and kayaamba (shaker) at village celebrations and festivals.
His musical journey took him eventually to Canada, where he landed and making it his home, in 1992. His musical style, blending blues with traditional African sounds, allowed him to get good recognition both as a soloist and with his bands. Soon after arriving in Canada, he founded a pan-African band, the Afronubians, with whom he toured Western Canada in 1993. Over the years, he continued to collaborate with various musicians such as Madagascar Slim, Donne Roberts, Pa Joe, Alpha Yaya Diallo and The Mighty Popo. These musical alliances culminated in the publication of a CD, in 2004, called "African Guitar Summit," which went on to win a Juno for Best World Music Album of the Year in 2005.
The Business of Music
"Music is my full-time career," he proudly says. When asked to explain the secrets of his success, Solomon compares himself to any other type of businessman. "Music is a business. Putting aside the spirituality aspect, music is a business like any other business. If somebody sells vegetables, and has five tomatoes of different sizes, they will sell them according to their weight and their size."
While Adam Solomon has made a name for himself with his distinctive brand of African renaissance blues, he's also adept in a variety of styles including jazz, Latin, African, Caribbean, R'nB and funk.
As he cautions, "if you're not successful, you need to learn more. It's just like anything, it's all depends on you." So he's become a constant student of his craft and market.
He also enjoys meeting many people and fans of his music through his busking sessions in the TTC's subway platforms. "I get to meet interesting people there. Passengers sometimes buy my CDs, ask for my business card, and invite me to go play at their events, parties and even festivals," he says.
Music for a Good Cause
His music has taken him to many places across North America. While he hasn't been back to his home country of Kenya to perform his music yet, he has gone back to visit family and hopes to soon reconnect musically with his homeland. In the meantime, his music career in Canada continues to give him opportunities to discover new horizons, people, and ways to share his artistic gift.
The many years he as spent busking in the subway, for instance, has helped him to forge a network of musicians. "Between us musicians who play in the subway, we have our own mailing list. We do contact each other," as he explained. It's through those TTC channels that he came to know more about Scotiabank BuskerFest -- North America's largest street performers festival, and the world's largest epilepsy event – and the opportunity to get involved. So this year her decided to take part.
Running throughout this weekend, from August 21-24, along Yonge Street from Queen Street to College Street and surrounding areas, Scotiabank BuskerFest, is attended annually by around 1.5 million people. The international audience is treated to enthralling performances from world-class street artists from around the globe – including from Canada and the U.S., and as far away as Australia, Austria, Argentina, Belgium, Germany, Hungary, Ireland, Italy, Japan, Mexico, New Zealand, Russia, Spain, Sweden and the United Kingdom.
Adam Solomon had originally heard about BuskerFest, North America's biggest street performer's festival and the largest Epilepsy awareness-raising event in the world, particularly through his African blues trio drummer who also works for the cause of epilepsy awareness in Toronto.
Performing as a solo artist today and tomorrow at the festival, Solomon said "this issue of epilepsy is a cause that why I believe in getting involved with. What they're doing it they're bringing awareness of epilepsy and also supporting services for those who are living with epilepsy."
Related Links