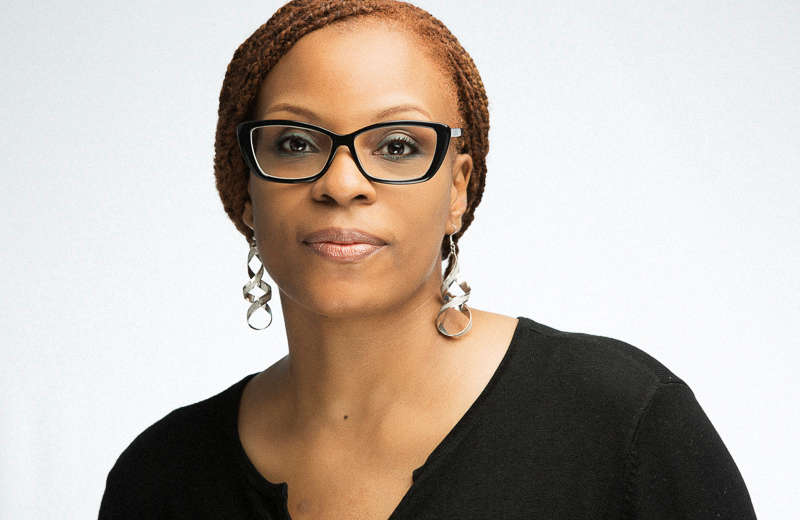 Amani. Photo by: Linda Marie Stella

"I write because it's in my blood and in my veins; and if you cut me, words would bleed onto the floor in a poem somewhat abstract but legible in the blackest and brightest inks," said Toronto-based spoken word artist Anne-Marie Woods (Amani) in her 2014 CD, Poetry Huggin. A skilled wordsmith and storyteller, Woods is the 2013 recipient of the BBPA Harry Jerome Award for Excellence in Entertainment.
But if CSI were to be called to examine the proverbial griot-soul-infused black ink on the ground they would also find, intertwined amid the poetic DNA, a healthy dose of double helixed playwright genes and a tinge of comedic cells -- because she also writes to laugh. Black Like She, an all-Black, all-woman comedy show she produced was a hit this past February at Harbourfront Centre's KUUMBA festival.
"My poetry's not hectic it's eclectic," says Amani.
But don't start barking up the wrong poetree as she warns. She also writes to scream and to write the wrongs of society.
Like a poetry hugger she tells us a tale about, she saves paper by recycling thoughts and poems that were both written and experienced years ago. Amani's poetry digs deep into her personal, childhood, and overall coming of age story. Just how powerful rhymes are meant to do, her prose doesn't only rhyme phonetically but also sheds a reflective light on the listener's own experiences.
Anyone who's ever felt as "the other" growing up can relate to her experience as a little Black girl being laughed at in elementary school because the shade of her skin and sun-kissed accent. "It hurt deep inside because I didn't know about my culture. My miseducation felt like a penitentiary. I didn't know about Black pride."
"I wear the scars of my life with pride," says Woods.
Over the years, the England-born, Trinidad-baptized, and Nova Scotia-bred Torontonian artist has used her multi-dimensional artistic skills to work with youth as an arts educator, consultant, playwright and outreach professional. In 2011 she developed a youth outreach theatre program called Word Up at Toronto's Young Peoples Theatre as part of the YPT Residence Artist Educator Program.
She produced two shows at YPT and staged a third Word Up production as part of the 2013 KUUMBA festival at Harbourfront Centre. In the summer of that same year, she was hired by Daniels Corporation and Artscape as the production coordinator, writer of the script adaptation and creative director of The Journey – The Living History of Regent Park . It was a huge success in June of 2015.
As Woods eloquently expresses: "Our youth needs a sense of identity. … It's more than building institutions. See, our youth are an institution. Our history is an institution. We are an institution. So let's get our youth back and clean up the rhetoric and pollution and find a real solution."
Self-love, Black-love, doesn't only limit itself to knowledge of self. It's also about how we as Black people build relationships with each other. It's about the simplest acts of greeting each other in the street without suspicion and "cut-eye." It's about, as how Woods puts it, not being "blacktose intolerant."
"Brother I have not given up on you. I am not now, nor have I even been, nor will I ever be the sister who has become so angry that I have become blacktose intolerant," as Amani rhymes in one of her poems.
Her latest project produced by Black Theatre Workshop and directed by artistic director Quincy Armorer, a new play entitled She Said/He Said, will premiere as a mainstage production from April 13 to May 1, 2016. Presented as " spoken word and theatre colliding in a fresh and nuanced look at love, communication and relationships," Woods explores how Black couples fight to make their relationships last in a world where the rules are always changing.
Related Links