Over the past weekend, we learned the sad news of the passing of pioneering playwright, poet and novelist Ntozake Shange. Her landmark choreopoem, "for colored girls who have considered suicide / when the rainbow is enuf," has profoundly touched, and spoken to, generations of black women.
Shange died in her sleep, on the morning of October 27, 2018, at the assisted living facility where she resided in Bowie, MD after having previously suffered multiple strokes. Her sister, Ifa Bayeza, was quoted as saying: "It's a huge loss for the world. I don't think there's a day on the planet when there's not a young woman who discovers herself through the words of my sister."
Earlier this year, AfroToronto.com caught up with renowned African-Canadian thespian and theatre director, Djanet Sears. We discussed her work directing Soulpepper Theatre's staging of "for colored girls" last year at the Young Centre for the Performing Arts in Toronto, on the occasion of her Outstanding Direction nomination at the 39th Annual Dora Mavor Moore Awards.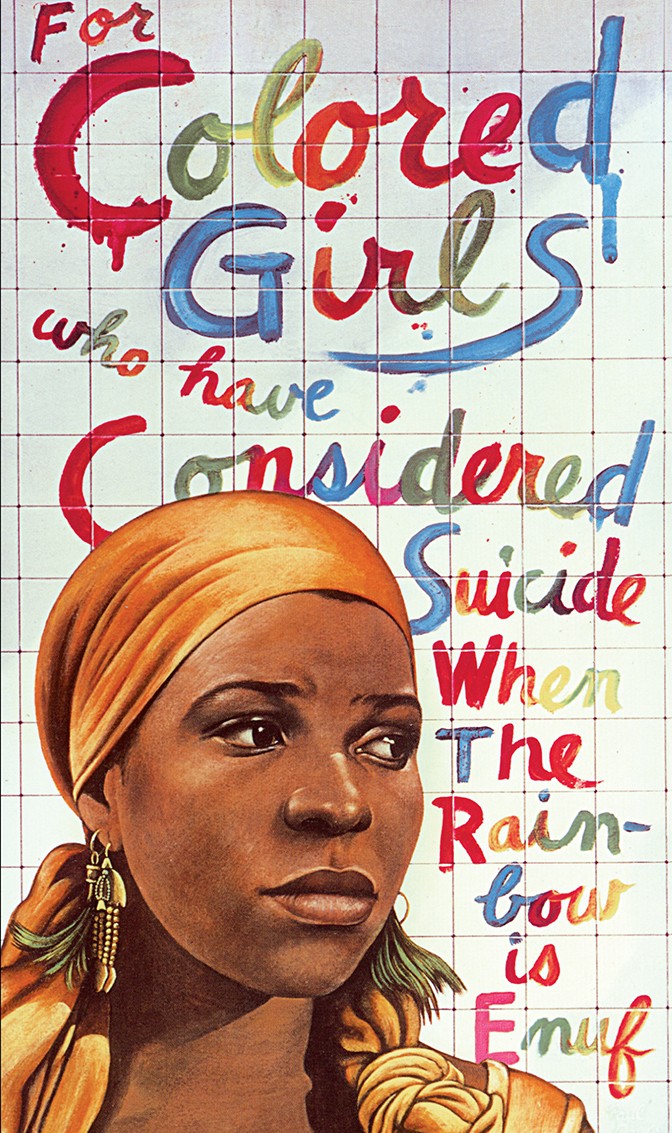 Sears recalls seeing the original production of "for colored girls" on Broadway as a university student. It was an incredibly fulfilling time for her as, within a period of a few years, she had read and seen the two most successful Broadway productions by African-American women at the time -- namely: Lorraine Hansberry's "A Raisin in the Sun" (the first black play that Sears had ever read; which debuted on Broadway in 1959) and Ntozake Shange's "for colored girls who have considered suicide / when the rainbow is enuf" (premiering on Broadway's Booth Theatre in 1976).
"It just struck me. "for colored girls" was a production that really struck me to the very core," as Sears shared.
"It spoke about black women's experiences from a range of perspectives. It wasn't that black women were one thing, a monolith, and we all experienced the same thing. These stories that the play tells were being told from the very soul of the writer. Because of the quality of the writing, and the poetry of the writing, the stories reached across the stage into the audience and just penetrated the hearts of the audience."
Indeed, at the time that this play was first produced, and first written, this kind of work was very rarely done. Its multi-narrative format was thought extravagant. The play told many stories, 20 in total, in the form of a series of poems complemented by choreographed movement and set to a musical background.
It's a choreopoem. A story being told through movement and sound.
Seven nameless black women, only identified by their assigned colours (lady in red, lady in orange, lady in yellow, lady in green, lady in blue, lady in brown, and lady in purple) spoke of powerful themes like sexual and domestic violence, abortion and abandonment.
On staging the show in Toronto and its continued relevance
When Sears got the call in the autumn of 2016 from Soulpepper Theatre's then artistic director, suggesting to work together on staging the play in Toronto, Sears did not hesitate.
"Even though the play premiered over 40 years ago, we're still just scratching the surface," said Sears.
While she's a believer that the arc of history bends toward justice, and this bend might be long, Sears points out that "we have to stay committed to it."
"Things change, and some things have changed, but then they move back. It's often one step forward and two steps back. ... I also think that what's a bit different nowadays is that I believe more men are joining the women in supporting their stories, their rights to have those stories, and to tell those stories."
"Still, systemic barriers to full access continue to exist which prevent women from telling their own truths and to be believed. How may women directors are there? How many women producers? How many women are executives?"
Despite these challenges, Sears is optimistic about the future of inclusive storytelling. "I think there are more talented theatre creatives and actors and of colour than ever before," she said. "What I worry about is the gatekeepers who are in control of the arts sector."
What's needed is the establishment of a policy that ensures constant access for creatives of colour.
"What happens is, it often depends on who's there. If they're inclusionary, we'll be included. If they're not, that's a decade lost to us participating in that theatre. We need proper policy that's people-resistant."
"We are fully integrated in society and we want to be fully integrated in society as reflected in our arts. We also have cultural nuances that are beautiful."
Related articles