20
Jan
2011
Details

Category: Arts
Written by Meres J. Weche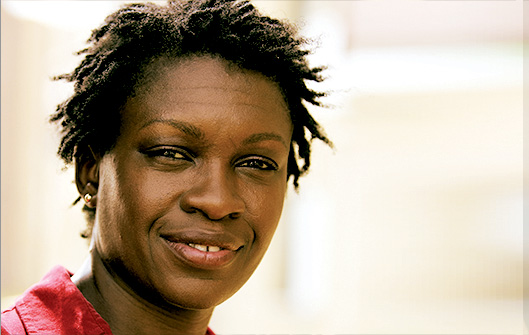 Ruined, the 2009 Pulitzer Prize award-winning play, is the latest work by acclaimed playwright Lynn Nottage to make its way to Toronto. This production by Obsidian Theatre in association with Nightwood Theatre is currently running at Berkley Street Theatre until February 12, 2011.
Set in a present-day small mining town in the Democratic Republic of Congo, Ruined takes us into a war-ravaged world where difficult choices in the face of often agonizing alternatives must be made every day. The play follows Mama Nadi, an industrious woman running a bar and brothel on the outskirts of the rain forest where a bloody civil way is being waged.
Mama Nadi's war-profiteering establishment acts as temporary shelter from the chaos and bullets heard flying outside. Miners and rebel soldiers seek refuge in Mama Nadi's neutral grounds to enjoy a good beer and find solace with Mama Nadi's girls who seductively dance for them, sit on their laps and take them to the back rooms for the right price.
Although the soldiers are required to leave their guns at the door, it's evident that the war is still being waged upon the bodies of these young women who serve as an equally raw and brutal battleground.
These ruined young women who have been raped and mutilated before seeking refuge with Mama Nadi have made a heart-wrenching choice. Their own sense of survival and self-preservation itself becomes a currency traded at the crossroads of terror and relative safety.
AfroToronto.com recently had the opportunity to talk with accomplished thespian Yanna McIntosh, who plays the role of Mama Nadi. We asked her how she felt her character reconciles with her dual role as a protector and exploiter. She replies:
"I don't know if you do reconcile it. ... I mean I think you're absolutely right, she is a protector. She is pro woman. At the same time that she is an exploiter. She's living off them. Her business is running a bar, keeping the soldiers happy. And one of the ways to keep the soldiers happy is to give them girls to come in and be with. I don't think she really reconciles it even for herself. I keep asking myself, what would Mama Nadi be or do if she had been born somewhere else, in another environment."
McIntosh goes on to say that we all have to survive and the way we survive is to work. Some of us open a nice salon, become a lawyer or teacher. "We have five choices in life. And we're going to take the best of those five choices. And you know, being in this environment ... the girls around her would rather be with her any day. Because out there is so much worse. Even in their home, they are taken without regard. At least here, there's a transaction. There's a negotiation" she adds.
Salima, played by Sophia Walker, is one of the girls in Mama Nadi's brothel who has to make this choice. A country girl with little schooling, Salima was married with a child when she was raped by a soldier. Her baby was killed in the ordeal and she was held captive by the rebels for several months. After she was freed, she returned to her family and village but she was shunned. She was accused of bringing this misery onto herself. They did not want to be associated with her shame.
Salima was eventually brought to Mama Nadi's brothel after having been picked up on the road by Christian (played by Sterling Jarvis) who was himself dropping off his niece, Sophie.
"It's a safe place for them" says Yanna McIntosh. "Along the road, they're just going to be abused, they're going to be raped again. They could be killed. They'll starve. But at least here they'll get some food. Yes, they will have to sell themselves to keep food in their mouth and a roof over their head but that's better than life on the road."
The plays' director, Obsidian Theatre's Philip Akin, says: "This story has hit me deep inside and no matter what, I needed to bring this play to the stage. This is a play of survivors. Not victims."
www.obsidian-theatre.com or www.nightwoodtheatre.net