22
Mar
2011
Details

Category: Arts
Written by Meres J. Weche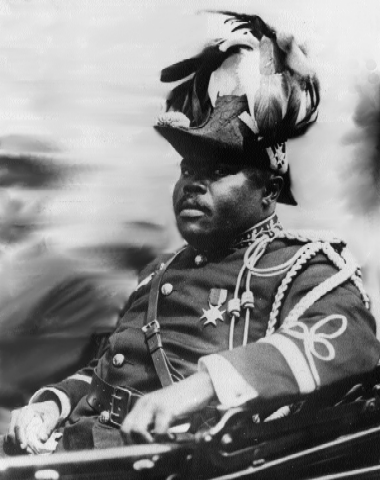 Monserrat-born playwright Edgar Nkosi White's play "I Marcus Garvey" has been enjoying a well-reviewed run at The Papermill Theatre (67 Pottery Road). Directed by Rhoma Spencer, this production, presented by Theatre Archipelago in association with b current, runs until this coming Sunday, March 27th.
When she recently spoke to AfroToronto.com, director Rhoma Spencer said she spent the last eight years trying to make the production happen. It's indeed a project that is close to her heart. A smaller version of the play was staged in February of last year at both Papermill Theatre and the U. of T.'s William Doo Auditorium. On the strength of the positive reception, she felt confident about giving birth to the current production.
In Rhoma Spencer's eye, Marcus Mosiah Garvey (1887-1940) was a true visionary who lived way ahead of his time. "Long before Barack Obama's Audacity of Hope, we had Marcus Garvey inspiring people of African descent everywhere to strive towards a better future. Long before Kwanza, Garvey spoke of recognizing Pan-Africanism and the value of African principles." Spencer also adds that at the time when the League of Nations (now the UN) was carving Africa, Garvey was saying: "Leave Africa for Africans."
As founder of the Universal Negro Improvement Association and African Communities League (UNIA-ACL), Garvey was pivotal figure of the Black Nationalism and Pan-Africanism movements. He was a strong believer in economic self-reliance and for the need to develop black-owned businesses.
Rhoma Spencer remarks how the UNIA's emblematic red black and green colours are today represented in the post-colonial national flags of several African countries.
"I Marcus Garvey", a North American premiere, recounts Marcus Garvey's life journey through his activism in Jamaica, England, America and Canada. The play is skillfully complemented with live music. Bob Marley's powerful "Redemption Song" goes a long way into conveying Garvey's message.
The timing of the play, as Rhoma Spence points out, is very appropriate since 2011 was declared by the United Nations as the International Year for People of African Descent.
Show info:
Location: Papermill Theatre (67 Pottery Road)
Runs until: March 27, 2011
Time: 08:00 PM to 10:30 PM, Sunday Matinee 2pm
Admission $15-$35
Students $25

Tickets online at www.totix.ca or in person at the TO Tix Booth, Dundas Square.