"In my quest to find love I have failed many times.... Yet recently I came to the realization that in order to find true and healthy love I must first be in love with myself!" With these words, award-winning playwright, actor and comedian Trey Anthony started a blog post for the Huffington Post, entitled 'If I was a Black Girl in Love with Myself,' which struck a chord with many back in 2013.
"That pretty much went viral," as she recently told AfroToronto. "A lot of black women were asking me about that piece." Along the way, Anthony had an idea to create a book in the form of a planner with daily affirmations. So she decided create this journal under the overall theme of black girl in love.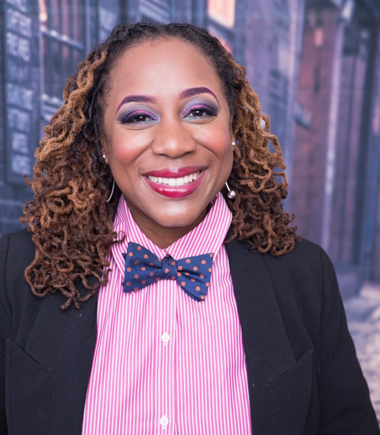 "I'm very big in affirming. There's what I call 'bad gyal quotes.' They're called bad gyal quotes because I also wanted to have that influence of me as a Jamaican Caribbean," as she explained.
So by releasing her first book, A Black Girl In Love (with Herself), which Anthony describes as an empowerment journal designed for black women, she encourages women to forgo expensive shoes for therapy – "soul work and not sole work" – and aim to be "as smart as Michelle, as bad ass as Rihanna, as creative as Shonda, as loving as Oprah, as wise as Maya.
With "bad gyal" quotes from inspiring Black women and body-affirming illustrations of sistahs of various hues and abilities, the journal provides space to schedule business meetings and hair appointments, as well as record exercise and career goals. It is aimed at go-getters who may thrive on to-do lists, but still grapple with issues around self-esteem and self-care.
The importance of setting goals
As her success with 'da Kink in My Hair and many other projects since have demonstrated, Trey has always been big about writing down goals and carefully executing. At the beginning of each year, she has always been diligent about writing down her objectives for the year and making sure all commitments and benchmarks are written down. It brings some level of accountability and clarity. She recalls feeling really frustrated last year when she went out shopping for a planner.
"I always run out and buy planners for myself, my friends and partner. But the same frustration overtakes me every single year. There's nothing out there that I could find which really spoke to me as a black woman. I didn't see myself represented in any of the pages, the language, the illustrations, or anything. It all just felt very generic," as Anthony shared.
What she would typically do when she wasn't particularly inspired by a planner is to customize it by writing in inspirational quotes, cut out and add pictures and basically amend it in a way that made sense to her.
She did that until last year when she finally decided to boycott all planners and make her own.
"I was talking to my partner about it and I was just expressing the level of frustration. I was like: 'You know I wish there was a planner that had a space that looked like me or had women who looked like me or inspired me when I opened it.' She said to me why don't you just make your own. You're basically making your own every year anyway."
That's how the Black Girl in Love (with Herself) journal came into being. Anthony admits to being a bit reticent at first to the idea because it would mean entering into a whole new sort of industry for her. But then she realized that the concept matched perfectly with the 'If I was a Black Girl in Love with Myself,' blog post which was such a success on the Huffington Post.
"So I decided that if I'm going to do a planner, I would create it under this whole black girl in love theme. I would make the actual article from Huffington Post be the central piece of the book. Then inside would be a planner and journal," as she thought.
Bad gyal wisdom
Anthony dedicated a part of the book to quotes that have inspired her from women like Laverne Cox, Oprah Winfrey, Serena Williams, and everyday business women in Toronto like Rachel-Lea Rickards and d'bi Young. In another space, she created a section called the black girl dreaming space where journal users can write down all their dreams and aspirations.
In a certain sense, this project is also a way for Trey to give back. Many people have asked her what is the secret to her success. "One of the things that I've always said is that I've always been really good at asking questions," she said. Sometimes asking for what you want takes audacity. It's something that has worked for Anthony her entire career. Sending that email, asking someone, or reaching out to someone who may seem unreachable. The journal challenges women on a monthly basis to set a goal to ask; and to commit themselves to a goal of accomplishing an objective through networking.
"It really is just like an accountability lifestyle journal. Then of course, one of the beauties of it is that it features illustrations of just beautiful black women of all sizes, all shapes, all shades, all hair textures, all abilities," added Anthony.
In a nutshell, the planner focuses on the whole power behind writing down goals, achieving success, holding yourself accountable, mapping out your time, setting measurable goals, setting boundaries, and making time to assess the effectiveness of your journey on a monthly, weekly and daily basis.
An official book launch is planned in Toronto on February 3rd, 2018. But the book is currently available online at Black Girl in Love.