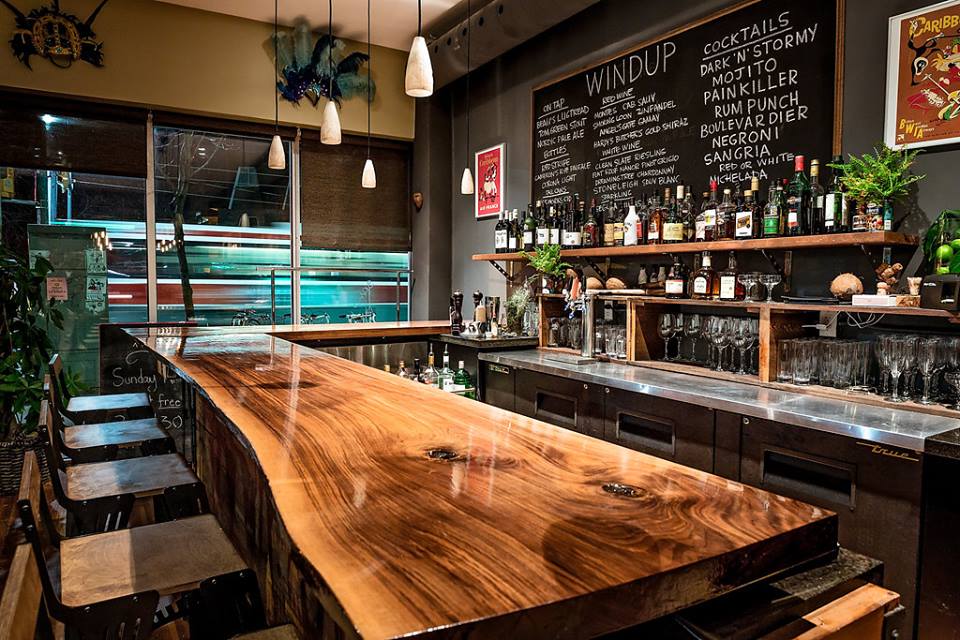 For a little bit over a year now, there's been trendy spot on the edges of Little Italy, near Kensigton Market, offering a new eclectic, modern and refined taste of Caribbean cuisine. Located at 382 College Street, Windup restaurant is a brilliantly reimagined incarnation of the old Windup Bird Cafe coffee and lunch spot.
AfroToronto caught up with the restaurant's executive chef, Bryan Birch. Previously the chef at Toronto's Barque Smokehouse, Bryan has a real passion for cooking. "The cooking started at home. We used to follow my Trinidadian grandmother around the kitchen. When I was seven or eight, I just remember trailing her around the kitchen. She used to do a lot of Trinidadian food," as he shared.
Bryan grew up in a Caribbean household, having been born in Trinidad and arriving in Canada as a baby. He's been back down to the Caribbean many times when he was older. But as a Canadian of Trinidadian heritage, he's always felt Caribbean cuisine was underrepresented here in terms any greater than a fast food kind of way. That's how the idea behind the concept for Windup was born. "The idea behind the restaurant is doing a really interesting kind of modern and refined, Trinidadian and Caribbean food," he said.
The Windup menu demonstrates how Caribbean cuisine can interact with international dishes as opposed to trying to replicate other Caribbean restaurants in Toronto. Bryan has been cooking for fourteen years and this restaurant is, in a way, a representation of his own cultural experiences as a Canadian of Caribbean heritage.
"It's the experience of growing up in Toronto," Bryan says. "Growing up here, you get to be influenced by a lot of different cuisines." As he experienced these different kinds of food, Bryan got intrigued. He attended Stratford Chefs School for high school and then started working in fine dining. He bolstered his experience by working in Montreal, New York and Bermuda. "So I was exposed to a wide range of cuisines and types of restaurants," he said. "When I came back to Toronto, my eye was always toward trying to open something up on my own."
After working as a chef at Barque Smokehouse for four years, Bryan jumped at the opportunity to take over Windup last year. He introduced a new paradigm by injecting a Caribbean flavour and vibe to the neighborhood. "Most of the people that come in are really happy. They see both something different and new. They see something that represents something they're not really accustomed to getting."
The establishment has been frequented by a lot of local people from the neighbourhood but there's also been a good number of people from further out like Scarborough and Barrie, as well as several tourists from the United States. Bryan estimates that about 25% of his clientele is of Caribbean background and the rest quite varied.
When asked what are some his favourite dishes are on the Windup menu, Bryan points to the open faced curried goat roti. "I've always loved curried goat growing up," he said. The dish is inspired by the tacos that are all the rage at the moment in Toronto. Essentially, it's a large roti cut into a taco shape. It's filled with curried goat, pickled mango and plantain chips. Another dish he's a really big fan of is the grilled octopus. It's a fusion dish with more of an Asian influence, served with quinoa salad and roasted peanuts.
Windup is open for brunch, lunch and dinner. It's a great time right now to experience it as part of Summerlicious, running from July 8-24, 2016. Call 647-349-6373 or email them at This email address is being protected from spambots. You need JavaScript enabled to view it. to book a table.
About Windup
382 College Street, Toronto, Ontario M5T 1S7
T: (647) 349-6373 E: This email address is being protected from spambots. You need JavaScript enabled to view it.