10
May
2021
Details

Category: Movie Reviews
Written by Gilbert Seah
FILM REVIEWS:
DROLES D'OISEAUX (Strange Birds) (France 2016) ***
Directed by Elise Girard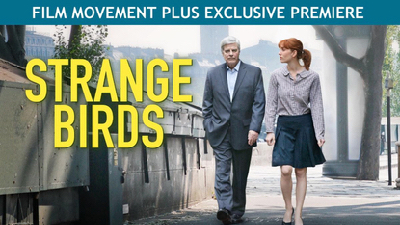 STRANGE BIRDS is the second feature film from filmmaker Girard (BELLEVILLE TOKYO) which world-premiered in the Berlinale's Forum, who finally reaches North America on the SVOD Platform on May the 21st.
STRANGE BIRDS is a quirky, absurdist tale of two very different people who forge an unlikely relationship. 27-year-old Mavie (Lolita Chammah, AT ETERNITY's GATE) -- clumsy, beautiful and full of doubts and looking for her path in life, has just moved to Paris from the provinces. She dreams of a future as a writer, but is plagued by doubt and uncertainty. She has an apartment which is really noisy from the sound of her flat-mate having sex at all hours of the da and night. She seeks an alternative living accommodation and in the process meets 76-year-old misanthrope Georges (Jean Sorel) who runs a bookshop in Paris. She helps to and gets free lodging. George is a secretive and bitter person who sees to have some secret life he had left behind. Georges is cynical and no longer expects much from life, while Mavie is still brimming with expectation. Yet something magical happens between them, until Georges' dark secret suddenly catches up with him – and Mavie is caught up in something very different.
This is a low budget little feature with not much going on. Yet, it is a charming sophomore effort from director Girard who in her film, shares the beauty of life from her point of view. She is clearly against nuclear plants as nuclear protests are observed throughout her film. When Mavie walks around Paris, she sees dead birds fall dead in front of her The mystery is revealed to to be the result of the birds being poisoned from eating waste at a nearly dump, where nuclear waste is discarded. Mavie is charmed by Paris and director Girard paints a quieter and more charming view of France's capital. The sights of the street on a slope, the insides of little cafes and the tree-lined avenues all contribute to the film's atmosphere. But the centre of the film is story of the strange relationship between the 27 years old and the 76 year-old. Their 'love' relationship is described by lines they write to each other. They talk about their imaginary love affair. There is no kissing or frolicking between the two. But they talk about a love that could happen if there had been no age difference. They also talk about children that they could have. Despite them never seen even touching each other, jealousy prevails, When Georges sees Mavie with a younger man, he leaves and never returns.
It is wonderful to see veteran actor Jean Sorel in films again. Sorel was simply one of the most gorgeous actors of his time, becoming noticed after BELLE DE OUR with Catherine Deneuve. Much older in this film, one can still see his charming personality. Virginie Ledoyen has a small supporting role.
Director Girard includes a film clip of Satyajit Ray's masterpiece CHARULATA about a love relationship between two people who share their love for literature, reflecting Georges and Mavie's work together in George's bookshop.
STRANGE BIRDS is an absurdist yet charming romantic drama about a 'could be' relationship between two highly different.
Trailer:
MOBY DOC (USA 2010) ***
Directed by Rob Gordon Bralver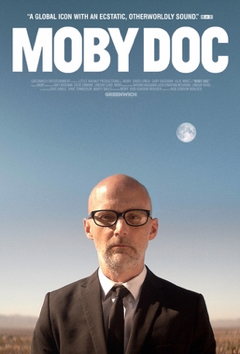 If one wonders what David Lynch the famous director of films like MULHOLLAND DRIVE, BLUE VELVET and TWIN PEAKS is doing on the talent let in a doc about Moby, it is his respect for the music artist. Moby mixed hit first song "Go" which just sold 1500 with the Twin Peaks soundtrack and sold over a million copies. Moby never ceases to amaze!
As they say a doc is only as interesting as its subject. Moby is the subject of the new doc MOBY DOC (a play on the name Moby Dick) and if he is not interesting enough, the film does its best to reinforce the fact. There is an image of Moby singing among mountains, and him offering his view on the meaning of life.
Why make this doc? This is a doc made by Moby himself. "Why in the world would I make a documentary about myself?" It is a legitimate question that Moby asks aloud in the film and proceeds to answer as his film unfolds.
Moby Doc is a fresh, never done surrealist biographical documentary about singer/songwriter/D.J. Moby, narrated by Moby himself. He reflects on his turbulent personal life in a comical way. He hires actors to play his mother and shoots it as a film. His only solace away from his mother and alcoholic father were the animals, leading him to be an animal activist. He has been Vegan for 30 plus years. The doc charts his iconic music from underground punk bands to chart-topping solo artist, and from struggling addict to vegan activist. Moby confesses his first acid experience leading to his panic attack that lasted for years after.
Featuring interviews with David Lynch and David Bowie, along with extraordinary concert footage, utilizing a unique blend of re-enactments, interviews, and archival footage, the audiences is treated to an insightful, unvarnished look at an artist who has sold more than 20 million albums, an activist who has long championed animal rights, and a man whose traumatic childhood shaped him in profound ways. This introspective journey sets out to answer existential questions of purpose and meaning by examining a life of extreme highs and lows, joy, tragedy, success and failure.
Moby's doc contains deep contemplative moments. He was at one point asked what he would think differently if he was an animal instead of a human being. Moby are up poor in a rich neighbourhood. As a kid, he was too embarrassed to have his friends visit his home. Growing up as a poor artist, moving from Connecticut to NYC and staying in an abandoned factory, Moby lived the hard life. Finally making his dream of selling millions of records. pay found himself o less happier once achieving his dream In a posh hotel, he contemplated suicide, only the windows of his room prevented it.
MOBY reveals much of the life of the artist that many know but not so much in detail. The doc is insightful, just as Moby is, making it one film that is both eye-opening, insightful and biographical.
Trailer:
RIDERS OF JUSTICE (Retfærdighedens ryttere) (Denmark 2020) ***** Top 10
Directed by Anders Thomas Hensen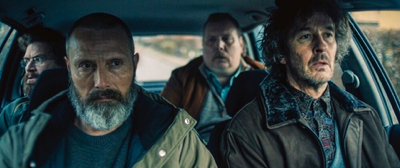 RIDERS OF JUSTICE re-unites Dane director Anders Thomas Hensen and actor Mads Mikkelsen, once again after many successful collaborations, their last one being MEN & CHICKEN, 5 years ago. Those who have seen it would not have forgotten the wild but extremely biting humour of MEN & CHICKEN, a film that made my list of Best 10 of 2015, and indeed RIDERS OF JUSTICE belongs to that category of Best Films of the Year as well. The film is described as an action, comedy and drama and indeed it is, credit to director Hensen who also penned the script, blending these elements masterfully together.
Director Hensen bookmarks his film with the Christmas season.
The film opens at Christmastide with a soft rendering of "Little Drummer Boy" heard on the soundtrack. (Soft likely because Christmas is still a while away.) The titles indicate that the setting is Tallinn, Estonia. A girl wants a blue bicycle for Christmas but only a red one is left at the store. She will wait for a blue one she says, following which a phone call is made resulting in a blue bicycle stolen in Denmark. As coincidences happen, the blue bicycle belongs to Mathilde (Andrea Heick Gadeberg), the events leading to her mother and her taking a train. An explosion occurs on the train and the mother is killed. Mathilde is reunited with her PDST father, Markus (the always excellent Mads Mikkelsen, just recently seen in ANOTHER ROUND).
It seems like a train accident until a mathematics geek, Lennart (Lars Brygmann) who was also a fellow passenger on the train, and his two colleagues, Otto (Nikolaj Lie Kaas) and Emmenthaler (Nicolas Bro) show up at the Markus home. They convince Markus that this is no accident according to probability statistics and they go hunting for the one they think is responsible, a ruthless biker gang leader. The film switches gear to action mode. Markus doesn't not go through the three stages of grief (disbelief, anger and acceptance) a normal person would but deals with the grief the only way he can - with violence. Markus is a trained fighter and weapons expert from the military, who can single handedly take out dozens of men. This director Hensen shows through excellent choreographed fight segments.
Mikkelsen is excellent in what is basically the Liam Neeson TAKEN role. Under a heavy beard, he is still recognizable for his famous stoic expressions. Nicolas Bro steals the show as the fat Emmanthaler, lured into the project by the sight of pizza.
While all the killings are going on, director Hensen never lets go of the humour. It is a laugh out loud moment every minute or so, despite some ultra violent scenes such as finger breaking. Whilst all these are happening, the theory of 'what if' coincidences are inserted in the script to tease the audience. All these elements are extremely brilliant in creating a smart, intelligent and entertaining flick. Even the title RIDERS OF JUSTICE has two meanings - the name of the villainous biker group or the name of Markus' vigilante group that take out the bikers.
RIDERS OF VIOLENCE make my list of top 10 films of 2021. A Must-See!
Trailer:
Trailer:
SOUND OF VIOLENCE (USA 2019) **
Directed by Alex Noyer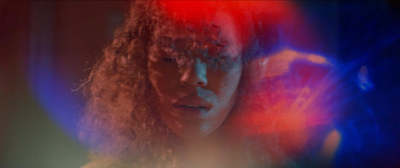 SOUND OF VIOLENCE follows a deaf girl of colour experiencing hearing loss after an illness. The hearing comes back to her after a traumatic experience but she is slowly losing her hearing again. The sound on the film's soundtrack goes on and off, following Alexis' hearing problem - a technique used in the recent hit film that won the Oscar for Best Sound and Best Film Editing, Darius Marder's THE SOUND OF METAL with Riz Ahmed.
The film begins with the girl at the tender age of 10, a young child experiencing a traumatic family tragedy. Alexis witnesses the brutal murder of her family committed by her brother just back from active military duty. She stops him by essentially butchering him. The good thing? She gains her hearing. The visceral experience awakened synesthetic abilities in her and started her on a path of self-discovery through the healing tones of brutal violence.
Director Noyer who also wrote the script does not seem to care about his film's credibility. As the film progresses, he adds more horror and violence.
Alexis goes on to pursue a career teaching and experimenting to find new sounds. There are several scenes in the film showing Alexis lecturing to students in a classroom. She is supported and loved by her roommate Marie who seems unaware of the dark secrets behind Alexis' unique music and the part she unknowingly plays. There are lesbian overtones. As the film progresses, it is revealed that Marie has a boyfriend and the same sex feeling is likely one-way, from Alexis though Marie tolerates it.
Faced with the likelihood of losing her hearing again, Alexis escalates her pursuit of her masterpiece through gruesome sound experiments and devastating designs. She won't let anything stop her, not even love. According to her, beats is the language that tells a story. She claims she does not hear sound, she sees them. Alexis is not fooling anyone, especially the audience.
The experiments begin when she hires a couple to perform a S & M sex act while she records the sounds of pain and violence. She wants the couple to go past the limit. Eventually, the experiments lead to Alexis hunting down victims to kill just to record their screams. Alexis figures that she can get away with it if she kills nobodies like the homeless. This is where the film goes right down the drain. It briefly turns into a slasher flick, director Noyer not knowing where his film should end up.
Noyer adds in after the film's half way mark the character of a no-nonsense female detective who everyone in the force obeys. She figures out all the clues and manages to hunt down Alexis.
What happens after is totally unpredictable, but in a bad way. Director Noyer seems to think that because his heroine has a disability, she can do what she wants like kill anyone and get away with it. The result is a film filled with senseless violence that goes nowhere.
Trailer:
Write comment (0 Comments)