11
Dec
2019
Details

Category: Movie Reviews
Written by Gilbert Seah
Clint Eastwood's new movie RICHARD Jewell opens this week. Watch for Kathy Bates as Richard's mother.
.
FILM REVIEWS:
THE BODY REMEMBERS WHEN THE WORLD BROKE OPEN (Canada/Norway 2019) ***
Directed by Kathleen Hepburn and Elle-Maija Tailfeathers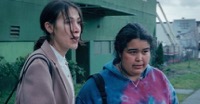 THE BODY REMEMBERS is a low budget 2-handler about two indigenous women. It has a simple premise and directors Kathleen Hepburn and Elle-Maija Tailfeathers go to great lengths with details.
The film opens with Rosie (Violet Nelson) riding a bus. A woman with a child gets on, dropping a plush toy that Rosie picks up. It is hinted that she likes children an it is soon revealed that Rosie is expecting. Also seen boarding the bus in the background is Aila (the film's co-director and writer, Elle-Maija Tailfeathers) who later encounters Rose crying not the street, but not before the audience is given some background of her. Aila is 31 and wants a baby but has had problems having one despite hers trying. Aila has had an abortion before.
Áila then encounters again Rosie, barefoot and crying in the rain on the side of a busy street. She soon discovers that this young woman, Rosie, has just escaped a violent assault at the hands of her boyfriend. Áila decides to bring Rosie home with her and over the course of the evening, the two navigate the aftermath of this traumatic event. Not much in terms of the story but Aila tries to convince Rosie to stay at a safe-house to protect herself and the baby.
This is one extremely slow moving film saddled with details. If one loves details, then this film will be a pleasure to watch. The directors ensure that one feels for each character down to every moment. Every movement or action have repercussions. Rosie at one point takes something from Aila's handbag. It does not register what it is till much later in the film that it is her wallet. Rosie is particularly rude and ungrateful despite Aila's care. Credibility comes into the picture.
As far as Aila's patience for Rosie despite her rudeness and swearing, one might attribute it to Aila's not being able to have a baby. Other than that, her patience is quite beyond belief. Any normal person would have given up on Rosie. The scenes in the taxi are overlong and demands a lot of patience.
Though one might sympathize with the pregnant and abused Rosie, Rosie is depicted to be an independent person who thinks she knows what she wants, regardless of her being right or wrong.
THE BODY REMEMBERS is definitely a difficult watch, for its attention to detail, its slow pace and sombre and depressing story. To the directors' credit, this is an uncompromising tale that celebrates the the resilience of women, regardless whether the film works or not.
The TFCA has nominated this film as one of the three nominees for this years Best Canadian Feature that carries a big cash prize. It has just been selected as Canada's Top 10 for 2019.
Trailer: https://www.youtube.com/watch?v=8l3WC4wl-SY
BOMBSHELL (USA 2019) ***1/2
Directed by Jay Roach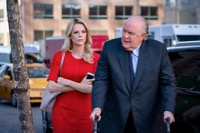 The film's premise is simple enough that it can be stated in one line. Women previously sexually harassed by Fox News CEO Roger Ailes stand up and expose Ailes for his crime.
BOMBSHELL is a no-nonsense drama. It gets right to the crux the matter with little humour and with no side-stories. The film therefore turns out an uncomfortable and occasionally gut-wrenching watch (even if one is a male) but this is a story that needs to be told - for the women and others to stand up and make a difference so that what has happened in the past will never happen again.
The script by Charles Randolph details the pure hell the abused women have to go through to attack Ailes. "You must be prepared when Ailes summons everything and goes all out to destroy you,' warn the lawyers taking up the case. The truth can be seen in how the career, family and personal life have been made a living hell.
While most of the characters in the film are real-life characters, the film clearly states at the start that a few fictional ones have been added to dramatize the events. One such character is a Fox worker, Kayla played by Margot Robbie, a victim who comes out to tell the story and cries why others have not done ether duty.
The single best performance belongs to Charlize Theron as Megyn Kelly. Besides looking like a dead ringer for Megan Kelly, she totally inhabits the role. Those who have followed the news on the subject will likely find it difficult to distinguish between Theron and Kelly. This is how good Theron is and her performance has been praised widely by critics everywhere. The other best performance belongs to John Lithgow who is daring enough to put on prosthetics to look even more disgusting and older that Roger Ailes. Ailes has passed away sine the movie had been completed.
Director Jay Roach known especially for his Austin Powers movies tackles BOMBSHELL with dead seriousness and little humour. The one funniest punchline in the film is uttered by Roger Ailes when accused of sexually harassment of the women: "I never used to be this ugly." Roach has made political films before, as in TRUMBO (blacklisted screenwriter Dalton Trumbo)and the TV dramas such as GAME CHANGE and RECOUNT.
The success of BOMBSHELL might see the emergence of the similar sexual harassment case of Harvey Weinstein, which would likely have juicier bits.
The film ends with titles informing certain events that have happened since the making of the film. The titles mention the settlement amounts the sexually harassed victims obtained which is just as much as Ailes' severance pay after his resignation. The second statement is meant to anger the audience so that more can do their part to ensure sexual harassment and bullying stops, once and for all. BOMBSHELL is a film about real life events that needs to be told. The heroes in this movie are the victims who risk all to do all that needs to be done.
Trailer: https://www.imdb.com/title/tt6394270/videoplayer/vi2331492121?ref_=tt_ov_vi
(Video Review: Video out this week……)
FREAKS (USA 2018) ***
Directed by Adam Stein and Zach Lipovsky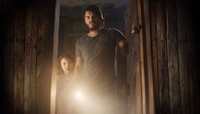 FREAKS, which premiered last year at the Toronto International Film Festival features an impressive low budget dystopian apocalyptic scenario that though runs into familiar territory. Still, it has a unique feel to it. The film looks good in its production values. Writer/directors Adam Stein and Zach Lipovsky craft a creepy tale that keeps the audience guessing what is happening especially in the first half.
Everyone loves a good thriller, especially when one knows literally nothing about the plot. FREAKS is that thriller provided you have not read anything about it.
The film opens on the insides of a dilapidated house where a man (Emile Hirsch) and a daughter (Lexy Kolker) reside away from anyone else. This immediately brings the recent dystopian father and daughter drama LIGHT OF MY LIFE which Casey Affleck starred and directed where the father and daughter live on their own away from strangers after some plaque has destroyed most of the females in the world. But nothing is initially stated at the starting of FREAKS except of what one hears from the father.
Chloe's father (Hirsch) prevents her from leaving their dilapidated house or from even looking outside their board-up windows. It is not clear if there are actual dangers outside, as "Dad" believes, or if there is something psychologically wrong with him. This is where the film works really well. There is an image on the television with the words: "Drone targets house in Seattle". What does this all mean and why is dad warning Chloe of evil men outside.
It is right after the father returns from getting supplies that he gets wounded and passes out. Chloe escapes through the front door to meet a strange Mr. Snowcone (Bruce Dern) who entices her with a chocolate ice-cream cone.
When the elderly Mr. Snowcone takes Chloe to the park, he scare hers by pushing her too high on the swing. When a cop arrives, it turns out that she can make the cop go away by her sheer will. Nothing is what it seems and the film takes a brilliantly chilling turn.
At this point, one can hope that the film gets better as the script also written by the two directors have put in many odd set pieces in the first 30 minutes that need to be explained. For one, Chloe is locked up in the closet where she meets her apparent sister. The people outside the house seem to know Chloe's name and Chloe's mother, though the audience have no knowledge where or who Chloe mother is. The neighbour appears to resemble the mother too.
It is right at the half way mark that everything is explained. The film turns into action mode and this is where the film turns less interesting once the mystery is revealed.
To the directors' credit, they still keep a few surprises of the story for the second half, which though not as absorbing as the first half still makes not a bad sci-fi thriller.
Trailer: https://www.youtube.com/watch?v=4Qdr8sbhz30
KINGSWAY (Canada 2018) ***
Directed by Bruce Sweeney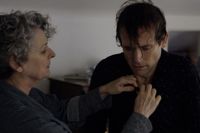 This dysfunctional comedy is done with much of the Bruce Sweeney wit that viewers of his previous films DIRTY, LAST WEDDING and EXCITED are used to. And it is bitingly funny. Take the first scene with Matt (Jeff Gladstone) in his psychiatrist office. "I am better. I don't need to be here and I can leave." So he gets up and leaves the office. But Matt is not better but getting worse, even considering suicide. It does not help that his wife, Lori is having and affair but worst of all, his dysfunctional family is butting in trying to do what they think is best for him - which is not. The bossy sister, Jess (Camille Sullivan) and mother, Mary (Gabrielle Rose, who is always a pleasure to watch) will not leave Matt alone, even stooping so low as to confront Lori for him. Director Sweeney knows how to tread the fine line between anxiety and crazy and often the line is blurred. One wishes that there would be something deeper in the story or some message for the audience but Sweeney's film is so entertaining, no one really cares for anything deeper. The fantastic cast do a great a job as well.
Trailer: https://www.youtube.com/watch?v=r2ILcjp-x44
RICHARD JEWELL (USA 2019) Top 10 *****
Directed by Clint Eastwood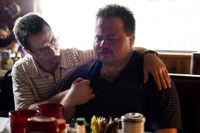 From the film's trailer that's been playing everywhere, it does not take a genius to guess the film's entire story. But the film's pleasure lies not in the story, that many are already aware of, from the news articles, but in the way the events are re-created on film, courtesy of veteran director Clint Eastwood (UNFORGIVEN, MILLION DOLLAR BABY), screenwriter Billy Ray and a stellar cast delivering winning performances including relative newcomer Paul Walter Hauser as the titular Richard Jewell.
The film was based on an article "American Nightmare" published by Vanity Fair in 1997 and chronicles the life of Richard Jewell during the events that led to a bomb attack at the 1996 Summer Olympics in Atlanta, Georgia. Jewell then heroically saves lives after a bomb was detonated during the 1996 Summer Olympics. However, the FBI identifies him as one of many suspects and this leads to his unjust vilification by journalists and the press. The FBI cleared him after 88 days.
Everyone loves an underdog. When a film shows the underdog finally winning, it becomes a winning movie. But this movie takes things one step further. The underdog is persecuted. Richard Jewell who discovers the bomb is suspect of bringing in the bomb and has to clear his name. "Put eyes on him." the FBI is told.
Eastwood's talent for music and fondness for country music can be witnessed in the enlivened scene in the Park where singer Kenny Rogers delivers an arousing song. Eastwood did deliver one of his best films of his career (sadly a flop at the box-office), directing and starring him and his son, Kyle way back when in HONKYTONK MAN.
Eastwood's film probably contains what is arguably the funniest segment in a film this year. This occurs when the entire spectator group at the Kenny Rogers concert doing the 'macarena' much to the chagrin of FBI agent Shaw (Joe Hamm).
The film also probably contains the best message in a film this year. "This is what you got. Go do you job, son!" says mother to son, Richard Jewell.
It is just simply endearing when a director takes the advice given in a movie script to heart. When Jewell is pulled in the office for a pep-talk by the campus Dean on taking his security duties too seriously, like stopping kids on the road for drugs testing, Jewel replies that he was told by him at a punch bowl during a party "I don't want no Mickey-Mousing on these campus grounds." Director Eastwood has taken this advice to heart. No Mickey-Mousing in this film with him taking the material in all serious earnestness, in creating on of his better movies in his career.
To director Eastwood's credit, he has inserted into what can be considered to be a male oriented story strong female presence. The first is the well written and performed character of Jewell's mother played by Oscar Winner Kathy Bates (MISERY). Bates delivers magnificently in what could be a small under-written role. Her one scene where she delivers a plea to the President of the United States to clear person's name is proof that she deserves another Oscar for Best Supporting Actress. Having downloaded the screener from the Warner Bros. site, I watched this segment 3 times as it was that awesome. I cried all three times from Bates' performance. In what could be described as a hero without a (human)villain piece, the villain is the media as embodied n Scruggs, a reporter played with gusto by Olivia Wilde. Wilde's character is one that changes from pure greedy evil to person with a conscience.
RICHARD JEWELL is the story of a hero, not a fictitious one found in perhaps the Marvel alternative universe but one that lives, suffers and experiences life as a human being does on the Planet Earth. This is the reason RICHARD JEWELL should be seen, as perhaps a sign of redemption for the human race that there is still much good to be found in the human race, especially during the Christmas season.
Trailer: https://www.imdb.com/title/tt3513548/videoplayer/vi1837612825?ref_=tt_ov_vi
UNCUT GEMS (USA 2019) ***
Directed by Josh and Benny Safdie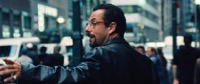 UNCUT GEMS is a crime drama with Adam Sandler in serious dramatic mode displaying a totally frantic and unstable character. Howard (Sandler) is a determined jewel dealer determined to prove himself a champion in his day-to-day life,. He idolizes his client list of famous athletes procured for him by his middleman, Demany (LaKeith Stanfield). Ever scheming with things always going awry, Howard intends to sell a mined chunk of rock full of embedded gems at auction — after it's shipped to him from Ethiopia inside a fish carcass. Josh and Benny Safdie's film is often as annoying as the protagonist who has very few redeeming qualities. The main plot gets distracted. Howard's mistress subplot could very well be cut out from the film with little effect. So can a few other things like his Jewish family gathering and a few other subplots all of which leads to the film's over 2 hour running time. Initially annoying and deserving of good beating-up which Howard gets a couple of times, the audience eventually grows to love this dirtbag by the last reel - which shows how good an actor Adam Sandler can be.
Trailer: (unavailable)
Write comment (0 Comments)