01
Feb
2013
Details

Category: Movie Reviews
Written by Gilbert Seah
Lions Gate releases another gothic romance WARM BODIES this week.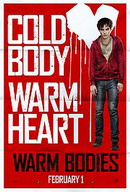 KRIVINA (Canada 2012) **
Directed by Igor Drljaca
KRVINA is an art movie, no doubt about that.  It begins with a 2 minute take with the camera fixed on the back of the main character's head as he is walking along in Bosnia looking for a lost friend.  When he reaches his destination, he asks someone of the whereabouts of his lost friend Dado, but gets a non-commital answer.
If you can take this kind of non-happenings in the slightly hour long film, with nothing much happening except the director's contemplation on his character and his thoughts, then this film is for you.  Otherwise, director Drljaca's film can be really annoying and unsatisfying.
The film follows Dado (Goran Slavkovic), a haunted and homesick immigrant who has moved and lives in Toronto.  He returns to his homeland in search of old mate Dado.  The rest of the film traces his journey and thoughts.  That is about it.  Whether he finds Dado at the end is obviously, inconsequential.
The title refers to a region in Bosnia that Miro travels to in search of Dado.  There are unrelated incidents or related depending on how one wants to look at it, of a massive car crash involving school children and weird sightings of Dado.
KRIVINA might be interesting to some, as one might draw parallels with Miro's character.  But one can also complain that KRIVINA is a bit too slow moving and distant a film with the audience feeling that he could spend his time doing something more worthwhile.  KRIVINA is a simple contemplative film that leads nowhere despite some good observations on Bosnia and Bulgaria.
(Specisal screening: Last week at the Royal)
THE LAST WHITE KNIGHT: IS RECONCILLIATION POSSIBLE? (Canada 2012) ***
Directed by Paul Saltzman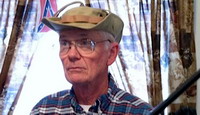 The title of the film says it all as it is the chief concern of writer/director Toronto's Paul Saltzman (PROM NIGHT IN MISSISSIPPI) whether he and long term enemy Delay De La Beckwith can come to terms after more than 40 years of enmity.
It all began years back in 1965 when both were teens.  Paul, then and now a Civil Rights Worker from Toronto travelled to Greenwood, Mississippi to aid the blacks vote where he was punched out by Delay, a member of the Ku Klax Klan.  Paul ran for his life, outrunning Delay and his friends.  Delay's father, also a staunch member of the KKK was imprisoned for murder of a Black.  The film begins with an interview with Delay, one that would last the entire length of the documentary.  The film ends with the interviewer (Paul himself) face to face with Delay, questioning if reconciliation is possible between these two people with highly differing principles.  The doc is a dramatic piece and the central notion is drummed into the audience.
The film is also interspersed with interviews with famous civil right fighters like Harry Belafonte and Morgan Freeman who have been given quite a bit of time to have their say.  But Saltzman's film is choppy and at times all over the place.  The narrative structure is questionable and one wonders of the film's purpose besides answering the said question of the film title.
Most of the reenactments, such as the car chase of the gun toting KKK members and the black civil right workers and the altercation between Paul and Delay's Group are provided by animated sketches.  But these are by no means any less chilling.  Saltzman, to his credit has obtained an impressive list of interviewees that include Delay himself, Belafonte, Freeman and quite the few well known activists.  Newsreel footage aids in giving Saltzman's film a good authentic feel.
But despite the film's flaws, Saltzman's documentary is a compelling watch, primarily for the fact that human beings are such strange creatures.  Paul and Delay win respect for each other despite their differences.  But is reconciliation achieved?  That is up to the audience to decide after watching the film.
A ROYAL AFFAIR (Denmark/Germ/Czech/Sweden 2012) ****
Directed by Nikolaj Arcel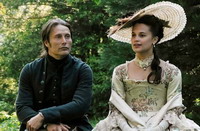 A ROYAL AFFAIR is a sumptuous historical drama from writer-director Nikolaj Arcel (screenwriter of the original version of THE GIRL WITH THE DRAGON TATOO) chronicles the scandalous love triangle between a queen (Alicia Vikander), her
The similarities in the script involve a few scenes of torture (the doctor getting beaten up in prison; a peasant tied to a wooden horse) and erotic sex scenes.
It all starts when the court hires Dr. Struensee to overlook spoiled and mad King Christian VII.  As it turns out the good doctor is also a radical who wants to transform the government to provide more care and aid for the masses, such as mandatory inoculation of the population for the protection of the occurring smallpox epidemic.  But lust gets the better of the doctor and the court schemes to rid of him for unhinging the status quo.
Besides being a film about the royal; affair and the politics of power, Arcel's film eventually turns out to be a chronicle of how the Danish gave power back to the people and how slavery was abolished.
Running at over 2 hours, A ROYAL AFFAIR covers worthy material.  A ROYAL AFFAIR is also Denmark's nominee for Best Foreign Picture at this year's Academy Awards.
MY BROTHER'S WEDDING (USA 1983) ****
Directed by Charles Burnett
Described as a tragic comedy by writer/director Charles Burnett (KILLER OF SHEEP), MY BROTHER'S WEDDING is a good example of an indie African American film that is well made and hits all the right spots.  Combined with excellent performances from an unknown cast, authentic atmosphere depicting desperation and poverty, the film is engrossing from start to end while moving at a good pace.  The mail character is a man named Pierce Mundy (Everett Silas) who has low ambitions and no plans for the future. He settles for a job at his parent's dry cleaners in South Central Los Angeles after being fired from his previous job.  Pierce wastes his days fooling around and wasting time with his childhood friend, Soldier (Ronnie Bell), who was recently released from prison. When his brother Wendell (Monte Easter) plans on marrying a woman, Sonia (Gaye Shannon-Burnett), with a higher social class than he, his disdain for the woman prevents him from making the morally right decision.  Burnett tells his story from little incidents that tell a lot about his characters.  The near robbery of the mother's cleaning store, Pierce's wrestling with his father and his confrontation with Sonia show also show Burnett's sensitivity with his subject matter.  The climax where everything goes wrong with Pierce undecided as to what to do with a clash of the wedding and Soldier's funeral is a classic example of tragic-comedy.
STOLEN SEAS (USA 2012) ***
Directed by Thymaya Payne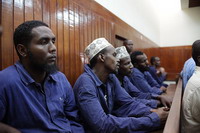 Hot Docs is pleased to announce that February's Doc Soup will present STOLEN SEAS (D: Thymaya Payne; United States, Canada; 88 min.; STC). Winner of the Best Picture Award at the 2012 Locarno Film Festival, STOLEN SEAS will screen on Wednesday, February 6, at 6:30 p.m. and 9:15 p.m., and on Thursday, February 7, at 6:45 p.m. at the Bloor Hot Docs Cinema, 506 Bloor St. West. Filmmaker Thymaya Payne will be in attendance to introduce the film and answer questions following the screenings.
A chilling exploration of the Somali pirate phenomenon, STOLEN SEAS is the story of a Danish shipping vessel's 13-man crew held at the mercy of pirates, a country responding to global capitalism in overdrive, young boys with nothing to lose and a translator who gets in over his head. When the pirates demand an exorbitant $7-million ransom, the hostages remain helpless as haggling between the ship's stoic owner and the pirates' negotiator drags on for 70 days. These two adversaries will have to become unlikely allies as they race to keep the crew from being killed by their violent captors. With exclusive interviews and unparalleled access to real pirates, hostages, hostages' relatives, ship-owners, pirate negotiators and experts on piracy and international policy, STOLEN SEAS is an eye-opening refutation of preconceived ideas on how and why piracy has become the world's most frightening multi-million dollar growth industry.
Single tickets for STOLEN SEAS are $15 and can be purchased in advance online at www.hotdocs.ca or in person at the Bloor Hot Docs Cinema box office. In the event advance tickets sell out, a limited number of tickets may be available at the door on the night of the screening. New this year, Hot Docs has introduced a special Doc Soup Student 6-Pack for $35 ($90 value), valid for Wednesday 9:15 p.m. screenings. Student 6-Packs can be purchased online at www.hotdocs.ca, in person that the Bloor Hot Docs Cinema box office, or by phone at 416-637-5150.
Review: 
STOLEN SEAS (USA 2012) ***
Directed by Thymaya Payne
Not much news have surfaced on the topic of piracy the past decade or so, but at TIFF last year, two new films on the topic of ship hijacking appeared.  One was a Norwegian film, fiction, entitled HIJACK.  The other, a documentary makes its debut at Hot Docs on Wed Feb 6th, with special screenings.
Though both films cover the topic of hijacking and negotiating the release and payment of a ransom, STOLEN SEAS provide more insight on Somali piracy.  In order to cover more ground director Payne has sympathized with the piracy offering reasons for them to indulge in such devious activity.  One argument is he lack of a central government, the other the theft of their fishing seas and poverty that surrounds them as the wealth of ships passes them by daily on their shores.  Many Somalis believe that it is their right to plight and plunder.  But it is difficult for audiences, especially those in North Americans to condone these activities, nevertheless.  Still, credit should be given to Payne for being able to gain access to real pirates, their negotiators  (Ismael Ali, who has an extended voice in the documentary) and experts on international piracy.
Payne conducts the interviews intercut with the negotiations going on with the CEC future, a ship carrying steel from Europe.  What part of these are enactments are difficult to tell.
STOLEN SEAS is an eye opening documentary that shed lights on both a little known topic and on the Somalis.
STAND UP GUYS (USA 2012) **
Directed by Fisher Stevens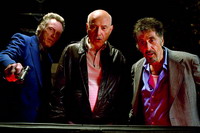 Like the 3 main characters in STAND UP GUYS, the three actors Al Pacino, Christopher Walken and Alan Arkin, who have had their day in the past are now looking for a great comeback.
The lead character Val (Al Pacino, sporting his famous bearded SERPICO look) is released from prison after serving twenty-eight years for refusing to give up one of his close criminal associates.  His best friend Doc (Christopher Walken) is there to pick him up, and the two soon re-team with another old pal, Hirsch (Alan Arkin).  Their bond is as strong as ever, and the three reflect on freedom lost and gained, loyalties ebbed and flowed, and days of glory gone by.  But one of the friends is keeping a dangerous secret- he''s been put in an impossible quandary by a former mob boss, and his time to find an acceptable alternative is running out.  As the sun rises on the guys'' legendary re, their position becomes more and more desperate and they finally confront their past once and for all.
But the lazy script and lacklustre direction results in a poorly paced film that despite its promising premise lingers between not to exciting action and drama.  The humour, despite a few choice one-liners fails to leave an impression either.  The predictable story includes a side plot involving Val and his grand-daughter that appears out of nowhere and serves more as a distraction that leads nowhere.
Of the three characters, Hirsch's comes off as the most interesting mainly because Arkin plays him subtly and with dignity.  Pacino and Walken look frumpy even when donning new suits from a store that break into.
It does not help that the climatic scene is played more for style than action.  When the film ends with a freeze from real life action to a painting, the scene only reinforces what the audience has viewed as still life.
WARM BODIES (USA 2012) *
Directed by Jonathan Levine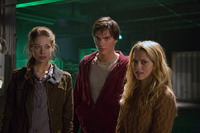 From the director of the critically acclaimed 50/50 a romantic comedy about dying of cancer, comes an unlikely similar comedy about a romance between a human being and a zombie called WARM BODIES.  Like 50/50, the film deals with a difficult subject to relate on screen.  Unfortunately, WARM BODIES turns out to be as alive as a zombie.
WARM BODIES was supposed to be a funny new twist on a classic love story, a sort of Romeo and Juliet with two warring families – the dead and the living.
When the film opens, just as Romero's DAWN OF THE DEAD, zombies have populated the planet.  R (a highly unusual zombie) encounters Julie (a human survivor), and rescues her (Teresa Palmer) from a zombie attack.  R is called R because when asked his name by Julie, all he can do is growl.  Julie sees that R is different from the other zombies, and as the two form a special relationship in their struggle for survival, R becomes increasingly more human - setting off an exciting, romantic, and often comical chain of events that begins to transform the other zombies and maybe even the whole lifeless world.
The main problem with this film is its credibility.  From the first reel, all that occurs on screen is complete rubbish, from its ridiculous premise.  Once the credibility factor is gone, nothing else works – the comedy, the romance or the story.  The incidents that occur seem as if it is made up as the script moves along.  The resulting performances by all, including that of John Malkovich as Julie's father come off that totally laughable.
For one, the audience is supposed to believe that zombies are becoming more human.  So, Julie for R and tries to convince father that he should stop killing the zombies as they are becoming human.  Then, the story gets more ridiculous by the existence of another worsen form of zombie – that of those degenerated to skeleton mass.  The reason is not explained at all nor does it matter after a while.  So, there is human Against the R type of zombie and all against the skeletal zombie.
The slight zombie related humor is not that funny either.  Example is Julie trying to walk like a zombie to pass as one or R trying to act human to pass as one.
WARM BODIES is a dead waste of time from the very start.  If only the filmmakers had the sense to realize the credibility of a premise before investing in it.
WEST OF MEMPHIS (USA 2012) ***
Directed by Amy Berg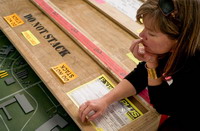 WEST OF MEMPIS is not the first film made about the catastrophic failure of a judicial system.  While last year's TIFF entry GUILTY (PRESUME COUPABLE) accounts for an innocent man wrongly accused of being a pedophile, this one is a doc examining three teenagers (the West Memphis Three) imprisoned for the heinous crime of sexually assaulting and killing three young boys.  As a doc, the film fails to establish whether the three are really guilty since the film provides both sides of view (Prosecutor and Defence) thus reducing the impact of the film.  But the film also displays more objectivity, to Berg's credit in the process.  Running over a 2-hour length, WEST OF MEMPHIS is unusually long for a documentary, party because the film covers many peripheral issues at the same time, such as one of the convicted, Echols' marriage to Lorri while in imprisonment as well as a possible other person who might be the real killer.  Though the film applies the logic of a witch hunt to the conviction of the three teenagers as wrong, the film also applies the same principles in the cornering one of the boy's stepfather as the possible guilty party.   In short, Berg is guilty of the very crime she is condemning.  She implies the stepfather's guilt without sufficient evidence.  But Berg's film also covers the life, living conditions and atmosphere of the Memphis people and one can relate to the incidents that occur in the film.
PICKS OF THE WEEK:
Best Film Opening: Side Effects
Best Film Playing: Django Unchained
Best Comedy: This is 40
Best Family: The Hobbit  
Best Foreign: A Royal Affair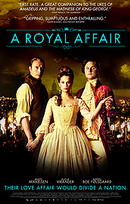 Best Documentary: The Bastard Sings the Sweetest Song