THE CATCH: JAPANESE CINEMA IN THE EIGHTIES
Ranging from the wild and wanton to the austere and magisterial, from major late works by masters Hiroshi Teshigahara and Kinji Fukasaku to the debuts of unruly upstarts like Takeshi Kitano, this series from TIFF Cinematheque showcases rarely seen classics from what many consider the last great era of Japanese cinema.
All screenings are at the TIFF Bell Lightbox.
For complete film listing in the series, show times and ticket pricing check the Cinematheque website at:
Capsule Reviews (4 films):-
THE FAMILY GAME (Japan 1983) ***
Directed by Yoshimitsu Morita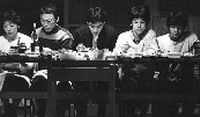 Extremely popular when first released in 1983 and voted the Best Japanese film by Japanese critics. It is easy to see the reason this mow dated film wowed audeinces.  The film satirizes Japanese culture from the family to home tutoring to the need always to have the sons in the best schools.  The film centres on the Numata family consisting of the father, Kōsuke (Juzo Itami); mother, Chikako (Saori Yuki); and two sons, Shinichi (Jun''ichi Tsujita) and Shigeyuki (Ichirōta Miyagawa). Shigeyuki is a junior high school student. He will soon be taking a high school entrance examination. Unlike the high school student brother, Shinichi, who lives up to the father''s expectations, Shigeyuki''s grades are poor, and he is only interested in roller coasters. The father finds a private tutor, Yoshimoto (Yusaku Matsuda), for Shigeyuki and imposes all responsibilities for his exam on the tutor.  Eventually he passes the exam for the high school. At a family celebration, Yoshimo creates a riot at the dinner table.  But the film is a weird one with the tutor hitting the boy and even kissing him at the first meeting. Morita''s film is all right but not as good as all its praises.  It also contains a monotonous boring middle in which nothing much happens but repetition.
(Screening March 10th)
FALL GUY (Japan 1982) ***
Directed by Kinji Fukasaku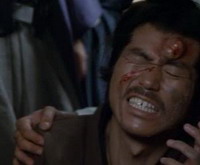 From director Kinji Fukasaku, well-known for BATTLE ROYALE, his earlier film FALL GUY is set during the production of a samurai epic on the Toei studio lot in Kyoto.   Fall Guy exposes the injustices visited on honest, hard-working men serving corrupt and undeserving bosses; all he has done is change the setting. In the place of low-ranking yakuza are stuntmen, the foot soldiers of the entertainment industry. In the place of Japan''s criminal underworld is a movie set.  The FALL GUY of the film is Yasu (Mitsuru Hirata) who is one of the studio's mega-star Ginshiro''s (Mirio Kazama) dotting lackeys, always trailing the cry baby diva with a stream of compliments.   Ginshiro is starring in a samurai epic, but most of his energies go into winning a skirmish for close-ups with co-star and arch-rival Tachibana (Daiijiro Harada).  To get his way, Yasu is forced to marry Ginshiro's pregnant girl and to take a fall down a lengthy staircase which will almost surely kill if not maim him for life.  It is an ideal story for dozen of parodies in real life from the goings-on of gangster to movie studios.  But everyone overacts most of the time and each segment is always overdone to no end.  If the actors are not screaming at each other, they are jumping all over the place.  Still Fukusaku's is not without its pleasures, especially when it gets more serious without the comedy.  The message also does come across at the end which is thankfully, a happy ending.
(Screening March 17th)
RIKYU (Japan 1989) ***
Directed by Hiroshi Teshigahara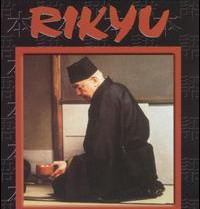 Despite its over 2 hour running time and the fact that Teshigahara''s moves at a snail''s pace, RIKYU still makes compelling watching.  A reason for this can be attributed to the fascination to the strange ways of the tea as well as the unfamiliarity westerners have of Feudal Japanese times.  RIKYU is the name of a 16th century master of the japanese Tea Ceremony. The film focuses on the late stages of life of Rikyū (Rentaro Mikuni), during a highly turbulent period of Feudal Japan.  It starts near the end of Oda Nobunaga''s reign, with Rikyū serving as tea master to Nobunaga, and continues into the next period.  Rikyū is portrayed as a man thoroughly dedicated to aesthetics and perfection, especially in relation to the art of tea.  But he finds himself running of the Lord he serves for expressing his opinions on politics. Director Teshigahara is so involved in his film that he also insults the part of the audience that fails to appreciate his film.  In one scene, RIKYU says that a small mind will not understand the ways of tea.  As the film progresses on, several lines such as ''To know the way of tea, one must removes its vessel (the teaware.)", indicate his obsession with the art form.  Still RIKYU is a meticulously made film that captures the mood and atmosphere of 16th Century Japan and its tea preparation art form whether one can relate to its subject or not.
(Screening Apr 5th)
VIOLENT COP (Japan 1989) ****
Directed by Takeshi Kitano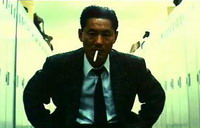 In the 70's and 80's, Hollywood had Popeye Doyle, Frank Bullitt and Dirty Harry Callaghan.  Japan's answer to the cool, no-nonsense cop is Detective Azuma (Takeshi Kitano) who is so violent and self-destructive, he finally gets himself fired and is forced to buy an illegal gun underground in order to get revenge.  Be forewarned that VIOLENT COP is not a crowd pleasing movie.  There is an extended of gang rape of a retarded bar girl, who turns out to be Azuma's sister.  The violent segments are extended for shock effect and these can turn out to be quite nasty (grabbing he blade of a knife, slitting of fingers) at times.  Yet surprisingly, VIOLENT COP makes a totally compelling watch.  Though the film contains well worn themes involving corrupted police officials and drug dealers, Kitano weaves his film into unexpected outcomes.  The result is an exceptionally paced film in which one can never foresee what is going to happen next.  A subplot involving his rookie, Kikuchi (Makoto Ashikawa) also has an unexpected twist.  Kitano followed this film with other violent films such as BOILING POINT, SONATINE as well as OUTRAGE and BEYOND OUTRAGE.  But VIOLENT COP is his excellent start to it all.
(Screening March 6th)