CINEFRANCO 2013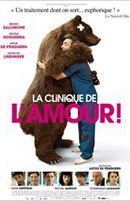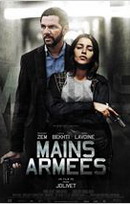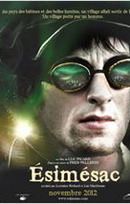 Cinefranco arrives again in printemps from April 6th, a week of French films from France and Quebec, brought to the Toronto public courtesy of Marcelle Lean and her hardworking troupe.
Most of the films are commercial fare with a light touch, a lot of comedies with a few dramas  provided as well.  As usual quite the few filmmakers will be present to introduce their films.  All the films will be screened this year at the Royal Cinema, in little Italy on College Street, a fine area are full of coffee shops, bars and restaurants nearby.
For a complete listing of films, ticket pricing, and film descriptions, check the festival website at:
Capsule reviews for a few of the films are provided below. This site normally provides more reviews but this reviewer was en vacances from March 22 to April 6th, so  he did the best he could.  A few more reviews will be posted in the next few days, so keep checking the website.
Bon Cinema!
CAPSULE REVIEWS:-
CATAMINI (Canada 2012) ****
Directed by Nathalie Saint-Pierre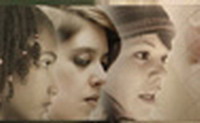 A powerful film about abandoned girls that breaks filmmaking rules of telling a story, CATAMINI is nevertheless gut wrenching and totally absorbing despite a slow start.  Director Saint-Pierre's film moves from girl to girl as the film moves from foster home, to detention to runaway to rehabilitation centes as it shows different views and problems that appear to have no solution.  The last story, the most sad of all, shows a positive girl who has almost survived the system.  Mado has got a job and lives in a nice house but she is raped twice out of no real fault of hers – being at the wrong spot at the wrong time and not strong enough to resist and stand up for herself.  The other girls fare worse, especially Cathy, the youngest with no say because she is too innocent.  The foster home of Rejeanne and Raynald is also under close examination – looking all good intent from the outside with deadly secrets being hidden.  Though depressing, CATAMINI delivers a candid look at a social problem that demands but has got no solution
LA CLINIQUE DE L'AMOUR (France 2012) ****
Directed by Artus de Penguern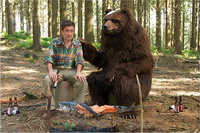 This extremely hilarious comedy deserves 4 stars for its absolute hilarity and amount of laugh out loud moments.  This is the typical charming French romantic comedy that despite its used theme delivers originality and unpredictability. Directed by Artus de Penguerm who also plays the straight lead as John Marchal, a surgeon who saves his father's clinic from a takeover.  He also falls in love with a nurse, Priscilla (Helena Nogguerra) who is hooked by and wed by his brother, Michael (Bruno Salomone) instead. Michael has an affair with a new nurse, Samantha Bitch (Natacha Lindinger) who together attempt to get rich by selling the clinic to the competition.  So, it is up to John to save the clinic and realize his true love for Priscilla. The plot also contains a few other interesting characters that add more humour to the proceedings.  Though the film contains quite the few violent scenes (lots of blood during surgery, a baby delivery, and bashing on the head with a baseball bat), all this is done in good fun as long as the audience realizes that this is only a movie. Altogether the funniest film I have seen this year, hands down.
COMME UN CHEF (France 2012) ***
Directed by Daniel Cohen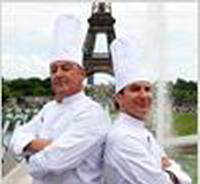 COMME UN CHEF is the type of light French comedy such as DINER DE CONS, LA CAGE AUX FOLLES that make good Hollywood remakes. The story concerns Jacky, a self-trained cook (Michael Youn) with haute-cuisine ambitions who keeps gets canned from a series of menial cooking jobs.  His pregnant girlfriend Beatrice (Raphaelle Agogue) tries to halt their financial meltdown by arranging a handyman position for him at an old folks home, but he cannot resist the siren call of the kitchen. Meanwhile, Alexandre (Jean Reno), chef of the three-star establishment Cargo Lagarde, faces a crisis of a different sort.  Stanislaw, the son of his retired business partner, wants him to cut costs and introduce molecular gastronomy. Together, Jacky aids Alexandre save his reputation while his romance is saved.  What could have been a good farce is mostly wasted in this light comedy. The same flaws are found here as in most comedies with identical storylines. The plot is predictable, the girl Beatrice is not given much to do but look pretty, and of course the bumbling Jacky saves the day. Still the film offers audience a look at French haute cuisine though it may be argued that the real thing has been on display in the recent French doc ENTRE LES BRAS (on top 3-star Michelin chef, Michel Bras). But COMME UN CHEF contains a priceless hilarious set piece – the one where Jacky and Lagarde dress as Japanese husband and wife to enter a competitor's restaurant to steal recipes.
ESIMESAC (Canada 2012) ***
Directed by Luc Picard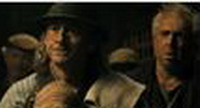 Director Luc Picard's latest drama follows the hardships of a poor village in Quebec during the period of a year ending during a winter Noel. ESIMESAC (Nicola-Frank Vachon) is the name of the strongest man in the village.  He was kept in his mother's womb for the longest time, a form of contraception practiced in the village.  (Don't ask!)  Esimesac has no shadow though he eventually grows one from the shape of an acorn.  (Again don't ask why!)  Picard' s story is full of these fairy tale touches, which provide a nice touch to the overall fairytale look of the film – though they often make no sense.  The villagers try to grow a collective vegetable garden for food but the soil is too rocky. The local blacksmith enlists the help of the villagers to build the railway with the hope of a station stop in the village.  Picard's film contains an awesome soundtrack including a solo sung by the blacksmith. Otherwise, this fairy tale is a sordid affair full of sadness and despair.
MAINS ARMEES (France 2012) ***
Directed by Pierre Jolivet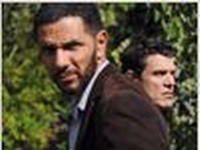 Veteran director Pierre Jolivet's (LE DERNIERE COMBAT, FORCE MAJEURE) latest policier is a thriller drama with narcs and gun running as a backdrop.  The protagonist is Lucas (Roschdy Zem from DAYS OF GLORY) an agent after illegal gun runners who is trying to make it up with the daughter, Maya who he abandoned as a father.  Maya is a narcs agent who gets her kickback while doing her duty.  She resents her father and the latest job brings narcs and the guns department together.  Though not a thriller, the jobs of the two departments are shown to be tough and dangerous.  There are many casualties as the team carry out their work.  Jolivet does fine work here with no compromises.  Father and daughter finally come to terms with each other but not without the pain and drama that come with their jobs.  Good drama in an exciting setup.
 MINCE ALORS! (BIG IS BEAUTIFUL) (FRANCE 2012) **
Directed by Charlotte de Turckheim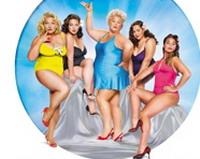 A French comedy that does not really celebrate 'big' as the title suggests but examines the importance of friendship.  The main character is slightly overweight Nina (Lola Dewaere) whose husband, Gaspard (Gregory Fitoussi) sends her to a spa for weight reduction.  She meets up with Emile (Catherine Hosmalin) and Sophie (Victoria Abril from KIKA and HIGH HEELS) and they become "SEX AND THE CITY" like girlfriends who help each other out in troubles and fun.  Nina's husband is found cheating and Nina has to fend for herself.  Turckheim's comedy is not funny enough and contains more drama than expected but it has its charms as well.  There is a subplot involving a fat boy that eventually gets his dream of visiting les dunes de Pyla.  I visited the dunes years back when I visited Bordeaux and I was disappointed the film never showed any scenes of the place.  The happy ending in which all three women get what they want is too good to be true.
WHY WOULD I LIE 3 (France 2012) ***
Directed by Thomas Gilou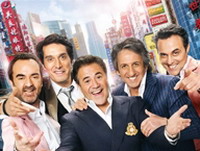 WHY WOULD I LIE 3 must have followed up two very successful comedies.  I had seen the first some time back, recalling it just being an ok comedy (Why would I lie?)  This one, is not a film totally about telling a lie.  A lot of lies are told in this film or rather a lot of truths are hidden and the lies form the secondary parts of the main plot rather than the main one.  The main story involves a family business that is in trouble.  A competitor wants to take over and frames the neighboring Chinese company that has just moved in.  But of course the heroes survive after a lot of hassle and running around.  This rather expensive comedy with too many characters for its own good (it costs US$30 million) should have been funnier considering the amount of money spent, but the money likely went to overseas costs as a segment of it was shot in Shanghai.  The actors playing the characters interact very well at least, as evident in the very last segment of the film.
Ecrit par GILBERT SEAH