19
Apr
2013
Details

Category: Movie Reviews
Written by Gilbert Seah
Big film opening is OBLIVION.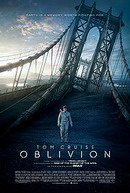 Review:
OBLIVION (USA 2013) **
Directed by Joseph Kosinki
The film begins with a massive introduction in which the viewer is given an update, via voiceover as to what has happened to the Planet Earth.  The earth is destroyed and the people are blah, blah, blah on.  Apparently, all that is left is Tom Cruise.
Tom Cruise looks bit odd being short with all his bulked up muscles, especially in IMAX.  But with the many shots of him in military space maintenance gear, Cruise looks fabulous and tall.  If that is not enough, the Cruise clones should more than satisfy his fans.
He is one of the few remaining drone repairmen assigned to Earth, its surface devastated after decades of war with the alien Scavs.  He discovers a crashed spacecraft with contents that bring into question everything he believed about the war, and may even put the fate of mankind in his hands.  And so it goes, in this futuristic thriller that could be right out of the TRON story.
OBLIVION contains bits of classic films of the genre such as 2001: A SPACE ODYSSEY (the computer HAL and Sally in this case), STAR WARS (clones) and STAR TREK (travel sequences).  Whether one would consider these clever or plagiarized, that is up to the viewer.  But in IMAX, the sets and props are more than stunning, outing the audience right into space where the action takes place, no doubt about that.
For a film based on a graphic novel, written by the director himself, it takes a bit of concentration to follow the plot on what is going on.  Again whether this is intentional or a  flaw. That is up to the viewer to interpret.  But the romance between the two lead characters is never really explained or developed and is just there as a given. The reason for the lead being there and other plot details are conveniently left out.  More important to the director is how the $120 million budget film looks.  Fortunately, the film does look good.
More mystery than action or thrills OBLIVION is a big gorgeous set than anything else.  A theme park would be a worthy offshoot if the film is a box-office success.  And how would one feel after viewing OBLIVION?  Very much like viewing TRON which Kosinki also directed.  Lots of futuristic eye candy to coddle but coming out with emotionally nothing!
BEST PICKS:
Best Film Playing: TRANCE
Best Family: THE HOBBIT: AN UNEXPECTED JOURNEY
Best Foreign: NO
Best Doc: THE GATEKEEPERS
Best Comedy: ADMISSION