03
May
2013
Details

Category: Movie Reviews
Written by Gilbert Seah
IRONMAN 3 should be the movie everyone will be watching or watching out for.  With general good reviews, the film should be a hit at the box-office this weekend.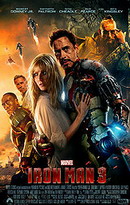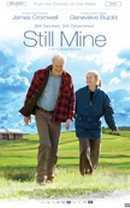 REVIEWS:
IRONMAN 3 (usa 2013)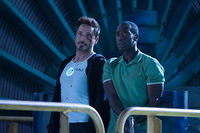 The third of the IRON MAN franchise, Shane Black's (KISS KISS BANG BANG) entry remains true to the original series while trying its best to come up with new innovations to keep audiences glued to the action.
Credit should be given to co-writer and director Black. Unlike the 3rd BATMAN film, in which Christopher Nolan resorted to changing all the rules of the BATMAN comics franchise (too many people knew of Batman's secret identity; Catwoman and Batman's romance; a new villain not in the comic book) in order to surprise and keep the audience attentive, Black does not resort to these underhanded trickery. But he is limited in what he can use in IRON MAN 3. A new character impersonating the Mandarin (a very funny Ben Kingsley) for example is introduced without compromising the integrity of the IRON MAN series.
IRON MAN 3 pits brash-but-brilliant industrialist Tony Stark/Iron Man (Robert Downey Jr.) against an enemy (Guy Pearce) whose reach knows no bounds. When Stark finds his personal world destroyed at his enemy''s hands, he embarks on a harrowing quest to find those responsible. This journey, at every turn, will test his mettle. With his back against the wall, Stark is left to survive by his own devices, relying on his ingenuity and instincts to protect those closest to him. As he fights his way back, Stark discovers the answer to the question that has secretly haunted him: does the man make the suit or does the suit make the man?
Guy Reach makes a sufficiently nasty villain and Gwyneth Paltrow a love interest and Don Cheadle a faithful sidekick.  But it is Oscar winning ben Kingsley (GANDHI) who steals the show from everyone including Downey Jr. But no one will complain.
Black's film takes a third of the time to get it footing. The action sequences are more than aptly executed, the most noticeable being the excellent sound effects and sound editing. If one watches the explosion segments, every little flash has its separate sound, varying from intensity according to brightness. As far as CGI, 3D effects go, this film provides top notch effects.
Next thing to watch is whether Disney/Marvel's IRON MAN 3 will beat OZ THE GREAT AND POWERFUL to be the number 1 movie at the box-office this year.
STILL MINE (Canada 2012) ***
Directed by Michael McGowan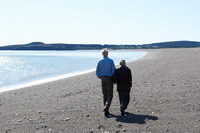 STILL MINE, set in New Brunswick, a province of Canada and based on a true story, tells the heart-wrenching story of an ageing couple Craig (John Cromwell from BABE and BABE IN THE CITY) and Irene (Genevieve Bujold) in their struggles in their later years.  Irene is losing her memory.  Their children want her in her home but the couple has never been apart for more than a few days in their 50 years marriage.
            Craig (described by his friend as a smug bastard) decides to build a smaller house on his property for her to ease their descent into even later years.  But he runs afoul of the Canadian building authorities that want to bulldoze his place for not following regulations and code.
It does not seem that long back that Genevieve Bujold won the King's heart as Anne Boleyn or when she wrestled another female to the ground in a tavern in THE CRIMSON PIRATE.  Now, in her later years, she is still able to win hearts with her dear performances.  Cromwell, well – he is superb!
            STILL MINE could be said to be the Canadian version of AMOUR.  It also reminds one of the Australian hit comedy, THE CASTLE in which a nobody has to defend his home against building an airport strip over his land.  STILL MINE tackles quite the few issues of ageing such as memory loss, fragility, distrust of family, retirement homes and sexuality.  Though not as thorough or depressing as Michael Haneke's AMOUR, STILL MINE covers most issues but with a lighter touch.  The two ageing leads survive in a happy ending.  The story is made very real as it deals with the couple's daily chores and routines, problems and family members.  (The couple has 7 children.)
Though one may argue that STILL MINE may not be that realistic, as it assumes that 80-year old Craig has still got all his Faculties and strength to build a house, the film is still a welcome change from all the old age crap (the recent THE BIG WEDDING) that Hollywood and the U.K. (A LATE QUARTET) has put out where the seniors generally pine over their glorious sexual days or aim to relive some previous fantasy.  STILL MINE deals with the couple striving to survive.  But one could still do without the overblown sentiment and the overdone metaphor of the pine dinner table representing life.
The tacked on happy ending would therefore be argued as forgivable for if anything would have happened on screen, heaven to forbid to Craig or Irene, that the audience would never forgive!  The end credits also reveal that the real Craig is now 91 living in the new house he has built.  And that Irene is by his side.
BEST PICKS:
Best Film Playing: TRANCE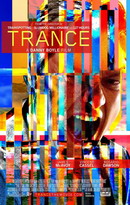 Best Family: THE HOBBIT: AN UNEXPECTED JOURNEY
Best Foreign: NO
Best Doc: REVOLUTION
Best Comedy: ADMISSION
Best Action: PAIN AND GAIN