17
May
2013
Details

Category: Movie Reviews
Written by Gilbert Seah
The STAR TREK INTO DARKNESS film should boost IRON MAN 3 out of 1st place at the box-office this weekend.  The ultimate culture clash film THE RELUCTANT FUNDAMENTALIST also makes its debut.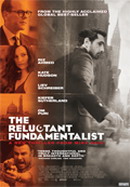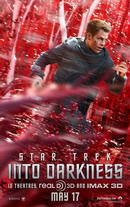 REVIEWS:
THE ANGELS' SHARE (UK/France/Italy/Belgium) ****
Directed by Ken Loach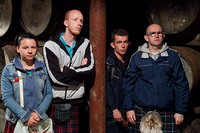 The start of the new Ken Loach film begins as a typical depressing Loach drama.  Several young people are handed down sentences by a judge in a court, all of which involve doing hours of community service.  Then comes, Loach's protagonist Robbie (a wonderful performance by relative newcomer Paul Brannigan).  Robbie narrowly escapes a prison sentence for the fact that he is about to become a father.  He too is sentence to community service.
            But THE ANGELS' SHARE surprisingly turns out to be an uplifting film, quite unlike what audiences expect from Loach.  Fortunately Loach does a marvelous job, also blending in the elements of humour (the interaction of the group) and suspense (the distillery heist), which are rarely seen in a Loach film.
            The story follows Robbie; unable to get a job and thus be the good father he wants to be.  In fact, his girl's uncles show up at the maternity hospital to beat Robbie op.  But a kind angel in the form of Harry (John Henshaw), the work coordinator arrives to offer the lad a helping hand that includes helping him escape from his past enemies.  Harry introduces Robbie and the other sentences to malt whisky.  They take a tour of the local distillery after which Robbie masterminds a job that should keep him financially stable and able to be a good father.
            If all this sounds sappy, it isn't.  Loach delivers surprise after surprise, in terms of performances, plot device, camerawork and music in one of the most pleasant surprises of the year.  The country accent and plot are all characteristic of where Loach is from.  He knows his material well and it pays off on screen.  The popular 'Persuaders' song "I walk 500 miles" heard throughout the film emphasizes the simplicity and entertainment value of the film.  Loach is always comfortable with simple folk as in the best of his films like UP THE JUNCTION, LADYBIRD LADYBIRD and MY NAME IS JOE.
            THE ANGELS' SHARE deservedly went on to win the Jury Prize at the Cannes Film Festival.  This is on film about redemption, kindness and triumph of the human spirit that should not be missed!
MUD (USA 2012) ***
Directed by Jeff Nichols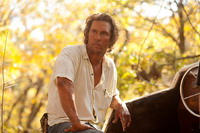 Many films have been made of the theme of a stranger entering the lives of a family leading it to come to terms with moving on for a better life.  The classic film SHANE comes immediately comes to mind.
            The new film MUD from director Jeff Nichols (TAKE SHELTOR) adds a few more
components into the age old story.  Firstly, the film is set in Mississippi and the change occurs in the lives of the two young 14-year old protagonists, Ellis (a wonderful and sincere performance by Tye Sheridan) in particular.
            14 year-old Ellis (Tye Sheridan) lives on a makeshift houseboat on the banks of a river in Arkansas with his parents, Mary Lee (Sarah Paulson) and Senior (Ray McKinnon).  He sneaks out early one morning to meet his best friend, Neckbone (Jacob Lofland). Neckbone, also 14, lives with his uncle, Galen (Michael Shannon from TAKE SHELTOR), who makes a hardscrabble living diving for oysters.  It all starts when the two boys set out to an island on the Mississippi River, where Neckbone has discovered an unusual sight-a boat, suspended high in the trees, a remnant of an extreme flood some time in the past.  They climb the tree and into the boat only to find fresh bread and fresh footprints.   They meet a mad named MUD (Matthew McConaughey) who apparently ahs killed a man and has bounty hunter after him.  To make matters worse, his girl Juniper (Reese Witherspoon) is supposedly waiting for him in town.
            Of course, the boys agree to help Mud.  This is where that they learn that life is not cut and dry.  Juniper is not as loyal to mud as expected and the reason Ellis agrees to help as the fact that he too, is spurned by young love.
Nichols unfolds his story with no rush allowing the actors to excel in their performances.  McConaughey is particularly good matched only be newcomer Tye Sheridan.  The confrontational scene in which Sheridan freaks out shows a budding new talent.
The southern atmosphere and look are effectively captured on film.  Here, it is high drama unaffected by silly CGI effects.  MUD rises above other kids films such as STAND BY ME as MUD is an effective adult film about kids coming-of-age.  The film has a grand shoot-out as a climax though it may be argued that the film's only action scene seems like a compromise by Nichols to make his film more commercially acceptable.
PLEASE KILL MR. KNOW IT ALL (USA 2012) *
Directed by Colin Carter, Sandra Feldman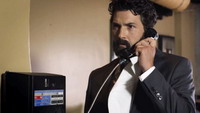 Sally(Lara Jean Chorostecki) starts an advice column answered by Mr. Know It all. It becomes so popular that people want to meet the man.  She sketches a figure that turns out to look like Albert (Jefferson Brown), who happens to be a hit-man. 
Sally meets Albert because Albert needs to kill Mr. Know It All in order to remain unrecognized to carry on his killing job.  This is actually an intriguing premise for a film, except that everything falls apart after a quarter into the film.
            Once the film transforms from curiosity piece into a romance, the film falls flat.  Whatever interest or originality conceived immediately evaporates.  One can hardly tell what would attract the guy to a babbling and nervous (her own words) female or she to a stuck-up and uptight (also in his own words) male.  Worst still these two lah-dee-dah spineless characters are annoying to watch, worst when the two are out together.  Their visit to the zoo is a case in point.  The two wander about with nothing much to say.  And before you know it, cutesy irritating doggie comes into the film.
            Normally, it helps if a film's supporting characters are interesting enough to give the story an additional boost. In he case of this film, I turns out that every supporting character is more interesting than Sally and Albert.
            For example the film begins with a character being interviewed who has just won an Emmy, Grammy and Oscar,  Why did the writer and director ditch this character?
            If only the makers of this film would have consulted a similar Mr. Know It All for some advice.  Such a guy likely does not exist as in the film, hence this dismal little film that should be given a miss. 
THE RELUCTANT FUNDAMENTALIST (UK/USA 2012) ***1/2
Directed by Mira Nair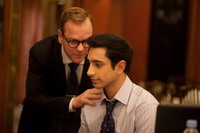 Mira Nair's (SALAAM BOMBAY, MONSOON WEDDING) is her homage to Lahore, Pakistan as is evident in the credits at the end of the movie revealing that her father was true Lahore.
            Nair captures both the beauty and danger of a Pakistan after the 9/11 attack on the Twin Towers, USA when the world looked accusingly of Pakistan or anyone with a beard or a turban, as one character remarked in the film.  The film is based on the novel of the same name by Mohsin Hamid is well known to be ambiguous but Nair's film leaves none of this to the audience's imagination.  All the doubt is resolved in the climatic scene in the film.
            The film begins in 2011 in Lahore with flashbacks to the past.  At an outdoor café a Pakistani man named Changez (Riz Ahmed) tells Bobby (Liev Schreiber), an American journalist, about his experiences in the United States.  Flashback reveals a younger Changez fresh from Princeton, seeking fortune and glory on Wall Street.   The American Dream seems well within his grasp, complete with a smart and gorgeous artist girlfriend, Erica (Kate Hudson) and supporting boss (Keifer Sutherland).  But when the Twin Towers are attacked, a cultural divide slowly begins to crack open between Changez and Erica. Changez''s dream soon begins to slip into nightmare: profiled, wrongfully arrested, strip -searched and interrogated, he is transformed from a well-educated, upwardly mobile businessman to a scapegoat and perceived enemy.  With time, he begins to hear the call of his own homeland.
The film taking the audience through the culturally rich and beguiling worlds of New York, Lahore and Istanbul, tells the story about conflicting ideologies where perception and suspicion have the power to determine life or death.  The film is slowly paced and one wishes the film be as taut as the last third to match the theme of the novel.  But still, this is a beguiling story and Nair shows the transformation of her protagonist with great credibility – also thank to the performance of the charismatic leas Riz Ahmed.
            Though by no means a flawless film, THE RELUCTANT FUNDAMENTALIST by Nair won the film Best German film for Peace which it deserves for her worthy effort and death threats that's she both received.  Recommended viewing for a great culture clash film!
STAR TREK INTO DARKNESS (USA 2013) ***
Directed by J.J. Abrams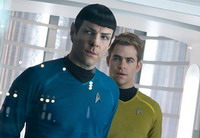 Despite the 'darkness' in the film title, don't expect this J.J. Abrams film to be anywhere near dark.  Abrams plays it extremely safe with the Star Trek franchise, which is probably the reason he got hired to do the new STAR WARS movie.
            As such, trekkies should not be disappointed but rather pleased.  The characters from Spock (Zachary Quinto) to Captain Kirk (Chris Pine) behave the way they are supposed to behave.  Spock emphasizes the fact that Vulcans cannot feel, which is brought into an intelligible debate in the middle of the film.  The entire crew is present in the S.S. Enterprise.  Their interaction also makes the movie, something that films like IROM MAN 3 lacks.  The script also allows lots of talk on how much good the star fleet accomplishes, which will not doubt bring goose bumps to the true trekkie.
            The result is a film that lacks surprise and wit.  The visual effects are satisfactorily stunning but the action sequences, particularly the chase on earth choppy and discontinuous.  Most of the characters have super human strength, which is kind of silly, including Spock and the villain of the piece, Khan (Benedict Cumberbatch).  The fight between the two looks rather like a cartoon sequence.
            Hunk Pine and Quinto display more emotion in their acting than in the previous STAR TREK film.  But the main surprise is Brit Cumberbatch who is no getting the proper Hollywood attention a good actor deserves. It took him a while from early films like STARTER FOR TEN and ATONEMENT to get his due.  It is also hard to see John Cho (HAROLD AND KUMAR) keep a straight face throughout the film.
            STAR TREK INTO DARKNESS finally evolves as a satisfactory time waster, more likely popular with Star Trek fans but unfortunately more forgettable as well.
BEST PICKS:
Best Film Opening: THE ANGELS'' SHARE
Best Film Playing: TRANCE
Best Family: THE HOBBIT: AN UNEXPECTED JOURNEY
Best Foreign: NO
Best Doc: REVOLUTION
Best Comedy: ADMISSION
Best Action: PAIN AND GAIN