18
May
2013
Details

Category: Movie Reviews
Written by Gilbert Seah
INSIDE OUT 2013
As spring arrives, so does the annual Toronto LGBT Film Festival.  Now in its 23rd year, the festival celebrates the diversity of Toronto with the wide range of gay themed films from the world over.  Running from May 23rd to June 2, there will be enough films to suit any taste.
For complete information on Inside Out 2013, check the festival website at:
Complete program description, show times and ticket pricing can be found there.
A few of the films screened are capsule reviewed below:
CAPSULE REVIEWS:
COCKPIT (Sweden 2012) ***
Directed by Martin Klingberg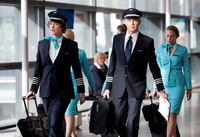 This is not the first time a male has to cross dress to land a job.  Dustin Hoffman donned wig and dress to get a role in TOOTSIE and in COCKPIT, laid off pilot, Valle (transforming into a believable Maia) dresses up as the airline only hires female pilots.  Valle Andersson's wife has left him and he has moved into his lesbian sister's place.  But things get better when he lands the job or so he thinks.  COCKPIT also covers the agenda of female equality and a romance between Valle and a bi flight attendant who thinks Valle is a woman.  All this high jinx is actually quite funny with the film pulling up quite the few laugh out loud moments.  This comedy is perhaps the perfect outing for a group of friends at the Inside Out Festival.
FOUR (USA 2012) **
Directed by Joshua Sanchez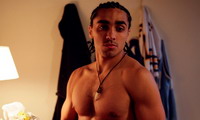 The title FOUR could be derived from the film's setting, which is the evening of the 4th of July or the four characters that the story is about. The film, based on the play by Christopher Shinn follows two couples, one gay and one straight related by the fact that the girl, Abigayle (Aja Naomi King) of one couple happens to be the daughter of
Joe (Wendell Pierce from THE WIRE) a middle-aged out on an internet date with a much younger white boy, June (Emory Cohen). In the mean time, Abigayle has sex with her smart talking half spic, half white boyfriend, Dexter who turns out to be more than she bargained for. Sanchez's film moves at a snail's pace with characters that brood too much for their own good. The young actors King and Cohen turn out more annoying than one can imagine. If only they can stop their whining and get a life! The lacks of a satisfactory ending does not help either. The film eventually turns out to be a complete waste of time about hapless characters no one really would care about.
IN THE NAME OF (W imie…) (Poland 2013) **
Directed by Malgoska Szumowska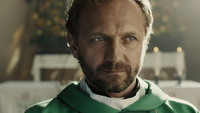 Priest, Father Adam (Andrez Chyra), a closeted homosexual is given the task of looking after teens in a parish.  It does not take a genius to guess that he will begin a sexual affair with one (Mateusz Kosciukiewicz) of them, stirring up trouble in the process.  It takes the entire film for Father Adam to come to terms with his sexuality and landing up in bed (at least this is a highly charged sex scene).  Nothing else happens in terms of the narrative.  The result is a rather boring exercise punctuated with bouts of pretentious fare like renaissance paintings and pieces of art that cannot hide what the film lacks.  Everybody knows that Catholicism and homosexuality do not mix and one need not have to sit through this film to enhance the fact.  This film with lots of eye candy, has been chosen to be the Opening Film of the Inside Out festival this year.  Appropriate perhaps, since the world got a new Pope this year!
INTERIOR. LEATHER BAR (USA 2013) **
Directed by James Franco and Travis Mathews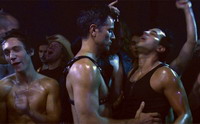 William Friedkin had about 40minutes of footage cut from his gay crime cop drama CRUISING in which Al Pacino played a cop going undercover in the gay community in order to solve some grizzly murders.  In this documentary actor James Franco and filmmaker Travis Matthews film what they envision could have been cut out from CRUISING.  This includes  a really raunchy gay segment hat takes place in a sort of leather bath house with scenes that could have been taken out of a porn movie.  The film takes a major segment of its time arguing the purpose of making this film.  Most of the points that include showing the public what they are not used to seeing, displaying gay sex as it really is, to break the mould, so argues Franco to his disturbed actor playing the part of Pacino.  Whether one agrees with Franco is another matter, but Franco clearly is determined to make his point.  The film could be both described as exploitive or perhaps a freedom of film as an art form, but there is no doubt that this film will disturb and get the audience talking.  But worst of all is an absolutely ridiculous segment with the actor playing Pacino coming to terms with his part in the film.  Enough is enough! It is doubtful that Friedkin would have been this graphic in directing CRUISING.
LOSE YOUR HEAD (Germany 2013) ***
Directed by Stefan Westerwelle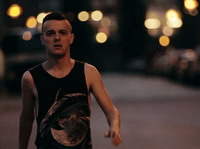 LOSE YOU HEAD traces the misadventures of a disgruntled but generally happy young gay Spaniard, Luis ( a winning performance by newcomer Fernando Tieve) who crashes the Berlin club scene after a break up back home with his lover Marcos. Luis is naïve and inexperienced. He gets robbed, taken for a ride but his good nature brings out the good in people around him. He meets a dodgy Viktor (Marko Mandic) but their love/hate relationship leaves much to be desired. Still Luis remains faithful though it is doubtful what Viktor is up to. What starts off as an easy flowing narrative evolves into something more complex – a murder and disappearance in which nothing might appear as what it seems. Director Westerwelle's film grows more intense and intriguing at the same time. The film is supposedly based on a true story of a young Portuguese which makes the film all the more scarier.