24
May
2013
Details

Category: Movie Reviews
Written by Gilbert Seah
Lots of new movies opening this weekend including FAST AND FURIOUS 6, THE HANGOVER 3 and EPIC.  Because of screening clashes, the latter two films are unreviewed.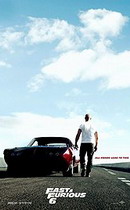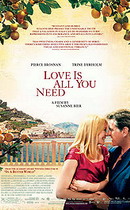 Also opening is the 23rd Inside Out LGBT Film Festival in Toronto.
Film Reviews:
APRES MAI (SOMETHING IN THE AIR) (France 2012) ***
Directed by Olivier Assayas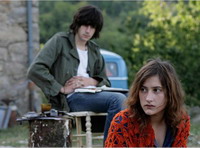 The APRES MAI (AFTER MAY) of the film title refers to the months in 1968 after a revolutional air (English title) descended upon resulting in a national wide strike.        
            But the story of the film is set in Nanterre University where a group of students with their political ideals aim to change the world.  As the film progresses, they realize through family, relationships and the need to survive and pay for their existence that practicality comes into the picture as well.
            Events are shown from the perspective of Gilles (Clément Métayer), a 17-year-old high school student whose ambition is to be a prospective filmmaker, painter and a political activist.  Gilles and his friends Alain (Felix Armand) and Jean-Pierre (Hugo Conzelmann) are activists.  Gillea leaves Laure and finds love with his new girlfriend Christine (Lola Creton) and they leave the country for Italy. The story also concentrates on Jean-Pierre and Alain with a segment on Christine too.
            The young actors try hard but their lack of experience shows.  The romantic and confrontational parts pass without much conviction.  When Assayas' camera dwells on the long legs of actress Lola Creton (playing Christine) one gets the impression that this newcomer should not deserve this type of attention usually reserved for major stars.  By inevitable comparison, one recent film with excellent performances by young actors is Mia Jansen-Love's UN AMOUR DE JENEUSSE.
            Other films like Bernard Bertolucci's THE DREAMERS treaded similar waters while creating a stronger narrative.  Though certain segments are well executed, particularly the lengthy riot scene (Assayas being no stranger to shooting mass action as evident in CARLOS) at the film's start in which rioters are severely beaten, the fact that the story refuses to rest on one or two characters but split its attention among more, results in a weaker sprawling narrative as well as a less engaging film.  The first half of Assayas' film is noticeably better than the second.
In the final analysis, APRES Mai comes off as a heroic failure.  Just as the film's characters idealize principles instead of practicality, Assayas' worthwhile effort fails to engage despite its outstanding achievement in the creation of the troubled times of that period.  Assayas have made simpler films like IRMA VEP and CLEAN and fared better. 
FAST AND FURIOUS 6 (USA 2013) **
Directed by Justin Lin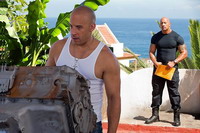 As if five entries are not enough FAST AND FURIOUS 6 sees yet another louder and even more furious film.  As expected in another entry in a well-worn franchise, the film lacks originality, imagination, creativity and everything that makes a good film. 
            To FAST AND FURIOUS fans, the many adrenaline fuelled car chases and fight sequences should be furious enough to keep them occupied.  Upon careful consideration, most of these are hastily strung together with so many cuts that there is absolutely no continuity.  With the advance of CGI to so high a level these days, what is seen on screen could be very well derived from the computer with scenes just laid out, instead of an actual car chase in the streets.  The two car race that takes place in the streets of London is executed at such break neck speed the audience can hardly tell what is real or not.  What ever happened to the long continuous chases that one can trace from street to street such as the classic one in BULLITT and in the James Bond films?
            The plot has been rehashed in countless films of this genre.  Federal Agent (Dwayne Johnson aka The Rock) forces ex-crooks (played by past FAST AND FURIOUS stars like Paul Weller and Vin Diesel) to come out (blackmail rather) of hiding to do one last job that will bring them face to face with a nasty villain (Luke Evan) and nemesis hat reflect their outer egos.  The climatic segment has them fight what looks like their muscled clones.
            Director Justin Lin who shot to fame with the well-made Asian indie BETTER LUCK TOMORROW has now prostituted himself to Hollywood with rubbish such as ANNAPOLIS.  He is one of the best paid and reliable directors for formulaic films such as FAST AND FURIOUS 6 will fall in the class of films the Studio Bosses will be satisfied with that will go on to make lots of cash but is entirely devoid of intelligence.
            This forgettable film ends with a sequence that promises another sequel.  How loud and obnoxious can a film be? 
LOVE IS ALL YOU NEED (Denmark 2012) ***
Directed by Susanne Bier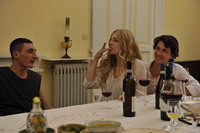 Danish film darling Susanne Bier is in lighter mood after her dead serious Oscar Best Foreign Film Winner IN A BETTER WORLD.  She is now in romantic territory mode, and her latest romantic comedy has been described as a MAMMA MIA! type romp because of its sunny holiday setting (Sorrento in Italy) or perhaps that both films share star actor Pierce Brosnan.
            The title LOVE IS ALL YOU NEED has nothing to do with that Beatles' songs with those famous lyrics but rather the words immortalized by Arthur Miller in one of his novels.  This is what one of the characters in Bier's film utters, as if to establish the fact that the director is a literate reader who knows what she is doing.  To Bier's credit, her romantic comedy is many steps ahead of the terrible lot of rubbish Hollywood churns out, MAMMA MIA! being no exception.
            In the film, the story centres of the father, Philip (Brosnan) of the bride.  The big wedding of his son and bride is being planned but Philips falls in love with the bride's mother Ida (Trine Dyrholm) who is having problems both marital (the husband is leaving her for a younger woman) and medical (she is recovering from cancer).  The film is quite similar in plot to THE BIG WEDDING in which romance between the parents takes precedence over the bride and groom.  THE BIG WEDDING turned out to be the worst film released (and perhaps the biggest money flop of Lionsgate) this year while Bier's film turns out to be charming, funny romantic and even original.
            With love conquering all, Bier's film turns out to be one difficult to dislike.  Just as individuality winning over the convention, this rather unique film is an example of how standard fare can be improved given a little thought and care.
PICTURE DAY (Canada 2012) ***
Directed by Kate Melville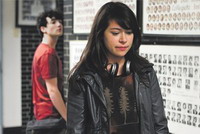 PICTURE DAY is a film set in Toronto about one Torontonian, Claire.  At the start of the film, Claire (Tatiana Maslany) picks up an older musician, Jim (Steve McCarthy) and has an affair with him.  While in school, he meets science nerd, Henry (Spencer Van Wyck) who she used to babysit.  Henry, a collector of various objects falls for her and begins collecting stuff on Claire.  Living with her depressed mother (Fiona Highet) and freely having one night stands, Claire is physically stuck in adolescence and her awkward transition into adulthood is represented by these two very different guys who are both pining for her attention. 
            The PICTURE DAY of the title refers to the school's picture day when Henry has to get his photo taken right after Claire has dyed his hair blue, to get him to be more popular with his schoolmates.
            PICTURE DAY is clearly a woman's picture.  All the females have strong characters from the lead, to her fiercely independent mother to her school counsellor.  The men on the other hand are idiots like Jim or have weaker characters like boyfriend Henry.  Melville also appears to despise anything that has authority from school to organization (school) or structure (the band).  It does not help that she fills the film with mostly self destructive characters.
            The film is neatly shot around Toronto, displaying the weeds and more rundown areas of the city.  The music by the Elastocitizens aids in the creation of a more laid back atmosphere.  The result is a small little film that demonstrates that the independent spirit can finally triumphant if one keeps one head tightly screwed on.
QUALITY BALLS THE DAVID STEINBERG STORY (Canada 2013) ***
Directed by Barry Avrich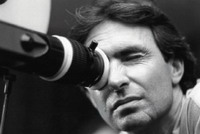 Described in the documentary as a cross between Woody Allen and Lenny Bruce, on can therefore establish the talent, success and fame of standup comic, comedian and director of TV sitcoms like GOLDEN GIRLS, CURB YOUR ENTHUSIASM, MAD ABOUT YOU.
            Director Avrich's doc paints a biased favorable look at David Steinberg.  His personal history is a little brief.  Nothing deep is delved into his personal life.  His immigration from Russia to Winnipeg, Canada is mentioned, mainly as a joke together with the real influence on his comedic career when he and his family moved to Chicago where David is mesmerized by Second City performing. "I can do that," he imagines, and does.
            In Avrich's documentary, this man can do no wrong.  He is portrayed as intelligent, educated, respectful and mostly funny.  The film is packed with archival footage of his early days performing with The Second City in Chicago and his innumerable appearances on The Tonight Show Starring Johnny Carson.  The film explores Steinberg's tremendous influence on comedy.  It was Steinberg, along with Richard Pryor and George Carlin, who transformed stand-up in the 1960s, turning it from the delivery of zingers to personal storytelling and social satire.  A who's who of famous comedians, which Avrich has provided as talking heads in the doc, includes Jerry Seinfeld, Larry David, Dave Foley and Norm Macdonald.
            But whatever complaint one may have on the thoroughness of the doc on the man's life, QUALITY BALLS (the term conned by Seinfeld) will generate sufficient laugh-out loud moments from Steinberg's material.
BEST PICKS:
Best Film Opening: LOVE IS ALL YOU NEED
Best Film Playing: TRANCE
Best Family: THE HOBBIT: AN UNEXPECTED JOURNEY
Best Foreign: NO
Best Doc: REVOLUTION
Best Comedy: ADMISSION
Best Action: PAIN AND GAIN