Lots of early film openings from Wednesday this week due to the American Thanksgiving.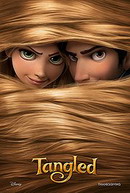 TANGLED, LOVE AND OTHER DRUGS, BURLESQUE and FASTER open Wednesday!
Film Reviews:
BURLESQUE (USA 2010) **
Directed Steve Antin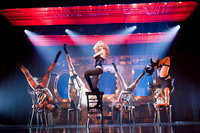 The Burlesque of the title refers to both the type of dance and the name of the club owned by Tess (Cher) and her ex-husband, Vince (Peter Gallagher).
The club is in financial trouble.  So arrives an Iowa girl Ali (Christine Aguilera) who has high hopes to sing and dance on stage.  She gets help and finds romance from local bartender, Jack (Cam Gigandet).  It does not take a genius to figure out that the two will fall in love, she will get her big break and save the club.
BURLESQUE has enough energy especially the choreographed numbers but gets zero marks in terms of originality.  If the film often has the feel of CABARET, it is not surprising as Steve Antin has plagiarized shamelessly from the Bob Fosse musical.  Fosse's signature dance moves such as the Lisa Minnelli's "Maybe This Time" number with the chair and lights in Cabaret and the finger snapping beginning in "Hey Big Spender" in SWEET CHARITY are prime examples.  Even the climatic dance number with the block letters BURLESQUE is taken from a Pussycat Dolls number.  Images of the Burlesque's Emcee (Alan Cumming) are direct out of Cabaret even the shot through a frosted glass.
The story of the rookie saving the club from financial debt is no novel idea either.  Neither is the romance between Jack and Ali or the story that it takes a legend to make a star.  The result is a lagging, boring third portion of the film.  The audience knows what to expect at the end, so the climax is a letdown.
Do not expect any show stopping CABARET songs by Fred Ebb and John Kander.  The songs here are pleasant, if not entirely forgettable.  Credit must be given to Cher and Aguilera for trying their best pretending that they are crooning the best songs ever written.
Cher must surely deserve the award for the actress best at quivering her lips.  To be fair, the veteran actress of such dramas as MOONSTRUCK and MASK commands screen presence more aptly than her counterpart Christina Aquilera.  Stanley Tucci has an embarrassing role as Tess' gay stage manager and confidant.
A bit of CHICAGO, a bit of CABARET and a bit of other musicals (including MOULIN ROUGE) but BURLESQUE eventually emerges as a disappointment.
COOL IT (USA 2009) **
Directed by Ondi Timoner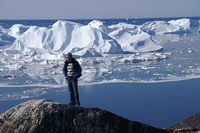 COOL IT, as the title implies, is the instruction given by a questionable environmentalist to simmer down and not to worry too much about global warming.  It is not as big a problem according to Bjorn Lomborg and the film by Ondi Timoner illustrates this point while showing Lomborg at work creating trouble for others.
Lomborg is a Danish academic who has taught in several colleges.  He has written bestsellers "The Skeptical Environmentalist" and "Cool It".  Many critics weighed in harshly, asserting that Lomborg's credentials as a political scientist did not make him an expert on environmental science. But Lomborg stood his ground, amassed data to counterattack and became a voice to be reckoned with. As an openly gay vegetarian who often challenges liberal doctrine, he remains hard to pigeonhole politically.
In COOL IT, Lomborg argues the debate over global warming, amplifying point that he raised in a book of the same title. Lomborg doesn't deny that climate change is occurring, but he believes activists need fresh responses. He takes issue with Al Gore of AN INCONVENIENT TRUTH and finds fault with prevailing strategies to control carbon emissions. Focusing on the world's growing energy needs, Lomborg tours laboratories of future technologies such as water splitting, algae fuel and wave energy. He also raises the possibility to mitigate climate change through geo-engineering with experimental techniques such as cloud brightening. Whether you accept his views or not, the film brings a heady sense of urgency to confronting a global crisis.  One excellent point he makes is the amount of money that goes into all the climate summits (like the Tokyo Summit) with zilch results.
Director Ondi Timoner has proven herself a versatile filmmaker with larger-than-life characters in DIGI, about a rock and roll rivalry, and WE LIVE IN PUBLIC, about an Internet visionary. Both films won the Grand Jury Prize at the Sundance Film Festival. But in COOL IT, she covers extensive territory without much aim or goal.   Her material jumps from one source to another, just as her subject appears to be attacking his critics from all fronts without strategy.
Lomborg and Timoner fire off ideas like a tennis ball machine with too many misses.  Lomborg has made many valid points but are these valid reasons to devote an entire film to this man?  The film also fails to argue against Lomborg's views.
MADE IN DAGENHAM (UK 2010) ****
Directed by Nigel Cole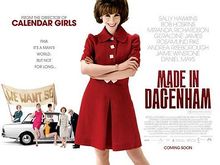 This extremely feel-good vehicle for Sally Hawkins, playing Rita O'Grady is so saccharine sweet; it would not be surprising if film critics hate it.  But it might well go on to win the TIFF popular audience award for its insistence to cater to want audience want at the movies – escapism. This is like Sally Hawkins doing BILLY ELLIOT.
The theme of MADE IN DAGENHAM is the fight for equal pay for women in the Dagenham Ford factory in the 60's.  Led by a fiery and no-nonsense Rita (Sally Hawkins from HAPPY-GO-LUCKY), all the difficult if not impossible obstacles are overcome by the last reel, much to the delight of the audience.
The film has a familiar theme as NORMA RAE, the film that won Sally Fields her first Oscar.  Though the fight is till for human principle, in this case equal pay for women as opposed to the formation of unions in NORMA RAE, both films are quite different.  For one, Rita fight hard against the unions here who, are male oriented and stagnant in their fight for the women workers.  Secondly, MADE IN DAGENHAM is more comedy than drama with the breezy, smart talking Sally Hawkins winning most of her arguments, even with her loving husband (Daniel Mays).
Cole keeps the surprises coming from his supporting characters.  Cambridge educated Lisa (Rosamund Pike), wife of one of the higher ups in the plant appears suddenly to offer Rita needed support.  Shop Steward Connie (Geraldine James) finally comes through for Lisa as does her husband, unsupportive at the beginning.
The 60's atmosphere is effectively created from the dances and dresses at the discos and the dialogue.  I have not heard anything about Ford Cortina's (what the plant makes) since this film and since the 60's.  The film's theme song is performed by one of the Dagenham workers of the past.
The film contains many choice quota table lines.  Who can dislike a film with dialogue like: "You must assume women will do what they are told…"; "What will this country be in if we were to stop fighting?" Or the best line by the Secretary of State (Miranda Richardson): "I am what is known as a fiery red head!"
The audience should stay for the credits as the real heroines of the day speak up to the camera on what they went through.  Most look old and feeble but not the least less deserving for our respect!
THE NUTCRACKER IN 3D (UK/Hungary 2010) ***
Directed by Andrey Konchalovskiy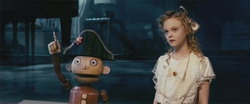 The famous Nutcracker is given the full 3D treatment in this extravagant 100 million production of the story of a little girl (Elle Fanning) who receives a special doll for a Christmas present.
1920s Vienna. Nine-year-old Mary lives in a home filled with lovely things and loneliness. Bothered by bratty brother Max (Aaron Michael Drozin) and neglected by well intentioned, but distracted, parents (Richard E. Grant and Yuliya Vysotskaya), she yearns for companionship and adventure. On Christmas Eve, Mary''s beloved Uncle Albert (Nathan Lane putting on an outrageous accent) arrives with the gift of a wooden nutcracker doll.  Later that night, Mary''s imagination brings the doll to life. Introducing himself as "NC," he takes her on a wondrous journey through a stunning dimension where toys assume human form and everything appears ten times larger. But danger lurks An army of toothy rat creatures, led by the flamboyant Rat King (John Turturro) and his devious mother (Frances de la Tour), has unleashed a plot to overthrow humanity. When NC is captured and placed under a paralytic spell, Mary, Max and a spirited band of toy sidekicks must rescue him from the Rat King''s clutches and thwart his wicked plans to ''ratify'' the world.
Konchalovskiy's NUTCRACKER delivers what is expected from this festive staple from the sets, songs, costumes, atmosphere and looks.  The most luscious prop is the giant Christmas tree.  The rat city looks gloomy and scary enough for little children.
But there is nothing really spectacular or unforgettable about this production. Even the 3D effects seem put on just to draw in the crowds.  The first half of the film is very static with little movement of the characters.  One would expect more movement in the film's choreography.  The film picks up in the second half.
Everyone seems too pleased about the film.  The actors laugh at their own jokes and they look smug most of the time.  Perhaps THE NUTCRACKER is too familiar a story for the filmmakers to want to tinker with a well proven entertainment formula.
TANGLED (USA 2010) ****
Directed by Nathan Greno and Byron Howard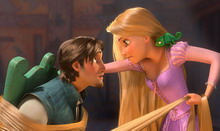 Disney's latest fairy tale takes everything one step further.  From the famous fairy tale Rapunzel, the story is modified into a more down to earth romance made in a 3D movie after the barely successful PRINCESS AND THE FROG last year.  TANGLED has more romance, more comedy, more action and is basically more fun than PRINCESS AND THE FROG.
It all begins with a magical flower with healing properties that ends up endowed in baby princess Rapunzel's golden hair.  Mother Gothel (Donna Murphy) knows that the flower''s magical powers are now growing within the golden hair and to stay young, she must lock Rapunzel in her hidden tower.  With Rapunzel (Mandy Moore) now a teenager and her hair has grown to a length of 70-feet, she becomes curious of the outside world.  One day, the bandit Flynn Rider (Zachery Levi) scales the tower and is taken captive by Rapunzel.  Rapunzel strikes a deal with the charming thief to act as her guide to travel to the place where the floating lanterns come from that she has seen every year on her birthday. A romance develops with an adventure and some good old fashioned action.
As far as 3D animation goes, TANGLED offers nothing new, but the film embraces its cinematic potential.  For example in one crucial scene at the end of the film, with two lights representing the lovers floating into the air, the lights emerge from the screen in 3D.  Directors Greno and Howard also never fail to forget that effective storytelling is still the key issue to a good movie – animated or not.  They take their time to build on the two lead characters and on both their faults and strengths.  For example, in twist of the genre, the hero Flynn in this movie is not your typical hero.  He spends more time running away from the enemy (and even from Rapunzel's frying pan) than fighting them.
Humour is also key in this romantic comedy with the fairy tale twist.  Besides stressing the humour on the bickering couple, the peripheral characters are also down right hilarious – the fat mime and the rough concert pianist being just two examples.  Just as most Disney films contain boring and embarrassing songs, the one musical number "I've Got a Dream" is pure delight in its inventive humour, choreography and odd-ball characters.  One search scene involving a Roman Guard is similar to a segment in MONTY PYTHON'S LIFE OF BRIAN with John Cleese as a Roman Centurian searching an old man's den for anti-government rebels.
TANGLED remains true to its fairy tale roots.  Everything magical, wonderful and entertaining in a fairy tale is present here, in a film that can be enjoyed by both the young and adults alike.  And it proves that there is no need for any piss and sh** jokes in any comedy.
VISION (Germany 2010) ***
Directed by Margarethe von Trotta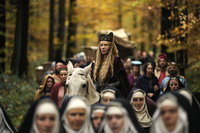 VISION is the gift bestowed on maverick nun, Hildegard von Bingen (Barbara Sukowa) whose work influenced future generations.  She relays the visions to her work and improves conditions, respect and exposure to her communal cloister.
Director Margarethe von Trotta (ROSA LUXEMBURG and MARIANNE AND JULIANNE) takes on the life and work of Hildegard von Bingen while revealing her source and inspiration behind her work.  From 8 years of age in 1106, Hildegard joins a Benedictine communal cloister.  For 30 years, she's taught by the majistra/head nun
Jutta (Lena Stolze).  When Jutta dies, Hildegard discovers that her mentor had worn a belt of thorns in the hope of becoming closer to God through pain.  Taking over as majistra, Hildegard sets out to change the Benedictine rules, including that of self-flagellation.  Using herbs and stones, she becomes a holistic healer, connecting nature to spirituality.  She is a composer (many of her over 90 songs still inform today's religious services), a dramatist (her lyrical play Ordo Virtutum appears in the film) and scientist (her writings inspire Leonardo da Vinci's drawing of the Vitruvian Man three centuries later).  She founds a nunnery for sisters only (the result of a nun becoming pregnant in the
cloister that male and female clergy share) and is the first woman to write about
female sexuality.  Risking skepticism, she talks openly about the visions she sees
and receives the Pope's permission to publish the messages she hears from God.
The cast also includes Hannah Herzsprung as Hildegard's protégé, and Heino Ferch
as a supportive monk.  The film is filled with medieval customs, including the little
known fact that people kissed each other on the mouth when they concluded a
contract.
Despite the sullen setting in which the nuns pray, attend their duties and chores, there is much back-biting, power struggle and human manipulation as in any multi-national conglomerate.  Sister Hildegarde fights with her cloister Father, her prodigy's mother, the pope and the system.
Von Trotta shows Hildegarde's flaws only in the film's second half.  It seems she can do no wrong but only good in the film's first half with her every attempt at change turning out for the better for her cloister and sisters.  But when fellow sister (her prodigy) is offered the post of abbess elsewhere, she will not let her go.  She uses all in her power including the ties she has with the Vatican to keep her.  Here, von Trotta reveals her other side, the one of a spoilt child who will not let her toy go.  It is here that the audience first turns against Hildegarde.
Von Trotta's film moves at a leisurely pace.  She emphasizes key twists in the plot without resorting to cheap theatrics.  As a result, Sukowa's performance appears restrained and the character of Hildergarde placed on a pedestal.  The moody atmosphere is maintained by the lighting kept to a minimum often throughout the film.
The story of Hildegard von Bingen surfaced during the 1970's Woman's movement when feminists were combing world history for stories of forgotten women.  Director von Trotta has made one of the most feminist films of 2010, if not for the last 5 years.
WASTE LAND (USA 2010) ***
Directed by Lucy Walker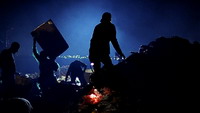 At one point in the film, artist Vik Muniz comments that the garbage workers at the world's largest landfill are very interesting people and if not for his parents, he could have landed up the same fate as these poor souls.
WASTE LAND is a documentary that has won quite the number of awards including the most popular film at the Worlds Documentary Festival.  It is easy to see why as director Walker's film is full of heart and life.  Her film celebrates the lives of human beings, not matter how poor they are or how simple their lives are.  (There is a camera tour of one of the shacks by the landfill – thankfully, the toilet was not shown.)
Her film follows Brazilian garbage artist, Muniz for three years.  It is Muniz's aim to turn garbage to art and he decides to go to the world's largest dump and landfill Jardim Gramacho, just outside Rio where anything from bottle caps to dead babies may be found.  Miniz picks a few workers and puts them into his work, while showing them life outside their realm, even bringing them to museums in London where the works are exhibited.
Walker's film is a simple one.  She lets the artist speak out.  Fortunately, Muniz is charismatic on camera, always smiling and always willing to help the poor in a possibility of a way out.  Walker captures on film, the glee of the workers when they see their work displayed all over the world.  The film has a happy ending in the rewards provided to these people.
An environmental message is also delivered in the film.
BestBets of the Week:
Best Film Opening This Week: Tangled
Best Film Playing: Fair Game
Best Family: Tangled
Best Doc: Client 9: The Rise and Fall of Eliot Spitzer
Best Foreign: Down Terrace (UK)
Best re-issue: The Third Man (at Bell Lightbox)
Avoid: For Colored Girls