29
Jun
2013
Details

Category: Movie Reviews
Written by Gilbert Seah
Les Films de Jacques Demy
One of the French Nouvelle Vague, coming on the scene with his first film LOLA, openly gay director Jacques Demy is known for his 'happy' films primarily because his LES PARAPLUIES DE CHERBOURG, a full musical is arguably the happiest film of all time, despite its tragic theme of separated lovers. Demy is known for his other musicals LES DAMEMOISELLES DE ROCHEFORT and UNE CHAMBRE D'UNE VILLE. The latter is a curious piece with music and songs blended into a riot scene with lots of blood and people beaten up. Films about the director's childhood were made by his wife, Agnes Varda, the one called JACQUOT DE NANTE (never released here but shown once at the Cinematheque years back), being really charming.
Demy's marriage to his wife must be a strange one. No one relly knows. But one might get a clue of what Demy thinks of marriage in the one scene in LA BAIE DES ANGES when Claude Mann tells Jeanne Moreau what he thinks of marriage: "I opted out as marriage sucks the risk and love out of life!
TIFF Cinematheque has assembled quite the exhaustive list of Demy films. For complete details, check their website at:
CAPSULE REVIEWS for selected films:
LA BAIE DES ANGES (France 1963) ****
Directed by Jacques Demy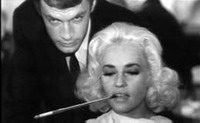 BAY OF ANGELS begins when a naïve bank clerk, Jean (Claude Mann) is introduced to gambling by his colleague. His lucky win of 450,000 fr, (6 months wages in less than half an hour) gives him the courage to tell his father off, gets kicked out of home and leave for the Cote in Nice. Seduced there by a compulsive gambler in platinum blonde wig (Jeanne Moreau), he becomes her escort as they initially get very lucky at the roulette table. One must love the croupier's spin of the roulette wheel as he music of Michel Legrand's music plays reflecting the randomness of life at the same time. The film hooks the audience on just as gambling does. And the effect is no less engaging! Hot in black and white, the film still gives the impression of complete colour!
UNE CHAMBRE UNE VILLE (A ROOM IN TOWN) ( France 1982) ****
Directed by Jacques Demy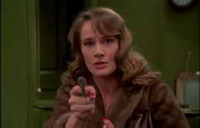 It must be a Demy film when the Baroness (Danielle Darrieux) returns to playing a sonata on the piano right after a tragedy when her daughter Edith (Dominique Sandra) leaves with her gun in her handbag to confront her jealous husband (Michel Piccoli) intent to ill her. The Baroness is out of money and forced to rent the room of the film title to a ship dockworker who falls in love with her daughter, Edith. Edith leaves her husband while the worker gets his girlfriend, Violette pregnant. Clashes between the police and striking workers get violent. It is 1955 in Nantes , where Demy is from. But tragedy never prevented Demy rom making a colorful and happy picture. From the bright ink tea-shirt that the dockworker first wears to the fur cot donned by Edith (though she is naked underneath), there are lots to behold. The entire film is done musical style (like LES PARAPLUIES DES CHRBOURG and LES DAMOISELLES DE CHERBOURG) in which the entire dialogue is sung instead of spoken. The result is film so delightful that the critics in France took an ad in the paper for the public to see this film when it first came out. This version is a restored print.
MODEL SHOP ( USA 1968) ***
Directed by Jacques Demy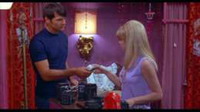 Demy's American film is a strange one, one about a handsome architect drifter, George (Gary Lockwood from 2001: A SPACE ODYSSEY) going abut town trying to get $100 for the back payment of his car or lose it totally. He gets distracted by following a French lady in white (Anouk Aimee) to a MODEL SHOP where he spends the money he got for the car photographing her. This lady is actually Lola, the Lola from Demy's first film LOLA who is supposedly now moved to L.A. the Meanwhile, he is worried that he would be drafted into the army to fight the Vietnam War. Demy's film is a complete tease with lots of good looking actors hinting of sex but with nothing happening. The film shows Demy as he looks at America (this is his only American movie) and where he stands, for example on the legality of marijuana as in the coffee shop scene in which the camera lingers on the headlines on an article on marijuana that Lockwood reads. MODEL SHOP is an observation piece in which nothing much happens in the foreground but much happens in he background.
LOLA ( France 1961) ****
Directed by Jacques Demy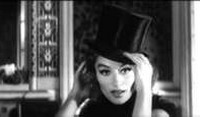 Demy's first film stars Anouk Aimee as Lola, a prostitute/cabaret dancer who sleeps with visiting sailors. She has a 3-year old, Yvon by from her first love, who abandoned her. He still loves him and waits for him, spurning the love of every other suitor on the way. It is Demy's nice touch that two of her suitors other give Yvon the same identical gift, a trumpet to play with. With Demy's colours, Michel Legrand's mesmerizing musical score, one cannot help but fall in love with Demy's charming directorial debut. Some of this music is replicated in Demy's later success LES PARAPLUIES DE CHERBOURG as well as part of the theme of abandoned regnant girl and daughter/mother relationships. But LOLA has a happy ending in which Lola's love does return claiming: "I am rich!" bringing the happy film to an even happier finish. In contrast, the separated lovers do not come together in LES PARAPLUIES DE CHERBOURG, but Demy still completes that film with a happy ending. Both these films are the best of what Demy has to offer.
LES PARAPLUIES DE CHERBOURG (THE UMBRELLAS OF CHERBOURG) 
(France/Wet Germany 1964) ***** Top 10

Directed by Jacques Demy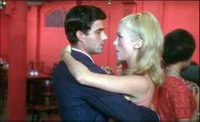 Arguably the happiest film ever made. THE UMBRELLAS OF CHERBOURG is the umbrella store owned by Madame Emery ( Chris tiane Legrand) who lives with her 17-year old daughter, Geneviève (Catherine Deneuve) in the apartment upstairs. She falls in love with poor mechanic, Guy (Nino Castelnuovo) who lives with her bedridden Aunt Elise (Claire Leclerc). Mother objects to the affair but Geneviève pursues her love. When Guy has to leave for a 2 year military service, she is impregnated and coerised to marry another man to support the child. In the hands of other directors, this knocked up affair of a couple forced to marry others would not have turned out like this. Colourful (umbrellas, clothes, shop décor and even the car repair shop) with the dialogue sung out as a recital totally with music by the fabulously talented Michel Legrand, nothing can be as delightful as watching this film on screen. The last 5 minutes of the film, the most tragic, in which the separated couple finally meet by chance is the most moving and unexpected that can be imagined. Bring lots of Kleenex for this entry and be prepared to see this film again and again. Michel Legrand was nominated for the Oscar for the unforgettable song he wrote for the film: "I will wait for you". The film was nominated for a total of 4 Oscars including Best Foreign Film and it won the Palme d'Or at Cannes 1964.