29
Jun
2013
Details

Category: Movie Reviews
Written by Gilbert Seah
THE ITALIAN CONTEMPORARY FILM FESTIVAL (TORONTO 2013)
The second edition of the ICFF (Italian Contemporary Film Festival) runs in Toronto from June 26th to July 6th and promises a fine time of Italian films. Judging from last year's festival, the number of films has more than doubled to 11. And this humble critic believes that the films screened are of a high standard showcasing both commercial and critical fare,
The screenings take place at 3 venues, one of which is at the Royal by Little Italy. Food and wine after the show is therefore most appropriate. One of the films screened is set here in Little Italy.
The films are mostly North American premieres from around the world including Japan and of course Italy .
Screenings will be accompanied by social events attended by celebrities from Italy or of Italian heritage, a commercial forum to bring together Italian, Canadian and international operators and a series of conferences focused (at least in part) on young filmmakers.
For complete information on the festival, programs, films, screening times, venue and ticket pricing, please check the website at:
Capsule reviews for selected films:
BERBERIAN SOUND STUDIO (UK/Italy 2012) **
Directed by Peter Strickland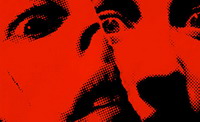 It all sounds excellent for the premise of a horrific drama. Timid Brit (Toby Jones) gets employed in a strange unfamiliar Italian town to do the sound work or a horror film only to find that working there is scarier than the movie itself. The tory allow plenty of opportunity to display the art of sound creation and sound mixing. But director Santini (Antonio Mancini) does not seem to know where to take his material to.
New British employed wanders into the BERBERIAN SOUND STUDIO for his new job. He is given attitude an the runaround for his expenses by the director of the film he is working on. Nevertheless, he works the sound realizing then that many of the 'screamers' are upset as well. The film has plenty to show on how sounds are created, from stabbing (done with a vegetable knife plunging into a cabbage) to a poker inserted into a vagina.
One wonders of the unlikely choice of Toby Jones as the lead except that his small stature would be perfect for the role of a character subject to being bullied. His character is bullied to no end, and one would wish to see him stand up for himself at the end. He does exert his frustration but just once, at the receptionist for not getting his check. He should be mad at Santorini and the director.
LE GUETTEUR (THE LOOKUT) (France/Belgium/Italy 2012) ***
Directed by Michele Placido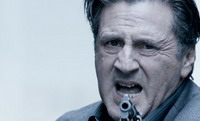 More a typical French crime flick than an Italian film, this is a strange pick for the ICFF. The only things Italian about this quite well executed taut rime thriller is that it is an Italian co-production and othat ne of the main characters, Nico (Luca Argentero) who gets wounded during the bank robbery is Italian. The story centres around Detective Mattei (Daniel Auteuil). Mattei is obsessed with capturing sniper, Vincent Kaminsky (Matthew Kassovitz) who is with the bank robbers and has something to do with Mattei's son's death. A subplot involves a mad doctor Franck played by Dardennes Brothers' favourite Olivier Gourmet. An entertaining rather violent film witb lots of nudity, aided by fine performances from an international cast and the excellent exciting set-up action pieces.
THE LAST LEOPARD (L'ULTIMO GATTOPARDO)
Directed by Giuseppe Tornatore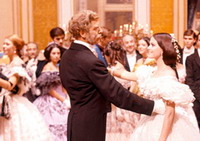 THE LAST LEOPARD is an homage by award winning Italian director Giuseppe Tornatore (CINEMA PARADISO), a man who also loves the cinema and well known for his sentiment in films. It suits things well that he directs THE LAST LEOPARD, the homage to Goffredo Lombardo, the most celebrated Italian producer of all time. The film is so called because he produced the really costly film THE LEOPARD that starred Burt Lancaster with him actually transforming into the Lancaster character himself, as one of the interviewees in the film says. For those who have not heard of Lombardo, this is the film that tells all of the man. By the end, you would learn to respect this Mogul of Cinema, for what he stands for, for his love for the cinema, for a man of his Word and for his work in the medium. Tonrnatore has assembled the most exhaustive list of talking heads I have ever seen in a documentary. These famous film talents include directors like Tornatore himself, Ettore Scola, Francesco Rosi and actors like Alain Delon, Guillermo Gemmi, Bud Spencer, Sophia Loren, Claudia Cardinale and the list is endless. The film moves on at a very rapid pace with Lombardo's films playing in the background of the interviews. THE LAST LEOPARD is a delight and a must-see for those who love the cinema.
REALITY (Italy/France 2012) ****

Directed by Matteo Garrone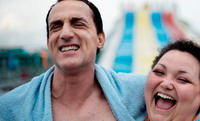 REALITY is director Matteo Garrone's follow up to his 2008 Cannes Jury Prize Winner GOMORRAH which also won the same prize at Cannes this year. Instead of the Sicilian Mafia, Garrone takes on Reality TV as his subject with lead character, Luciano (Aniello Arena) a reasonably successful family ex-fishmonger retailing pasta making robots to make a living. His obsession into being chosen as a participant in a reality show called Big Brother eventually drives himself and his wife, Maria (Loredana Simioli) insane. It is only him that believes that he will be selected, right down to the theatrical ending that can be described as both sad and happy. Garrone's Neapolitan family with chubby children and crazy relatives come right out of a Fellini movie and so are the lead's antics in selling the robots. Cineastes will be pleased to see the actors in GOMORRAH appear in REALITY in completely different roles. (Example is the machine-tooting skinny youth cast as a bewildered bartender here.) REALITY is both sad and hilarious but never far from the reality of the reality of life either.
SHUN LI AND THE POET (Italy 2011) ***
Directed by Andrea Seagre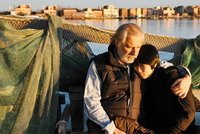 This looks more like a Chinese than an Italian film but the setting is the little fishing town of Chioggia in Italy. This is a sensitive story of friendship with a little romance between two lonely souls that find comfort in each other's company. One is Shun Li (Zhao Tao) who has to work in the local bar to pay for the debt she incurred while moving from China to Italy She also hopes to bring her 8-year old son over. The man is a retiring fisherman Bepi (Rade Serbedzija) who has immigrated years back from Croatia. But the difference in cultures that initially brought them together is now posing to be a problem, thanks to Bepi's so-called mates. But Segre's film is a quietly beautiful one, with lots of pleasant sights and local scenery to look at. And one can tell from the mood o the film that only good things can happen to Bepi and Shun Li.
THERMAE ROMANAE (Japan 2012) *
Directed by H. Takeuchi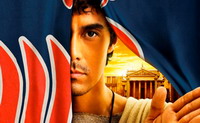 The setting in this very strange box-office hit Japanese entry is 149 AD – the Roman Empire . The current emperor has hired and is fond of current public bath architect Lucius Modestus (Hiroshi Abe). And why not? During his feats of unconsciousness, he is transported to the present in Japan where he steals ideas like the bathtub; milk fruit drinks and toilet flushes for his Roman designs. There is total chaos in this film that might have succeeded if there was a bit or order in the disorder. There is no reasoning or logic for Lucius to travel through time. The antics are hardly funny either. The props and atmosphere of ancient Rome with Japanese doubling as Romans and speaking Japanese are totally ridiculous. But what is the most incredible is that the audience is supposed to believe that the Japanese playing a Roman is in reality not a Japanese but a Roman. Not that anyone cares in this awful film based on a manga comic book.
The Films: (Descriptions)
BENVENUTO PRESIDENTE OPENING NIGHT FILM (International Premiere)
Director: Riccardo Milani
Cast: Claudio Bisio, Kasia Smutniak
Country: Italy
Running Time: 103 min.
Quoted from The Guardian, -Lizzy Davies, April 17, 2013
"Italian cinemas are this month showing a film about a bald librarian from the mountains called Peppino who, due to a voting glitch that terrifies everyone – including himself – is elected to the highest office in the land. As it charts his journey from provincial joker to maverick statesman, Benvenuto Presidente! has given viewers some much needed laughs at a time when real-life politics is every bit as strange as fiction, but certainly not as funny."
SIBERIAN EDUCATION (Educazione Siberiana) North American Premiere
Director: Gabriele Salvatores
Cast: John Malkovich, Peter Stormare, Arnas Fedaravicius, Eleanor Tomlinson
Country: Italy
Running Time: 103 min.
Canadian Distributor: Mongrel Media
The story of a gang of children growing up in a lawless community in a forgotten corner of the former Soviet Union, SIBERIAN EDUCATION follows two best friends who gradually become fierce enemies as they find themselves on opposite sides of the strict code of honour of the 'honest criminal' brotherhood. An adaptation of the Nicolai Lilin autobiography of the same name, this thriller stars John Malkovich as a colorful Russian godfather.
THE LAST LEOPARD: PORTRAIT OF GOFFREDO LOMBARDO
(L'Ultimo Gattopardo: Ritratto Di Goffredo Lombardo) North American Premiere
Director: Giuseppe Tornatore
Country: Italy
Running time: 75 min.
Legendary Italian film producer Goffredo Lombardo is one of the most celebrated producers in Italian cinema (The Leopard, Rocco and His Brothers, Il Bidone). The son of Gustavo, a pioneer of Italian cinema and founder of the Titanus Film Company, Goffredo helped to give international prestige to the Italian film industry after the Second World War. Directed by Giuseppe Tornatore (Oscar® winner Cinema Paradiso), THE LAST LEOPARD pays tribute to Goffredo Lombardo through archival footage and interviews with top actors and filmmakers.
DIAZ:DON'T CLEAN UP THIS BLOOD (Diaz – Non pulire questo sangue)
Writer/Director: Daniele Vicari
Cat: Elio Germano, Jennifer Ulrich, Claudio Santamaria
Country: Italy
Running Time: 120 min
Canadian Distributor: Mongrel Media
This searing political drama retraces the seminal events which took place in the Diaz school raid during Genoa 's violent G8 Summit in July 2001. Diaz is named after the temporarily vacant city-center school used by protest-groups as a makeshift base and sleeping quarters during the economic summit. The police stormed the school and brutally attacked young men and women from all over Europe for two hours.
Director: Matteo Garrone ( Gomorrah )
Cast: Aniello Arena, Loredana Simioli and Claudia Gerini
Country: Italy/France
Running Time: 115 min.
Canadian Distributor: Mongrel Media
Acclaimed director Matteo Garrone follows his award-winning crime epic Gomorrah with this dark comedy about the impact of contemporary media and the nature of fame. Winner of the 2012 Cannes International Film Festival Grand Jury Prize, REALITY follows Luciano, a Neapolitan fishmonger who becomes obsessed with landing a role on the Italian version of the hugely popular reality TV series, Big Brother.
Director: Peter Strickland
Cast: Toby Jones, Tonia Sotiropoulou, Cosimo Fusco, Antonio Mancino.
Country: UK
Running Time: 92 min
Canadian Distributor: Filmswelike – PLEASE HOLD FULL REVIEWS UNTIL AUGUST 2nd THEATRICAL RELEASE
Compared to David Lynch's Mulholland Drive, this smash hit at the Edinburgh Film Festival pays tribute to Italian horror master, Mario Bava. In this sinister and moody thriller, Gilderoy, a timid English sound engineer (Toby Jones - Hitchcock, Infamous), finds himself working with a group of mysterious filmmakers on a low budget horror film in 1976 Italy. Immersed in a Kafkaesque world, he slowly begins to lose his mind.
SHUN LI AND THE POET (Io Sono Li) North American Premiere
Writer/Director: Andrea Segre
Country: Italy/France
Cast: Zhao Tao, Rade Serbedzija, Marco Paolini, Roberto Citran, Giuseppe Battiston
Running Time: 98 min.
Set in Chioggia , a small village on the Venetian lagoon, SHUN LI AND THE POET is a poetic and moving film about the fragile friendship between a shy Chinese waitress (Zhao Tao) and a middle-aged Slavic fisherman (Rade Serbedzija). Zhao was named Best Actress at Italy 's David di Donatello Awards for her role, and director Andrea Segre received the London Film Festival's Satyajit Ray Award for his first feature.