12
Jul
2013
Details

Category: Movie Reviews
Written by Gilbert Seah
The big film opening this week is PACIFIC RIM.  Word has it that this film is going to bomb at the box-office.Warner Bros. is also being shitty (again) and granting screenings only to select outlets.  Hence, there is no review of this film on this site. The other opening film competing for box-office dominance this week is GROWN UPS 2.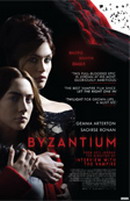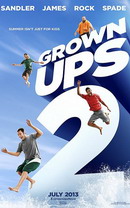 Film Reviews:
BYZANTIUM (UK/USA/Ireland 2012) **
Directed by Neil Jordan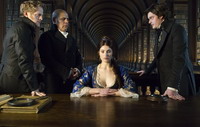 BYZANTIUM returns Irish director Neil Jordan to vampire territory.  With the two leads hiding their secret that they suck blood, one also hopes for surprises for the lovers such as in THE CRYING GAME.
            But no such luck.  The vampire romance thing has already been overdone in the TWILIGHT films and the hidden vampire family tale done in Kathryn Bigelow's NEAR DARK.  The tired and lazy script concerns a mother, Clara (Gemma Arterton) and daughter, Eleanor (Saoirse Ronan from HANNA and ATONEMENT) who moves from place to place so as to hide their vampire tracks.  They now settle in an unnamed English coastal resort.  But they tell everyone they are sisters as vampires do not age and they have lived 200 years.  Clara meets Noel (Daniel Mays) who provides her a place at the family guesthouse called the BYZANTIUM of the film's title.  But Eleanor falls in love with Frank (Caleb Landry Jones) and tells him the secret.  Meanwhile, the past catches up with Clara as she is hunted down.
            But it is hard to believe that Noel who do such a generous thing as leave the family guesthouse to Clara or that Eleanor would fall in love with pale and sickly Frank, despite him bleeding easily.  Noel is not that much of a looker either.  Some questions are left unanswered, such as the one: "How often does a vampire feed?" which is asked by one of the characters.
            Director Jordan's pacing is off with bouts of action (though these are well executed, such as the chase scene) accompanied by long boring passages.  The film is however filled with lots of stunning images such as the waterfalls of blood, the riding home into the night and the ruins.
            Despite the stunning cinematography, Jordan's film fails to engage.  The parts of the story are not strung together well or credibly.  This is a classic case of style taking importance over narrative.  Some cases, it works (the upcoming ONLY GOD FORGIVES) and in others, it does not (as in this film).
DIAZ: DON'T CLEAN UP THIS BLOOD (Italy/France/Romania 2012) ***
Directed by Daniele Vicari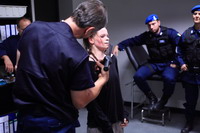 DIAZ: DON'T CLEAN UP THIS BLOOD is compelling drama that recreates the shocking events on police brutality during the G7 Summit in Genoa, Italy.  Those in Toronto are already familiar the G20 Summit mayhem and how the police abused their authority and arrested hundreds of innocent people while playing into the hands of the black bloc anarchists. 
            DIAZ is the school that temporary houses social media and demonstrators or even tourists looking to spend the night.  Unfortunately, the police raided the place, treating everyone as violent criminals, thus beating, injuring and wounding hundreds.  This is Toronto G20 Summit watch gone completely berserk!  As much as Torontonians suffered enough civil rights abuse, those in Genoa underwent much, much, much worse!
            Director Vicari makes no qualms in depicting the violence generated.  Innocent people that raise their hands in surrender are nevertheless severely beaten; a girl is ordered to strip naked and forced to down a glass of water while being medically examined; injured with broken bones are dragged and forced to stand face against walls; and the nightsticks keep coming down hard on the bleeding people.
            Though, the film could have been made a documentary, the film makes a narrative based on real-life people.  Among the key participants are a good cop (Claudio Santamaria), a journalist in the wrong place at the wrong time (Elio Germano) and a demonstrator who is forced to go to the bathroom in front of jailers (Jennifer Ulrich).  Though the narrative is loose and the subplots are all over the place, it is good that the audience can at least identify with these three different people.  The blame, of course, goes to the lazy authorities who just want things done and use lies and cover-ups to hide their mistakes.
            The film takes its title from a sign that an activist erects after the attack: "Don't Clean Up This Blood" – in other words, let's not forget this.  And true to this, this is one film that has scenes that one cannot forget.  Amnesty International called the event "The most serious suspension of 
democratic rights in a Western country since the Second World War."
GROWN UPS 2 (USA 2013) **                                                                               
Directed by Dennis Dugan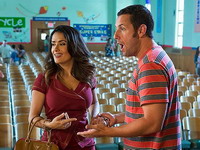 Dennis Dugan and Adam Sandler unite after hits like THE WEDDING SINGER, HAPPY GILMORE and BIG DADDY.  None of these films were really funny but made loads of money.  I recall THE WEDDING SINGER having only one joke that got me laughing.  The one in which Steve Buscemi as the best man said in the wedding speech: "I don't they were prostitutes at the stag as I do not recall paying them!"  Buscemi is also in GROWN UPS 2 goofing around wedding an oriental costume complete with gong but not as funny.
            The film has garnered a record 0% rating the last time (day before film opening date) I checked on Rotten Tomatoes.  To be fair to Mr. Sandler and gang that include comedians Kevin James, Chris Rock, David Spade and an assortment of other colours, ages and sizes, the film is not that bad – in other words, it is not the worst Sandler film ever but neither is it the best.
            The film traces the moves of Lenny Feder (Sandler) as he moves his wife (Salma Hayek) back to the place of his youth.  There he meets with his old pals and gets into high jinx that includes him and his pals forced by college buffs to jump off a cliff to the waters below naked.  There is not much story or plot in this film, but if one just sits back, relax and not worry about anything else and just consider how goofy and stupid the film is, the result is quite a few laughs and not a dull moment.  Time flies fast in this movie as incident after incident occurs, funny or not, as director Dugan figures if nothing funny is in a particular scene, something funny would occur in the next.
Lots of fart, vomit and shit jokes.  I would like to think that the deer comedic set-up is one of the deer peeing and not spraying the unmentionable, but one can never tell.   As for the gay humour (the car wash scene), the homophobic segment would best be done away with.  Dugan and Sandler should take lessons from THIS IS THE END on how to incorporate gay humour in a straight movie.
            But Sandler fans should not be disappointed.  And the film should be an ok hit and not lose as much money as the big budget PACIFIC RIM opening this week.  For this critic, I just sat back, laughed and had a so-so good time, not expecting much for a Sandler/Dugan movie.
 BEST PICS OF THE WEEK:
Best Film Opening:  DIAZ

Best Film Playing: THIS IS THE END
Best Action: PAIN AND GAIN
Best Family: MONSTERS UNIVERSITY
Best Documentary: HOW TO MAKE MONEY SELLING DRUGS