02
Aug
2013
Details

Category: Movie Reviews
Written by Gilbert Seah
Early opening Wed for THE SMURFS 2. 2 GUNS and open Friday, the latter film one of the best Woody Allen has done.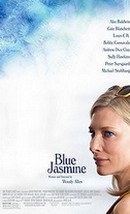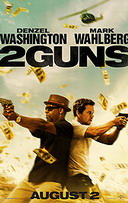 FILM REVIEWS:
THE ATTACK (Lebanon/France/Belgium 2012) ***
Directed by Ziad Doueiri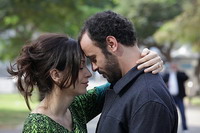 The film asks the question: What if your spouse is not the person you thought after a marriage? Your spouse has blown herself/himself up as a suicide bomber and you are now the police's prime suspect as a terrorist.
Based on the international bestseller by Yasmina Khadra, THE ATTACK is such a suicide bombing in which innocent children were killed in a restaurant. Amin Jaafari (Ali Suliman) is an Israeli Palestinian surgeon, fully assimilated into Tel Aviv society. He has a loving wife, an exemplary career, and many Jewish friends. His picture perfect life is turned upside down when a suicide bombing in a restaurant leaves nineteen dead, and the Israeli police inform him that his wife Sihem, who also died in the explosion, was responsible. Convinced of her innocence, Amin abandons the relative security of his adopted homeland and enters the Palestinian territories in pursuit of the truth.
It is exactly half way through the film that it is established that Sihem is guilty o her deed on her own accord. And Amin realizes it!
Though one would expect director Doueiri to have the audience be on Amin's side, he does the opposite. Amin becomes sarcastic to the people sympathetic to him, rude and uncooperative to everyone. When finally provided the answers, his reaction is selfish, rude and ugly. But one can see the reason after the movie is done. Doueiri plays both sides for his audience to feel the full emotional effect of his film.
But there is one major credibility flaw at the end of the film. Amin is handed a VCR cassette in the film. When played, it shows his wife in her last moments before the bombing allowing Amin to have a better understanding of her feelings. Now, why would she and the other person in the video consent to this recording and who would be recording the segment anyway?
Though one might not be familiar or care about the Palestinian/Jewish conflict, THE ATTACK is still an emotional effective film. The basic human conflicts of race, love and trust are on trial here and everyone should feel for what the protagonist Amin goes through, as well as understand his ugly reactions.
BERBERIAN SOUND STUDIO (UK/Italy 2011) **
Directed by Peter Strickland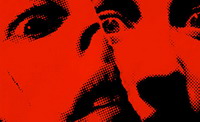 It all sounds excellent for the premise of a horrific drama. Timid Brit (Toby Jones) gets employed in a strange unfamiliar Italian town to do the sound work or a horror film only to find that working there is scarier than the movie itself. The story allows plenty of opportunity to display the art of sound creation and sound mixing. But director Santini (Antonio Mancini) does not seem to know where to take his material to.
New British employed wanders into the BERBERIAN SOUN STUDIO for his new job. He is given attitude and the run around for his expenses by the director of the film he is working on. Nevertheless, he works the sound realizing then that many of the 'screamers' are upset as well. The film has plenty to show on how sounds are created, from stabbing (done with a vegetable knife plunging into a cabbage) to a poker inserted into a vagina.
One wonders of the unlikely choice of Toby Jones as the lead except that his small stature would be perfect for the role of a character subject to being bullied. His character is bullied to no end, and one would wish to see him stand up for himself at the end. He does exert his frustration but just once, at the receptionist for not getting his check. He should be mad at Santini and the director.
BLUE JASMINE (USA 2013) TOP 10 *****
Directed by Woody Allen
When the film opens, distraught, abandoned and neurotic Jasmine (Cate Blanchett) arrives in San Francisco to sort her life out while being put up in the simple home by her non-biological sister, Ginger (Sally Hawkins).
The title BLUE JASMINE comes about as Jasmine met and fell in love with her cheating and philandering husband Hal (Alec Baldwin) when the song Blue Moon was playing. The story follows Jasmine and her sister as they find other romances whether they be the right one(s) or not.
It is awesome and nothing short of miraculous to watch Allen wring out great American performances from two top British actresses, Oscar winner Blanchett and Sally Hawkins (HAPPY-GO-LUCKY). Hawkins fares much, much better than Blanchett delivering a more subtle performance with a more ordinary role. Andrew Dice Clay also stands out as Ginger's working class desperate ex-husband as does Billy Cannavale as her current beau.
BLUE JASMINE is Allen back in America, partly in New York and in familiar territory after films set in England, France and Spain. Allen is in more serious mode doing, noticeably doing away with much of his sometimes distracting humour. But when the humour occurs, like the part when Chile agrees to go into the office of Ginger's manager after braking down, it is laugh-out loud funny.
There are segments that remind one of his previous films. When Jasmine breaks down in one segment, she cries: "Who must I sleep with to get a martini with a twist of lemon?" This is similar to Bette Midler's line in NEW YORK STORIES when she retorts: "Do you know how many animals I have to sleep with to get his fur coat?" to the accusation: "Do you know how many animals have to be killed for you to wear that fur coat?" But it is Allen's serious lines that moves. "You did not lose me. I almost lost you," says Ginger to Chili in one of Allen's script's best lines.
Allen's typical characters like cheating husbands, coping wives and the neurotic rich are still present in BLUE JASMINE. The adult confession Jasmine makes to Ginger's two boys is also priceless.
BLUE JASMINE is disciplined Allen at his very best. And BLUE JASMINE is the best Allen film since MANHATTAN and ANNIE HALL. The film spells Oscar all over it!
A PEOPLE UNCOUNTED (Canada 2013) ***
Directed by Aaron Yeger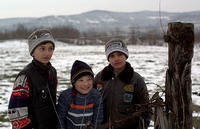 At the start of Aaron Yeger's earnest documentary on the Roma (commonly referred to as gypsies) people, the voiceover narration makes it clear that the film's purpose is not to blame any race or person or point any responsibility to the injustices done to the Roma. The statement also prepares the audience on what is expected to be delivered on screen.
What transpires then in the next 90 minutes or so is an informative account of the Roma people, most of which most audiences are unaware of. True to the film's initial statement, the film is not vindictive of any race (like the Germans) that have caused considerable harm to these people, but the archive footage is enough to anger many.
The film tells the story of the Roma who have been both romanticized and vilified in popular culture. The Roma have endured centuries of intolerance and persecution in Europe, most notably the Holocaust genocide where an estimated 500,000 were murdered. A People Uncounted documents their culturally rich yet often difficult lives, and demonstrates how their present state has been deeply shaped by the tragedies of the past.
Yeger assembles a dozen or so of the Roma Holocaust survivors allowing them to tell of their experiences. Many such as the one of the trampled mother and baby in the train carriage is nothing short of horrifying.
Filmed in 11 countries and featuring dozens of Roma-including Holocaust survivors, historians, activists and musicians, A PEOPLE UNCOUNTED brings the Romani history to life through the rich interplay of their poetry, music, and Yeger's highly informative film sheds light on this unique culture while placing the Romani story within the larger context of the world's legacy of racism and genocide.
THE SMURFS 2 (USA 2013) ***
Directed by Raja Gosnell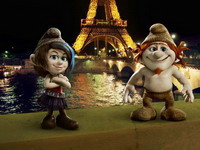 It would be easy to dismiss THE SMURFS 2 (in 3D) as kiddie rubbish but the film has a few things going for it. For one, it is the late Jonathan Winters last effort as the voice of Papa Smurf and Katy Perry lays her hand as both the voice of Smurfette and a catchy song. The Belgian comic (by Peyo) is given a decent film adaptation complete with laugh out loud hilarity thanks a great deal to Hank Azaria as the villain Gargamel.
The film is a combination of live animation well done as noticeable in a scene with Smurfette (Katy Perry) in the water by a waterfall. The story involves Gargamel (Azaria), now a celebrity sorcerer travelling the world, creating The Naughties (smurf-like creatures), hoping to harness magical Smurf essence. Using his new creation, he kidnaps Smurfette and takes her to Paris. Papa (Winters), Clumsy (Anton Yelchin), Grouchy (George Lopez), and Vanity (John Oliver) transport, using magical crystals, to the real world and seek their friends Patrick (Neil Patrick Harris) and Grace Winslow (Jayma Mays) and their son, Blue to help rescue Smurfette.
The film contains customary messages for the family like: It does not matter where you come from but who you choose to be. Corny, yes, but under the circumstances that this is a family film, it al should be taken in good stride. Azaria's villain is goofy enough aided by his live cat that steals the show from right under him, good as he is. The ending when Gargamel gets his come-uppance is a bit violent for kids, but they might not notice and just laugh it out.
THE SMURFS 2 is welcome family entertainment that despite its target market for littler children should still entertain the adults.
Trailer:
http://www.imdb.com/title/tt2017020/
2 GUNS (USA 2013) **
Directed by Baltasar Kormakur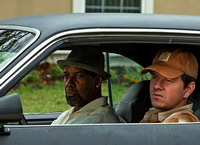 Based on the Boom! Studios graphic novels (so do not expect much in terms of plot or story) by Steven Grant, 2 GUNS is another unimaginative actioner that is churned out by the dozen (REDS2, RIPD, THE WOLVERINE), in recent months. The niche here is the interaction between the 2 protagonists, A DEA agent and a naval intelligence officer who find themselves on the run after a botched attempt to infiltrate a drug cartel. While fleeing, they learn the secret of their shaky alliance: Neither knew that the other was an undercover agent.
Robert (Bobby) Trench (Denzel Washington) and Marcus 'Stig' Stigman (Mark Wahlberg) find themselves at loggerheads fighting each other and then bonding before coming before the villain of the piece, Admiral Tuwey (Fred Ward).
The highlight of the film and seen in the trailer is a bank robbery planned as the two visit a famous donut shop opposite that is frequented by cops. They banter as they order breakfast and confuse the poor waitress. Director Blatasar Kormakur (CONTRABAND) cannot and does not attempt much with the material except have guns blasting out loud (and hence the title) too often.
The niche is not all that much opportunity for action either and the film descends quickly not only into a bore but a forgettable one too.
Trailer:
http://www.rottentomatoes.com/m/2_guns/
Best bets of the week:
Best Film Opening: Blue Jasmine
Best Film Playing: This is the End
Best Action: RED 2
Best Family: Turbo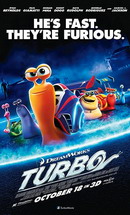 Best Doc: HOW TO MAKE MONEY SELLING DRUGS
Best Foreign: Crystal Fairy (Chile)