05
Sep
2013
Details

Category: Movie Reviews
Written by Gilbert Seah
Not much in openings this week. More films to choose from at the Toronto International Film Festival which begins this week. Please check appropriate article.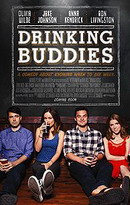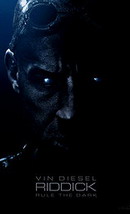 Opening are RIDDICK and DRINKING BUDDIES.
DRINKING BUDDIES (USA 2013) **
Directed by Joe Swanberg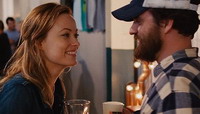 The DRINKING BUDDIES of the title refer to the plot's two main characters Kate (Olivia Wilde) and Luke (Jake Johnson) who are co-workers at a brewery Chicago. She does the marketing and he does the heavy work making the brew. But they spend a lot of time flirting.
They're perfect for each other, except that they are both in relationships: Kate is with Chris (Ron Livingston), and Luke is with Jill (Anna Kendrick). Jill wants to know if Luke is ready to talk about marriage. The answer to that question becomes crystal clear when Luke and Kate unexpectedly find themselves alone for a weekend, to no surprise to the audience.
Writer Swanberg's script is also way over the credibility level. For a person like Kate who drinks beer and eats junk food all the time, it is unlikely that she would have the perfect figure that actress Olivia Wilde has. Also, Kate falls for Luke, who is unkempt with an untidy beard and flabby.
Actresses Olivia Wilde and Anna Kendrick are too smug and pretty for their own good. They give the film a sense of pretentiousness and artsyness – the points this film is obviously trying to avoid. DRNIKING BUDDIES would work as a down-to-earth romantic comedy with a difference with less know-it-all and dumber personalities.
Swanberg's film also goes for a non-happy Hollywood ending. But judging from the unsatisfactory ending, a Hollywood ending might not have been that bad after all.
Swanberg is an indie director of previous films like ALEXANDER THE LAST, KISSING ON THE LIPS and UNCLE KENT. If you have not heard of these films nor heard of Swanberg, chances that this film will keep him just as unnoticed.
RIDDICK (USA 2013) ***
Directed by David Twohy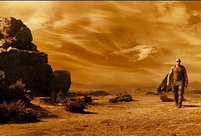 When the film opens, Riddick is solitary trying to survive on a distant planet. The first 3 minutes or so has him battling monsters with no explanation offered as to why he is in the predicament. Director Twohy, who also wrote the script takes his time for explanations. In fact, it is almost towards ¾ of the film before the audience knows exactly the circumstances that led to the film's opening. So, the audience need not have remembered what happened in PITCH BLACK or THE CHRONICLES OF RIDDICK to understand this film.
The plot involves Riddick, as a prisoner stranded on the planet together with a bounty hunter and his gang all out to kill him for the money. Enter a stranger, John and his crew trying to find answers and thus wants Riddick alive. So, Riddick fights all while trying to flee the unwelcome planet.
That is as far as plot goes, so anyone expecting more will detest the film. But for a sci-fi film with a super thin plot, the action segments are pretty well executed. The special effects and monsters like the dingoes and serpent-like monsters are scary enough.
Vin Diesel is the perfect actor as Riddick and for these kind of roles. His facial expressions can display pain as you can never imagine. When he inserts spikes into his legs to harness the armour or bitten by a monster dingo dog, the audience can feel the pain by just looking at Diesel's face, never mind the groans and screams.
RIDDICK beats films like CARTER ON MARS and does not do too badly comparing with the other RIDDICK films. The theory of louder and more definitely is applied in Twohy's RIDDICK and less discerning action fans should not be disappointed.
Best Bets of the Week:
Best Film Opening: Riddick
Best Film Playing: Blue Jasmine
Bes Comedy: This is The End
Best Foreign: The Deep
Best Animation: Turbo
Best Action: Kick-Ass 2 and RED 2
Best Documentary: Call Me Kuchu