13
Sep
2013
Details

Category: Movie Reviews
Written by Gilbert Seah
The Toronto International Film Festival currently on should provide more than sufficient options for a movie choice this week. 
Opening this week are INSIDIOUS CHAPTER 2 and Luc Besson's excellent action comedy THE FAMILY.
THE FAMILY (MALAVITA) (USA/France 2013) ***
Directed by Luc Besson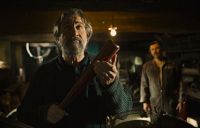 French director Luc Besson has had more misses (the 3 ARTHUR animated features) than hits like THE FIFTH ELEMENT and NIKITA.  So, my expectations were not high when viewing his latest action/comedy flick on a Mafia snitch given witness protection and relocated to Normandy, in the North of France.  But Besson's film has not only more than meets the eye but is very entertaining from start to finish with a massive suspenseful shootout finale that is also action packed.  It also helps that the story co-written by Besson is based on a novel 'Manzoni', so there is more to draw from in the story.
            Giovanni Manzoni, now Fred Blake (Robert De Niro) cannot help but get his own back – Mafia style, on those that do not pay him respect.  His wife Maggie (Michelle Pfeiffer) has pretty much the same nature, blowing up the local supermarket when being insulted.  The son, Warren (John D'Leo) and daughter Belle (Dianna Agron) are both more than able to take care of themselves, also Mafia style.  Warren can forge a passport, run a black market cigarette smuggling ring and beat up his bullies while Belle holds her own, punishing brutally the boys that take her out of town on a so-called picnic.  The film is quite violent, and it may be argued unnecessary.  But it does help the adrenaline flowing when one sees the bullied get their own back.
            Pfeiffer has played the role of a mobster's wife many times from MARRIED TO THE MOB to and more similarly with RUNNING ON EMPTY.  De Niro, also apt at comedy does well as the younger actors playing the children.
            Besson also covers many issues (though not that deeply) in the film, making it more interesting.  Romance, bullying, cross Atlantic cultures, family relations are just a few of them.  The best jokes of the film are ones poked at French cuisine.
            The film also has quite a few classic film references.  SOME CAME RUNNING and GOODFELLAS are recognized classics in this film, likely chosen by Martin Scorsese who also executively produced the film.
            The film has a classic line uttered at a BBQ: "If it's good enough for you, it's good enough for me!" – a line that got the family relocation blown.  There are also many other little bits such as this that makes Besson's film tick the most obvious being the totally comfortable blend between action and comedy.  THE FAMILY eventually emerges as a memorable guilty pleasure rather than a forgettable one.
Trailer:
http://www.youtube.com/watch?v=uEgpHiA6US8
INSIDIOUS CHAPTER 2 (USA 2013) ***
Directed by James Wan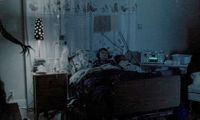 Rose Byrne and Patrick Wilson reprise their roles in INSIDIOUS CHAPTER 2 as the troubled handsome couple.  Josh enters nowhere-land to bring back his son, but in the process brings out a demon that possesses him.  How they get rid of this demon makes the story of CHAPTER 2.
            One thing that the INSIDIOUS films have that other paranormal activity films don't is the purgatory passage in which the dying pass through before settling in dead for good a sort of limbo land.  That is a scary premise to be in the darkness of the unknown.  In INSIDIOUS 2, Josh is stuck here until  his son comes in to help him find the way back to the living.
            James Wan with his INSIDIOUS films, the recent THE CONJURING and HOSTEL films appear to have earned quite the market share of the horror franchise.  Wan is smart not to bastardize the two  INSIDIOUS is basically a bloodless, goreless affair, unlike the HOSTEL and SAW films.  There was one scene close to blood (the attack on the arm), but Wan keeps the scene under control.
            INSIDIOUS and INSIDIOUS CHAPTER 2 are both pretty much of the same.  Scares are aplenty with full ghostly effects learnt from camera and sound trickery as well as  from previous  horror films.   But one gets tired, even of a good thing.  A few novel tricks are introduced such as the ambiguity of whether Josh is the real Josh or the possessed one.
CHAPTER 2 pays too obvious homage to Hitchcock's PSYCHO.  There is the overbearing other and he son (though a boy, this time) dressed in female clothing.  The house in the setting also bears a resemblance to the Bates motel.
            The film ends with a new segment which would turn out to be introduction for INSIDIOUS CHAPTER 3.  By the 105 minutes, one would think the audience would have had enough.  But horror meister James Wan promised more of the same.
Best Bets of the Week:
Best Film Opening: The Family
Best Film Playing: Blue Jasmine
Best Action: RED 2 and KICK-ASS 2
Best Family: Turbo
Best Comedy: This is The End (Re-Issue)
Best Foreign: Check TIFF