29
Sep
2013
Details

Category: Movie Reviews
Written by Gilbert Seah


GRAVITY, PARKLAND and RUNNER, RUNNER are the big three opening this week.

Smaller fare making their debut includes the charming French comedy HAUTE CUISINE running with RED OBSESSION a perfect companion piece.
FILM REVIEWS:
ALL THE BOYS LOVE MANDY LANE (USA 2006) ***
Directed by Jonathan Levine
Made in 2006 and finally getting released, this horror slasher film was put on the shelf not because it was bad but because the film got sold in North America to a company that then went bankrupt. But the film did modest business and garnished mixed reviews in London. And the film by is not half bad, directed by Levine who later made WARM BODIES and his best film 50/50.
The film plays like a mix of the FRIDAY THE 13TH and MEAN GIRLS films. Director Levine goes right into the business of his characters ensuring the audience knows all there is to him or her, despite the character being minor. The result is a horror film that has more depth than usual. The film also goes for a twist ending, though the logic of the ending does not really make sense.
The central character is Mandy Lane (Amber Heard) who got pretty in her final year at school with the result that everyone wants a piece of her, and hence the film 's title. Her geeky best friend, Emmet (Michael Welch) is bullied and he causes the bully to dive into the pool from the roof, resulting in his death. Mandy and Emmet part as a result. Years later, Mandy gets invited to a ranch where Emmet suddenly appears to do away with Mandy's friends one by one. And so the story goes till the twist at the end.
Levine shoots his film in pale faded yellow giving it an atmosphere of forever dusk, a time when darkness (and danger) can fall at any instant. ALL THE BOYS LOVE MANDY LANE is a well made, shot film with sufficient character development and suspense that makes I one up over the average horror flick.
Levine shoots his film in pale faded yellow giving it an atmosphere of forever dusk, a time when darkness (and danger) can fall at any instant. ALL THE BOYS LOVE MANDY LANE is a well made, shot film with sufficient character development and suspense that makes it one up over the average horror flick.
Trailer:-
http://www.youtube.com/watch?v=IY9Sm1DLGyg
GRAVITY (USA 2013) ***
Directed by Alfonso Cuaron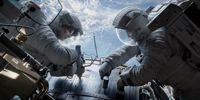 Produced, written and directed by Alfonso Cuaron who also directed a couple of the HARRY POTTER movies, GRAVITY must have been he labour of love for this director who has a talent and making films se in a unworldly setting.
Most of the action in this latest space thriller takes place miles above the earth's gravitational pull, where weightlessness is the order of the day. That is the reason engineer astronaut Dr. Ryan tumbles (Sandra Bullock) upside down when her line is cut from her spaceship. The two astronauts Dr. Ryan and the 'driver' Matt (George Clooney) have completed some mission and have to return to earth. But some space mishaps, involving the Russian (of course) result in Dr. Ryan almost left stranded in space. And that is a very, very scary thing and director Cuaron makes sure the audience is aware of that in one of the year's most harrowing segments.
Cuaro knows how to play for thrills using cinematic effects like silence, sound and light and darkness. No cheap scares like in horror movies are found here. The film is also stupendous to look at, and it is advisable to watch the film in IMAX 3D for full effect. It is this stunning display of cinematic effects that makes this movie – never mind the put-on story.
Dr. Ryan is supposed to have lost her son in an accident and has therefore lost her will to fight for survival. Cuaron plays on this as motivation for her to return to earth. Though this subplot might seen a bit ludicrous, it does help that his technical film contains some human element. But Cuaron's film also contains a few brilliant moments such as the one of Matt's apparition.
GRAVITY looks not only real but also authentic in the way audiences expect spaceships and things to work and look like in space. And what we get here is a welcome change in a kind of different horror film.
Trailer:
http://www.youtube.com/watch?v=OiTiKOy59o4
PARKLAND (USA 2013) ***
Directed by Peter Landesman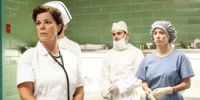 Meticulously shot with 60's period atmosphere and wardrobe so that one cannot distinguish old newsreel footage from the new, first time director Landesman tell the story of the 4 days following November 22 when President John F. Kennedy was shot.
With exacting precision, Landesman revisits the those fateful days as experienced by five key figures: Jim Carrico (Zac Efron), a twenty-eight-year-old surgical resident and the first physician to tend to Kennedy upon his arrival at Parkland; Forrest Sorrels (Billy Bob Thornton), head of the Dallas bureau of the Secret Service; James Hosty (Ron Livingston), an FBI agent assigned to investigate Lee Harvey Oswald (James Earl Haley) prior to Kennedy's assassination; Oswald's estranged brother, Robert (James Badge Dale); and Abraham Zapruder (Paul Giamatti), whose inadvertent footage of the shooting became the world's most famous strip of 8mm film.
It is no doubt that the film is about a serious incident in history but everyone in the film and every incident is treated as just too important in the film. It is the director's impression that life cannot go on without the presence of John F. Kennedy in this over serious film.
RUNNER RUNNER (USA 2013) **
Directed by Brad Furman
RUNNER RUNNER boasts two stars ben Affleck and Justin Timberlake in their prime in starring roles playing characters in conflict with each other.
Princeton grad student Richie Furst (Timberlake) is threatened expulsion for getting fellow grads hooked on his on-line gambling. Being his sole line of income to pay for tuition, he goes on line to gamble whatever he has left only to lose. He flies to Costa Rica to confront the big boss, Ivan Black (Affleck) to accuse his company of unfair dealing. Impressed by Furst's knowledge, Black takes the rookie into the business.
There is nothing original in the storyline of RUNNER RUNNER that audiences have not seen before. Talented rookie taken into some organization by expert then becomes the number one man before finding out that his boss is not what he seems. To get out, he must outsmart his boss that includes sleeping and winning over the girlfriend (Gemma Arterton in a terrible role). The only change is the setting to the world of online gambling. But to the writers Brian Koppelman and David Levien's (OCEANS 13), the in and outs of online gambling displayed on screen are quite thorough (from my comparison of my friend's notes; one who does the software for one such company.)
But the script despite some well written dialogue, especially the confrontation scenes between Affleck and Timberlake, has the habit of leaving out details such as the reason Richie got into trouble in stocks before Princeton or how he got his fellow students on to online gambling. It is also hard to comprehend the fact that his boss's girl would just fall and give everything up for Richie, not to mention the ease at which he outsmarts his boss at the end by just bribing a few of the local officials.
Justin Timberlake breezes through his role despite all the film's flaws but it is Ben Affleck that shines as the sleazy King of Computer Gambling who can sweet talk himself out of every situation. Affleck can make believable his unbelievable character.
Furman's film has lots of eye candy from the leather seats in the million dollar yachts to the extravagant parties thrown in the film.
Furman's film always comes close but never achieves the level of suspense, thrills or even the action Furman aspires. Other recent films like CLOSED CAPTION and GRAVITY fare better.
Trailer:-
http://www.youtube.com/watch?v=UFPqyNvNzvU
LES SAUVERS DU PALAIS (HAUTE CUISINE) (France 2012) ***
Directed by Christian Vincent
Hortense Laborie (Catherine Frot), a renowned chef from the Périgord, is astonished when the President of the Republic appoints her his personal cook, responsible for creating all his meals at Elysee Palace.
She does her cuisine from her private kitchen. But he has to face opposition and jealousy from the staff of the main kitchen that provides all her meat, vegetables and raw materials as well as other amenities such as a larger freezer. But thanks to her indomitable spirit and director Vincent uses this to the film's full effect, she enchants the President and eventually gets to source her materials outside on her own.
His is French comedy as its charming best. An underdog who makes good, set in the French culture of haute cuisine. The food on display is deliciously looking enough to make anyone's mouth water.
Catherine Frot, one of France's best actresses who made her name playing cold hard woman roles as in LA TOURNEUSE DE PAGES shows her aptitude for comedy here. It helps that she plays a cold hard woman who has to stand by her rights to do her job. And it is largely Frot hat makes the film tick.
The film is inspired by the life of the private cook of ex-French President Francois Mitterand. The film is an ideal companion piece with the documentary now playing RED OBSESSION on culinary Bordeaux wines. As far as charming French comedies go, this is one of the better ones.
Trailer:
http://www.youtube.com/watch?v=ls_qn38kmEY
Best Bets of the Week:
Best Film Opening: Gravity
Best Film Playing: Blue Jasmine
Bes Comedy: This is The End
Best Foreign: The Deep
Best Animation: Turbo
Best Action: Kick-Ass 2 and RED 2
Best Documentary: Red Obsession