26
Feb
2014
Details

Category: Movie Reviews
Written by Gilbert Seah
THE TORONTO IRISH FILM FESTIVAL 2014
The ultimate Irish pub crawl, a boxing legend at the height of his career, a madcap chase for missing millions, an Irish bird who's afraid of flying and personal reconciliation are among the themes at this year's Toronto Irish Film Festival. This first wee film festival takes place from Friday, February 28 to Sunday, March 2 at TIFF Bell Lightbox. TIRFF 2014 delivers a weekend of Irish cinema with North American and Canadian Premieres, a classic Irish pub-night and very special guests from Ireland.
The Opening Night Gala on Friday, February 28, sponsored by Tourism Ireland, features the North American Premiere of THE IRISH PUB by filmmaker Alex Fegan,who will be in attendance. THE IRISH PUB is a loving tribute to the most important institution in Irish society and the publicans who run them.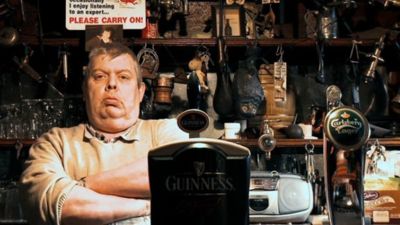 John Galway, TIRFF co-founder adds, "This year, we're bringing together all four corners of the Toronto-Irish community like never before and we're delighted to present Irish content in all genres, including animation, documentary and, a television-first for TIRFF, the Season 2 launch of "Moone Boy", winner of the 2013 International Emmy for Best Comedy, in partnership with BITE TV and Blue Ant Media".
TIRFF's annual SHORTS PROGRAM, sponsored by the Embassy of Ireland in Ottawa, showcases a strong line-up of Ireland's up-and-coming filmmakers. Saturday's schedule continues with "When Ali Came To Ireland", sponsored byKPMG, which captures the lead up to the historic 1972 Muhammad Ali boxing match which captured the attention of the entire country. Also screening Saturday is the Northern Ireland drama "Made in Belfast", by first-time director Paul Kennedy, about a successful novelist returning home to confront those he left behind. On Sunday, TIRFF audiences will be the first in Canada to see the much-anticipated Season 2 launch of "Moone Boy", the wildly popular Irish sitcom created, co-written and co-starring Chris O'Dowd. Back by popular demand after its premiere at TIFF 2013, Lance Daly's madcap "recession" comedy "Life's A Breeze", sponsored by The Ireland Fund of Canada, starring Pat Shortt, Fionnula Flanagan, Brendan Gleeson and introducing newcomer, Kelly Thornton, wraps the weekend on a comedic high-note.
TIRFF 2014 FILM PROGRAM
OPENING NIGHT GALA – THE IRISH PUB (North American Premiere)
Sponsored by Tourism Ireland
Director: Alex Fegan in attendance/Q & A following screening
Running time: 75 mins.
Friday, February 28, 2014, 7:00pm
Alex Fegan's feature documentary is a eulogy to the greatest institution in Irish society, and the legendary Irish publicans who run them. An ode to the traditional Irish pub in all its glory: solid wood, stone floors, no music, little TV, knick-knacks and yellowed ceilings, Fegan's camera slips from pub to pub meeting interesting and quirky publicans and patrons each step along the way.
Director Alex Fegan is available for interviews in Toronto beginning February 27.
OPENING NIGHT PARTY: Dora Keogh's, 141 Danforth Avenue, 9:30pm
Present your TIRFF ticket stub from 'The Irish Pub' to meet director Alex Fegan and join us in celebrating TIRFF 2014.
FOY VANCE – RECORDING NOTHING (Ireland 2013) **
Directed by Babysweet
This short documentary of 25 minutes documents 4 days with Foy Vance between May 2012 and February 2013 as he recorded bits for his new album called 'Joy for Nothing' and hence the title. Vance sings his songs, talks to the camera and makes a few remarks here and there about nothing important in general. Judging from the length of Foy's moustache, the doc is not sot time linearly. The images often go too bright as the director loves to shoot with too much sunlight. Foy's songs are all right but they are not something one would write home about. The director must think a world of Foy Vance hoping that his unrecorded hits might make millions in the future. But like the tile of the film, this film is about nothing, but literally.
THE IRISH PUB (Ireland 2013) ***
Directed by Alex Fegan
The Irish Pub is an Irish institution. THE IRISH PUB is a documentary on just that and the film is appropriately chosen to open the First Toronto Irish Film in Toronto. Director Alex Fegan travels around the different counties of Ireland to look at all the pubs, singling out that have resisted change and have stayed the same over the hundred years that they have opened. The pub owners have thy say on everything from the customers, the culture, the Irish, the past and almost everything they can think of under the sun. Fegan's film is light hearted and entertaining as it is nostalgic, especially those with an Irish heart. The film ends with the pub owners answering to the question as to what they think is the meaning of life. There is a lot of truth in what they have to say in this beautiful little film.
Trailer: http://www.youtube.com/watch?v=N9uaboCF1N4
MADE IN BELFAST (UK 2013) ***
Directed by Paul Kennedy
MADE IN BELFAST is a comedy drama about Jack Kelly (Ciaran McMenamin), a successful author now living in Paris who returns to Belfast after hearing that his dad is on his last days. Jack is not welcome back home as he left his girlfriend, Alice (Shauna Macdonald) behind while writing about his friends in his first book that caused them a lot of grief. Jack learns to forgive, make peace and becomes a better person. Here is nothing in this micro-budget film that audiences have not seen before but the film does contain lot of Northern Ireland charm that is missing (charm in general, that is) in many films these days. Director Kennedy gives himself a small role as the friend whose marriage was destroyed by Jack's book. An overall likeable crowd-pleaser!