17
Apr
2014
Details

Category: Movie Reviews
Written by Gilbert Seah
Big film opening Easter is SPIDERMAN 2. That is if you live in London. North Americans have till wait till May 8th.
Easter openings here include Disneynature's BEARS and the thriller TRANSCENDENCE.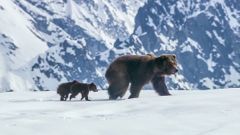 BEARS (USA 2014) ***1/2
Directed by Alastair Fothergill and Keith Scholey
BEARS is one of the better Disneynature features compared to EARTH, AFRICAN CATS and CHIMPANZEE. BEARS contains a stronger narrative and engages its audience to the difficult plight of a mother bear with the survival burden of caring or her two less than one-year old cubs.
To engage the audience further, the narrator (who else would do a better job tan the bearish John C. Reilly?) gives the bear names. Mother is called Sky and her cubs are Scout and Amber. They are seen from birth breast-feeding till they are able to walk. The film begins after the winter hibernation when the bears are forced to leave their den to look for food. The mother, in particular has to both feed herself so that she has enough milk for the next winter to feed her cubs as well a protect them from predators that include other bears and wolves.
The film takes the audience one full seasonal circle from one winter to the next. The narration informs that only half of bear cubs survive but one knows that both Scout and Amber will, though there will be lots of danger with thrills and suspense provided in this otherwise harsh nature family entertainment.
For a nature film, one always cringes during the killing scenes when animals take they prey. Fortunately, there are none in this film. The only scary scene is Sky fighting off another stronger bear to protect her cubs. The only victims here are the poor salmon who swim large distances upstream to spawn only to find the bears waiting at the golden pond to eat them up. Such is the harshness of nature.
One must give credit to the tireless cameramen (shown during the end credits) who film the animals and put the story together. It is all nice and easy for filmmakers to make the kind of films they want like adult dramas and horror flicks. But it takes dedication and sacrifice to make nature movies of this kind. Hats off to the Disney team and to directors Fitherill an Scholey.
Trailer: http://www.youtube.com/watch?v=MJYTEOkmKiI
HEAVEN IS FOR REAL (USA 2014) **
Directed by Randall Wallace
HEAVEN IS FOR REAL deals with a small-town father and pastor, Todd (Greg Kinnear) whose young son tells of visiting heaven during a near death experience. This brings out the wrath of unbelievers that include members of his congregation. But this is a religious Christian film because of Todd's vocation. The film is based on a true story and on the best seller of the same name.
As far as Christian films go, the film holds fast to the faith. God's glory can be witnessed in many parts of the film. It is sometimes too obvious as the camera pans the colors of the town's crops or when Todd opens a garage door to reveal again the glories of God's creation.
Religion or Christianity aside, director's Wallace's film is monotonously paced and offers nothing new that is not already seen in the film's trailer. The film gets boring pretty fast without any action, heightened drama or evil villains. The poverty and the hardship of the townsfolk are mentioned at the film's start but the script never goes anywhere with it.
The one plus thing about the film is Emmy Award and Oscar nominee Greg Linear in the main role. He jumps into his role with he fervor of a minister ready to spread the Word of God.
For a Christian film, there is one extremely graphic scene in which Todd injures his leg during a baseball game.
But the target market of Christians should help HEAVEN IS FOR REAL make a decent buck at the box-office.
Trailer: http://www.youtube.com/watch?v=mydh4MEo2B0
HOLD FAST (Canada 2012) ***
Directed by Justin Simms
HOLD FAST is the plight of two14-year olds as they flee an adult world to try to survive in the wilderness. It is a coming-of-age story which deals with many current adolescent issues. A family film, suitable for the holiday Easter season, the film does not contain swearing, violence or any other nastiness. The result too, is a film that should have more drama or impact, but there are many other plusses that can be discovered in this well-intentioned film.
Michael (Avery Ash), 14, lives in a fishing village in Newfoundland but his world turns upside down when his parents are killed in a car accident. He's sent to live in a city, where he constantly gets into trouble at school and at home, with his strict Uncle Ted.
After another fight at school, Michael decides not to stay where he's not wanted. His timid cousin Curtis (Douglas Sullivan) begs Michael to let him come with him and together they set off on a quest into the Newfoundland wilderness for freedom and belonging, determined to prove they can survive on their own.
Issues dealt with in this film include bullying, buddying, survival, loss (death) and first love. Though each of these is not covered in great detail, they are touched long enough to make an effect. Sullivan and Ash deliver winning performances as the two on the run.
A big plus of the movie is the stunning scenery captured on film. This is one film that should be used to promote tourism in Labrador, Newfoundland. From the rugged cliffs, to the sea to the meadows, Canada never looked more inviting.
Made in 2012, HOLD FAST took a while to get general release. HOLD FAST is entertaining good old fashioned Canadian fodder.
Trailer: http://www.youtube.com/watch?v=d4pcVZHCQDs
MEETINGS WITH A YOUNG POET (CANADA 2013) **
Directed by Rudy Barichello
The young poet of the film title is an aspirin writer, Paul Susser (Vincent Hoss-Desmarais) who has several meetings with his Master and great author, Samuel Beckett (Stephen McHattie). Paul also meets Lucia (Maria de Medeiros), a diva actress who needs Paul's permission to play Krapp, Beckett's most autobiographical male character.
As the film progresses, Beckett denounces Paul's writings. Lucia sleeps with Paul to secure permission. The reason Paul obtained Beckett's legacy is also explained in the film.
This is a complex fictitious story that involves three main characters, all of whom are not very nice people. Each uses another for personal gain or for evil pleasure. The film is thus not easy to like, though director Barichello goes about his duties as if he does not care. Lucia comes across as a stuck-up diva who is not as talented or pretty as she thinks she is. Beckett is a pompous ass and Paul has no backbone.
At least the film's message is not drummed into the audience's heads. As each character goes about his or her path, fate eventually comes up on top.
MEETINGS WITH A YOUNG POET meanders around a lot while not coming to any conclusion. If one is ok with that, the film can come across as a neat essay on eccentric writers and their muses.
Trailer: http://www.cinemamontreal.com/trailers/197366/Meetings_with_a_Young_Poet.html
STRESS POSITION (Canada 2013) *1/2
Directed by A.J. Bond
Two friends make a bet of $10,000 to see who can stand a week of psychological suffering in the hands of each other. Dave (David Amito) goes first as the victim and director A.J. Bond who plays himself goes next.
The tortures, both emotional and physical (with references to Guantanamo Bay) include not being able to go to the toilet, being tied up, seeing their closed ones suffering, drawing blood and even tickling. All these are shot on film by the torturer.
It must always be remembered that this is not a documentary or a reality show though played out most times as one. Everything is staged here as obvious from certain scenes like the one in which David breaks down in front of the camera. The question emerges as who is the worst torturer or worst human being? It is a hard contest. The film's first half has A.J. the torturer and Dave the victim and the second quarter with the roles reversed.
A low budget film with a minimum of players, the film has the occasional 70's sci-fi look with its sparse and white sets and characters going around in white uniforms.
One wonders what the aim of the filmmakers is in the making of the film. There is no clear message or comedy or real drama. Is it to see how far the human endurance can take? The movie turns out less and less interesting though at one self-conscious point in the film, A.J. promises to make the events more interesting. It is obvious that Dave and A.J. are not the only ones tortured here.
Trailer: http://www.youtube.com/watch?v=HzfsR6IfuB4
THE TRAILER PARK BOYS : DON'T LEGALIZE IT (Canada 2014) **
Directed by Mike Clattenburg
The third and most serious of the Trailer Park Boys films based on the TV comedy drama series sees one again the trio getting out of one trouble and into another.
The story follows Ricky (Robb Wells), Julian (Jon Paul Tremblay) and Bubbles (Mike Smith) attempt a series of money making schemes after being released from prison, but are again pursued by former Sunnyvale Trailer Park supervisor Jim Lahey (John Dunsworth).
There is more road trip as the boys take to travelling down the road than actual trailer park living. Of course, the boys do the politically incorrect thing, like driving under the influence. After making several wrong turns, they finally reach their destination only to be robbed.
The novelty of the Trailer Park Boys has worn thin and the laughs are no longer fresh or hilarious. It can be observed how laborious it is to keep the film afloat. But one thing the film does have is an accuracy of the lives of these white trailer trash material. Selling untainted piss to drug addicts that need clean ones for their medical tests is a novel idea and one might be surprised that there is such a business going on. This slice of Canadiana is effectively portrayed and is the one good point of the movie.
Trailer: http://www.liveleak.com/view?i=39e_1367445205
TRANSCENDENCE (USA/UK/China 2014) **
Directed by Wally Pfister
Oscar winning Cinematographer of INCEPTION, Wally Pfister delivers his debut directorial feature in the form of a sci-fi suspense thriller that looks good on screen but lacks the punch of a good shocker. INCEPTION's director Christopher Nolan serves as executive producer for the film.
Though the lead character in the film appears to be Dr. Will Caster (Johnny Depp), who strives to create the perfect Artificial Intelligence machine, his wife and collaborator, Evelyn (Rebecca Hall) has more to do and say that affects the plot. The story clumsily begins with a bewildered Max Waters (Paul Bettany), a friend who wonders about before the film flashes back 5 years before to explain what has occurred.
Dr. Caster has been shot and to save himself, he downloads his mind to the computer acquiring power and making him unstoppable. Then the rebels appear to stop him and to prevent the world from been at the mercy of such a super being. The question is whether one can trust Dr. Caster. But then, a precedence should not be set.
As far as the film goes, it is all okay as the plot initially unfolds. It gets too talky in the middle with the suspense/thriller element totally thrown to the dogs. The third half of the film turns silly, with the rebels trying to save the world and a lot of guns and explosions going off.
Johnny Depp looks totally out of it and only Cillian Murphy a the FBI agent seems to take things seriously. But it is actually Rebecca Hall's show here and she performs her acting tasks satisfactorily.
The film's cinematography (by Jess Hall) appears to be the only reason to see it on the IMAX screens. But during the one I attended, the far and medium shots were blurry and the end credits were jumpy, indicating that the projectionist should have got all the equipment properly calibrated. After all, IMAX screenings boast the best in focus and projection in both sight and sound.
Trailer: http://www.youtube.com/watch?v=s3Sd7J-_3Ho
Best Bets of the Week:
$11. American Hustle
$12. The Grand Budapest Hotel
$13. Like Father, Like Son
Best Family: Bears
Best Doc: The Galapagos Affair: Satan Came to Eden
Best Foreign: Like Father, Like Son
Best Animation: The Lego Movie