02
May
2014
Details

Category: Movie Reviews
Written by Gilbert Seah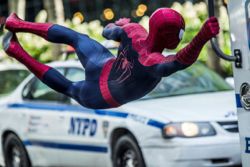 Big film opening Easter is SPIDERMAN 2.
Two festivals are also underway in Toronto – The Toronto Jewish Film Festival and Hot Docs.
THE AMAZING SPIDER-MAN 2 (USA 2014)**
Directed by Marc Webb
Reboot of SPIDEY number two looks like it needs a reboot. Not that audiences need another one, but this one is bad and falls into the same trap of action hero films sinking into over seriousness.
It is odd that SPIDER-MAN 2 is all over the place. It is directed by the director Marc Webb of THE AMAZING SPIDER-MAN and (500) DAYS OF SUMMER, both excellent films and written by the writers Alex Kurtzman and Roberto Orci of the TRANSFORMER films – though they cannot resist putting a stunted transformer villain at the film's end.
The film begins with Peter Parker's father, Richard Parker (Campbell Scott) and mother (Embeth Davidtz) leaving the boy while taking a plane to their new life. This turns out to be an action packed sequence which includes a plane crash in mid-air only to be followed by Spidey (Andrew Garfield) saving a hijacked truck carrying plutonium and catching hundreds of vials before they hit the ground and exploding. Why plutonium? It has actually nothing to do with the story and caching the hundreds of vials only makes Spidey look silly and too invulnerable. Then the film moves into mushy sentimental mode. Spidey's girl, Gwen Stacy (Emma Stone) giving a Valedictorian speech (yes, about life and how human beings should be)before he rejects her due to a previous promise he made to her dad. I cannot break that promise, he tells her. Yes, he does before the middle of the film.
British actor Andrew Garfield makes a good younger Spider-Man, likely to attract younger audiences. Sally Field, as Aunt May looks as if she is begging for another Oscar. Thee is one scene in the film when the power of the hospital comes back on, when she tells everyone to go back to work (obviously a parody of NORMA RAE where she gives instruction to her factory workers to stop working.)
This film is allover the place, switches modes and cannot decide to settle on an single one. There are too many villains, the main ones being Green Goblin (Max DeHaan) and Electro (Jamie Foxx) and at 140 minutes running time, it does not know when to end. It eventually ends with Spidey's return thanks to a little boy donning a Spider-man costume (hive me a break!) before the screen goes black, only to indicate that ideas have run out. While the first reboot, THE AMAZING SPIDER-MAN can be divided into three parts – Parker getting his spider powers; learning to harness them; falling into romance and getting the villain, this sequel cannot be categorized into any definable parts. Part of the story form the first film (loss of the father and uncle) even spills into this film.
As far as special effects go, Spidey flies around too much and appears more super than Superman. The most exciting special effects sequence comes at the film's start and the film never tops that. Director Webb also seems to be contently reminding the audience that the film is in 3D as objects are continually flung out of the screen from start to finish.
THE AMAZNG SPIDER-MAN 3 is already into production and one knows that at least hat cannot be as disappointing as this one.
Trailer: http://www.youtube.com/watch?v=nbp3Ra3Yp74
CINCO DE MAYO: THE BATTLE (Mexico 2013) **
Directed by Rafa Lara
Cinco de Mayo of the film title means the 5th of May, the fateful date of
Mexico's Battle of Puebla, the most important battle in Mexico's history. When the French army invades Mexico to set up a monarchy, General Ignacio Zaragoza played by Kuno Becker (Goal!, From Prada to Nada), must defend the city of Puebla, commanding a poorly armed and outnumbered troop of men. Meanwhile, two young Mexican lovers manage to find love amidst the chaos of war.
As the film is a Mexican production of a historical battle Mexico is proud of, director Rafa Lara goes all overboard with praising the Mexicans in their fighting efforts. General Ignacio is depicted as a selfless hero who goes immediately into battle despite his wife's recent death of pneumonia. Every person from army officer to doctor to peasant goes their all out for their country. The French invaders are meanwhile shown as ruthless dogs.
The film has been touted as Mexico's largest production. From the logistics - battles, uniforms, props etc. – it is obviously so, but the battle scenes are all over the place. It is difficult to see which side is winning (except by looking at the uniforms) and whatever strategy each side takes is lost in screen translation. What finally emerges on screen, is noise, noise and more noise.
To make matters worse, the film narrows down on the romance of an army deserter (who finally comes to his senses) and a village girl. This subplot looks totally silly and out of context in the wide scheme of this war film.
Running at 2 hours, CINCO DE MAYO is a pitiful waste of good money. Loyal Mexicans might enjoy it for all that it's worth.
Trailer: http://www.youtube.com/watch?v=MI5H6oNDG8Q
Best Bets of the Week:
American Hustle
The Grand Budapest Hotel
Like Father, Like Son
Best Family: Bears
Best Doc: The Galapagos Affair: Satan Came to Eden
Best Foreign: Like Father, Like Son
Best Animation: The Lego Movie