09
May
2014
Details

Category: Movie Reviews
Written by Gilbert Seah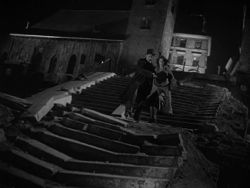 Orson Welles: Lost & Found – This weekend only!
Eastman House restores lost Welles film
Eastman House discuses the recovery of Mercury Theatre's long-lost Too Much Johnson, directed by Orson Welles in 1938. The believed to be destroyed silent film was found in a warehouse by the staff…

00:03:45

Added on 8/08/13
TIFF Cinematheque is thrilled to present one of the essential cinematic events of the year with the extra-special screening of Orson Welles' recently rediscovered silent film TOO MUCH JOHNSON (with live commentary and musical accompaniment!), headlining a mini-retrospective of Welles classics.
Details:
A new 35mm restoration of Too Much Johnson will have its Canadian premiere at TIFF Bell Lightbox on Saturday, May 10 at 4:30 p.m., and will be presented with live piano accompaniment by William O'Meara and live commentary by Caroline Yeager, Assistant Curator at George Eastman House. This essential cinematic event anchors Orson Welles: Lost and Found, a mini-retrospective of Welles' career as both a director and actor, including Citizen Kane (1941), The Magnificent Ambersons (1942), Othello (1952), and Carol Reed's The Third Man (1949), to take place from May 9 to May 13.
Video: Eastman House restores lost Welles film
See below for complete schedule for TIFF Cinematheque's retrospective, Orson Welles: Lost and Found.
ORSON WELLES: LOST AND FOUND
The Third Man
dir. Carol Reed | UK | 1949 | 104 min. | PG | 35mm
Archival Print!
Orson Welles gives perhaps his best-known screen performance apart from Citizen Kane in Carol Reed's classic thriller, set amongst the Expressionist shadows of a divided postwar Vienna.
Friday, May 9 at 9:15 p.m.
Sunday, May 11 at 5:00 p.m.
Tuesday, May 13 at 9:15 p.m.
Citizen Kane
dir. Orson Welles | USA | 1941 | 119 min. | G | 35mm
The most famous debut in film history and long regarded as the greatest film ever made, Orson Welles' legendary chronicle of the rise and fall of a Hearst-like newspaper magnate retains its power to enthrall, confound and overwhelm.
Saturday, May 10 at 6:30 p.m.
Home Movie: Orson Welles Directing Too Much Johnson
3 min. | G | Digital
Donated by the family of Myron S. Falk, one of the early investors in the Mercury Theatre, this behind-the-scenes document filmed during the making of Too Much Johnson offers a glimpse of a playful Welles on the film's fake Cuban location with actors Joseph Cotten and Ruth Ford.
Courtesy of the University of California, Berkeley Art Museum and Pacific Film Archive.
Preceded by
Too Much Johnson
dir. Orson Welles | USA | 1938 | 66 min. | USA | G | 35mm
Canadian Premiere! New 35mm Restoration!
Long thought lost in a house fire, Orson Welles' ultra-rare, pre-Kane silent comedy makes its Canadian premiere in this essential TIFF Cinematheque special presentation. The screening will have a live commentary by Caroline Yeager, Assistant Curator for Administration and Special Projects at George Eastman House, and piano accompaniment by William O'Meara.
Restored by the George Eastman House at the Cinema Arts, Inc. laboratories (Pennsylvania, US), through a grant from the National Film Preservation Foundation. Additional preservation from Haghefilm Digitaal, Amsterdam, The Netherlands, with funding provided by La Cineteca del Friuli.
Saturday, May 10 at 4:30 p.m.
The Magnificent Ambersons
dir. Orson Welles | USA | 1942 | 88 min. | USA | G | 35mm
Welles' follow-up to Citizen Kane — an elegiac, sometimes emotionally harrowing adaptation of Booth Tarkington's novel about the downfall of an aristocratic Midwestern American family — is regarded by many as the pinnacle of Welles' cinematic oeuvre.
Sunday, May 11, 2:45 p.m.
Othello
dir. Orson Welles | USA | 1952 | 90 min. | USA | PG | Digital
New Digital Restoration!
Welles himself plays the Moor of Venice in his visually opulent rendering of Shakespeare's tragedy, returning in a new digital restoration.
Sunday, May 11 at 12:30 p.m.
Capsule Reviews:
CITIZEN KANE (USA 1941) ***** Top 10
Directed by Orson Welles
While THE THIRD MAN (reviewed below) is considered one of the greatest films of all time, CITIZEN KANE is considered by many as THE greatest film of all time. Co-written, produced, directed and starring Welles in this first feature (nominated for 9 Academy Awards), this is a story of power and the American dream gone sour. Welles plays Charles Foster Kane an enormously wealthy newspaper publisher. When the film opens, he has been living alone in Florida on his vast palatial estate, called Xanadu for the last years of his life, with a "no trespassing" sign on the gate. On his deathbed, he holds a snow globe and utters the single word, "Rosebud", before passing away and letting the globe slip from his hand, smashing on the floor. As a reporter traces the man's life and the mystery of rosebud, Kane's life is revealed through flashbacks from his rise to politics and through two marriages. The film's main strength lies in its great script which won the Oscar for best original screenplay and it has all the elements of a good classic – love, ambition, power, loss of innocence and redemption. A marvelous film, no one can argue about that and a film that demands repeated viewings turning up more pleasures each time.
THE THIRD MAN (UK 1949) ***** Top 10
Directed by Carol Reed
Carol Reed's Kafka-ish film shot with tilted camera and distorted images (the unforgettable chase through the steps and alleyways) has been praised by critics worldwide as one of the greatest films of all times and it is easy to see why. A classic suspense film noir with an ill-fated romance, shot in stunning black and white cinematography by Robert Krasker and perfectly scripted by Graham Greene (who later wrote a novella based on the script) and directed by Reed. When the film starts, the haunting music by Anton Karas is immediately recognizable as the zither music hit the international charts after the film opened. The story concerns American pulp western writer Holly Martins Joseph Cotten) arriving in Allied-occupied Vienna in seeking his childhood friend, Harry Lime who has offered him a job, to be told that Lime was killed by a car while crossing the street just days before. He starts his own investigation only to learn that Lime (Orson Welles) is still alive and indulging in nasty activities. Excellent performances all round only to be topped by Welles as Lime. The key confrontation scene between Cotton and Welles only serves to prove once again Welles as one of he greatest actors ever lived. THE THIRD MAN should be seen again and again and on the big screen in all its grandeur.