13
May
2014
Details

Category: Movie Reviews
Written by Gilbert Seah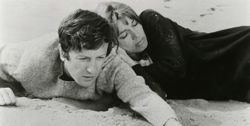 JE T'AIME, JE T'AIME (France 1968) ****
Directed by Alain Resnais
JE T'AIME, JE T'AIME is the first French film this reviewer had seen way back while in Singapore and brings back fond memories. Singapore is not known to be the place to watch noncommercial films; so needless to say, Resnais' film on time travel with no commercial narrative blew me away.
After released from hospital on a suicide attempt, Claude Ridder (Claude Rich) is chosen as the perfect specimen for time travel. But one minute into the past is only permitted due to equipment restrictions. Still things go wrong and Claude is stuck in events in the past that are out of chronological sequence. He also meets Catrine (Olga Georges-Picot).
The plot gives Resnais, known for his mesmerizing, dreamlike and surrealistic films like LAST NIGHT AT MARIENBAD, SMOKING/NO SMOKING familiar material to play with. And this he does to great effect. Resnais treats his film with a start and finish, setting the stage up for the experiment, and the experiment itself before fate intervenes. Resnais plays with futuristic sets, repeated sequences and dreamlike surroundings.
At third viewing, Resnais' JE T'AIME, JE T'AIME remains one of my favourite films of all time.
Note that the film is a brand new 35mm print. Director Resnais passed away March 2nd at the age of 91.
Original French Trailer: http://www.youtube.com/watch?v=HElwY3rt8t0
Screening at Bell Lightbox 18h30 Thursday 15th.
PLEASE NOTE:
The Je T'aime Je Y'aime screening is part of TIFF Cinematheque Special Screenings (April 8-May 20), a selection of 16 cinema classics featuring many recent restorations and newly struck prints. Below is the list of the screenings remaining in the series.
NEW 35mm PRINT!
Je t'aime, je t'aime
dir. Alain Resnais | France | 1968 | 91min. | PG
Thursday, May 15, 6:30pm
NEW 35mm PRINT!
L'Avventura
dir. Michelangelo Antonioni | Italy | 1960 | 143 min. | 14A
Thursday, May 15, 8:45pm
Tuesday, May, 20, 6:30pm
NEW DIGITAL RESTORATION!
Voyage in Italy
dir. Roberto Rossellini | Italy | 1953 | 85 min. | 14A
Saturday, May 17, 4:30pm
NEW 35mm PRINT!
Boy
dir. Nagisa Oshima | Japan | 1969 | 97 min. | 14A
Sunday, May 18, 4:00 pm