23
May
2014
Details

Category: Movie Reviews
Written by Gilbert Seah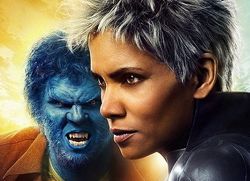 Biggest film opening is X-MEN: DAYS OF FUTURE PAST which should GODZILLA and SPIDEY 2 down the box-office ladder. See review posted. The Inside Out LGBT film festival opens. Watch for EASTERN BOYS in the festival.
FIM REVIEWS:
FADING GIGOLO (USA 2013) **
Directed by John Turturro
Set in Brooklyn, FADING GIGOLO is the writing/directorial debut of actor John Turturro. A sweet little film about loneliness, the two central characters are older than middle-aged men, a welcome change that we do not see often in films these days.
Times are hard. With his bookshop closing, cash strapped Murray (Woody Allen) convinces his employee, Fioravante (John Turturro) to become a gigolo with them splitting the profits. The venture turns out better than they expected but there are also unexpected results, good and bad. This is a sweet story , funny and sad and occasionally moving.
As Woody Allen has a major role, one expects the typical humor expected from the comedian filmmaker genius. Turturro is generous enough to grant his co-star the limelight, himself taking the role of a shyer character. A gigolo with a difference (not a pretty boy but down-to-earth dirty but in a nice way as the film puts it), Tuturro is credible as a rather sexy whore. Sexy and deadly Sharon Stone as Murray's doctor is their first customer.
Turturro's film celebrates Jewish culture, a rare and welcome change. The lest Jewish character is Turturro's who replies that he is not sure he is Jewish at one point.
But the film's premise runs out of steam quickly. When it gets trapped into predictability mode, the film gets boring with nothing but mild jokes and contrived sex scenes going for it.
One can see Turturro's influences. Turturro draws his inspiration from Woody Allen's films like PLAY IT AGAIN, SAM with a jazzy score and sets like Murray's apartment that looks like something out of any Allen film. Turturro is also fond of playing with odd camera angles (overhead shots; distorted shot), that reminds one of the films of the Coen Brothers. The overall result is a far from perfect film that that tries very hard.
Trailer: http://www.youtube.com/watch?v=t2epX4tXfic
112 WEDDINGS (USA 2014) **
Directed by Doug Block
Director Doug Block shoots wedding videos. He has accumulated a total of 112 of couples that he has shot before deciding to make a film about what has happened to the couples over the years.
Not an original premise as Michael Apted has treaded familiar territory with individuals in 7 Up, 14 Up and 28 UP. In 112 WEDDINGS, the results are less interesting. For one, the film contains no surprises. As expected, couples could stay happily married, solving problems as they come on the way, get separated or continue their struggle. Children come into the picture as do mental problems and infidelity. And there are only a handful (thank God not all 112 wedding couples) that are on display here.
The documentary is a slice of real life, but real life can be pretty boring, especially when one has to sit down and listen or watch some others' go on and on about their live stories. The same can be said for this documentary. There are no surprises, nothing new to be learnt, no profound messages, just a dull documentary that is not helped by the director's own uninspired narration. More interesting tales can be heard from the inebriated at the local pub.
Trailer: http://www.youtube.com/watch?v=s4A07vLA-dI
X-MEN: DAYS OF FUTURE PAST (USA 2014) ****
Directed by Bryan Singer
Sequel to X: MEN:THE LAST STAND (2006) and X-MEN: FIRST CLASS and the third X-MEN film directed by Bryan Singer, this action packed film has lots of plot, action and suspense with a solid story involving time travel.
When the film opens in the year 2023, Logan (Hugh Jackman) is to be transported to the past (hence the film's title) to save the world. It is always the world at stake in action hero films. It is a complicated scenario involving sentinel robots that are designed to wipe out the mutants. But the premise is for the mutant and human to live in harmony. But a few mutants do not agree such as Magneto (Michael Fsssbender) and Mystique (Jennifer Lawrence in HUNGER GAMES mode) and they opt to assassinate Trask (Peter Dinklage) the scientist behind the design of the Sentinels. Logan/Wolverine and the younger Professor X (James McAvoy) (the older played by Patrick Stewart) join forces to stop them and save the world, thus changing history by altering the events in time.
It is a clever script by Simon Kinberg that piques interest in time travel and Quantum Physics. Changing the world is likened to a stone thrown in a river which can only make a ripple. But the X-Men aims to change a difference, with the element of hope, which is a hidden message in this action film.
The film is filled with many more mutants with super powers such as Storm (Halle Berry), Shadowcat (Ellen Page), Rogue (Anna Paquin), Beast (Nicholas Roult) and especially Quicksilver (Evan Peters) who steals the show.
The 3-D effects are effectively utilized with the X-Men leaping out at the out at the audience or explosions spewing objects out of the screen. The 70's period atmosphere are nostalgically created with songs like the Oscar winning "The First Time Ever I Saw Your Face" from PLAY MISTY FOR ME and the dozen of Citroen cars in the Paris segment.
X-MEN: DAYS OF FUTURE past is the best action flick so far – forget the ridiculous GODZILLA and the over flight AMAZING SPIER-MAN 2. Good story, great action and compelling suspense! What more can one ask in a summer action movie?
Trailer: http://www.youtube.com/watch?v=6acRHWnfZAE
Best Bets of the Week:
Best film opening: X-Men: Days of Future Past
Under the Skin
The Grand Budapest Hotel
Like Father, Like Son
X-Men: Days of Future Past
Neighbors
Best Action: X-Men: Days of Future Past
Best Doc: Teenage
Best Foreign: Like Father, Like Son
Best Animation: The Lego Movie
Best Comedy: Neighbors