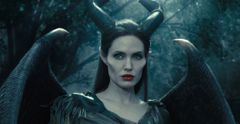 MALEFICENT and A MILLION WAYS TO DIE IN THE WEST are the big ones opening this week.
FILM REVIEWS:
FILTH (UK 2013) **
Directed by Jon S. Baird
Based on the book of the same title by Irvine, FILTH is the story of the fall and final redemption of Edinburgh detective Bruce Robertson (James McAvoy). He is assigned the case of the murder of a Japanese student. He hopes to get the promotion of Detective Inspector and goes all out of the way to make sure his colleagues are fouled up.
James McAvoy is hardly recognizable with his facial hair as Bruce Robertson. Is this a great performance? One can hardly tell as McAvoy is loud and screaming half the time. The whole film is generally loud. When a character turns into a monster head, the volume of the soundtrack is turned up several notches, as if the audience did not already get the point.
The film boasts an impressive cast that includes Jamie Bell and Eddie Marsan (HAPPY-GO-LUCKY) as Bruce's unfortunate colleagues and Oscar Winner Jim Broadbent as the weird psychiatrist.
FILTH is generally a very nasty film about nattiness. The main character is nasty (framing his colleagues, bullying, beating women etc.), and indulges in nasty acts in a nasty job in which he craves a promotion. It is difficult to feel sympathetic towards such a character who is also a druggie and alcoholic, and it is a mistake that director Baird thinks the audience would root for him.
A big problem with the script is Bruce's cop-out redemption. Bruce turns from filth over a new leaf and there is no real reason shown in the film for him to do so. The 'hanging' ending may appear to some as a smart move, but again does nothing to improve the story's credibility.
Don't get me wrong but this reviewer loves a bit of filth in his films. But unfortunately, this film does not do it.
Trailer: http://www.dailymotion.com/video/x129kju_filth-trailer-3_shortfilms
MALEFICENT (USA 2014) **
Directed by Robert Stromberg
Enough of stars like Julia Roberts, Charlize Theron and now Angelina Jolie playing wicked witches. The novelty has already worn off in a tired genre of altered fairy tales.
This time around, it is the untold story of Disney's most iconic villain from the classic "Sleeping Beauty" and the elements of her betrayal that ultimately turn her pure heart to stone. Driven by revenge and a fierce desire to protect the moors over which she presides, Maleficent (Joli) places an irrevocable curse upon the human king's newborn infant Aurora (Elle Fanning). As the child grows, Aurora is caught in the middle of the seething conflict between the forest kingdom she has grown to love and the human kingdom that holds her legacy. Maleficent realizes that Aurora may hold the key to peace in the land and is forced to take drastic actions that will change both worlds forever.
Jolie is good as the wicked witch but overshadowed by British Imelda Staunton as fairy Knotgrass. But there is no variation in Jolie's performance. At least Theron overdoes her role in SNOW WHITE AND THE HUNTSMAN.
Special effects are what make films like this fly. No complaint here about these. The sets, art direction and costumes are the best things about the film. But Stromberg's direction is lazy and the film drags quite a bit, livened up by only a few occasions. The three fairies who look after young Aurora as funny but there is no variation in the humour.
MALEFICENT would likely do better with the original SLEEPING BEAUTY story. This tall tale with its 'twist' ending is a predictable letdown and the fact that this evil witch turned good is hardly believable.
Is this an adult or children's film? Jolie's MALEFICENT is more a fashion statement to both adults and children alike. But the film will do well at the box-office with a female protagonist attracting females (and Jolie attracting the males) with the large family target market.
Trailer: http://www.youtube.com/watch?v=w-XO4XiRop0&feature=kp
Best Pics of the Week:
Comedy: The Grand Budapest Hotel
Action: X-Men: Days of Future Past
Foreign: Like Father Like Son
Horror: Under the Skin
Animation: The Lego Movie