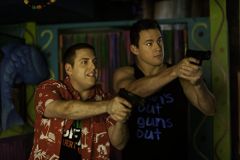 22 JUMP STREET and HOW TO TRAIN YOUR DRAGON 2 are the big ones opening this week.
The Italian Contemporary Film Festival (ICFF) opens 12th of June. See separate posted article for capsule reviews and more information on the festival.
FILM REVIEWS:
THE DOUBLE (UK 2013) ****
Directed by Richard Ayoade
The second and much anticipated film from the director Richard Ayoade who made the excellent SUBMARINE sees the director in a total different mode. Ayoade co-wrote and adapted the famous Dostoevsky novella THE DOUBLE with Jesse Eisenberg in the title role of Simon who meets his doppelganger David. Simon gets to work he finds that this double has usurped his tenuous position in the company. Routinely humiliated by his boss (Wallace Shawn), the neurotic Simon now has to deal with a doppelgänger that is everything he isn't: confident, charming, successful, superficial. Ayoade directs with absolute confidence using a techno metallic soundtrack to heighten the tension of various segments. He also creates an East European atmosphere Kafka-ish feel with huge mechanical computers accomplishing little tasks. One wonders however, why he spoils it with the use of many Japanese songs on the soundtrack. But he has undoubtedly created a tense and occasionally sly and funny film with a razzled protagonist from start to finish.
22 JUMP STREET (USA 2014) ***1/2
Directed by Phil Lord and Christopher Miller
Directors Phil Lord and Christopher Miller have hit it big in Hollywood with box-office successes that are loved by audiences and critics alike. Their best film was THE LEGO MOVIE early this year that was preceded by CLOUDY WITH A CHANCE OF MEATBALLS and the first 21 JUMP STREET. 22 JUMP STREET follows the hectic pace of their former films with lots of comedy, action and high jinx.
Once again, Schmidt (twice Oscar nominee Jonah Hill) and Jenko (hunk Channing Tatum) are back on the streets chasing narcotics. In the opening scene, they fail in a hilarious over-the-top pursuit of a group of drug dealers led by Ghost (Peter Stormare). They are again put to work undercover under Captain Dickson (Ice Cube again in top comedic form) - now located across the street at 22 Jump Street. Their assignment is to go undercover as college students and locate the supplier of a new drug known as "WHYPHY" (WiFi) that killed a student photographed buying it on campus.
The loosely plotted script allows the duo to provide laughs. Hill and Tatum are good on screen playing against each others' weaknesses. They also play against type (narcotics officers) and also with gay relationships. They gay jokes are funny enough without being offensive, especially the segment in which Dave Franco plays Mr. Walters'(Rob Riggle) bitch in jail.
The $70 million dollar spent in production is not put to waste. The chase scenes that include a helicopter explosion and a beach full of circuit partiers dancing to the vibes of a DJ in Puerto Rico are nothing short of spectacular.
The subplots work, like the one for the search of the dealer with the 'boom' tattoo. Hill's comedic stand-up poetry is quite funny. The script is also clever enough to let Hill get the girl instead of the hunk Tatum. The other really hilarious bits involve Hill having a fist fight with his girlfriend Maya's (Amber Stevens) roommate Mercedes (Jillian Bell).
The film ends with the duo in mock sequels and vignettes of 23 JUMP STREET up to the thirties JUMP STREET with them in other schools like culinary, scuba, dance, animation. Seth Rogen has a cameo here taking Hill's place in a few of these sequels.
22 JUMP STREET takes a while to gets on its feet, but once the laughs start coming, they never stop.
Trailer: http://www.youtube.com/watch?v=TbN--8ja1L4&feature=kp
Best Pics of the Week:
Comedy: 22 Jump Street
Action: Edge of Tomorrow
Foreign: Like Father Like Son
Horror: Under the Skin
Animation: The Lego Movie