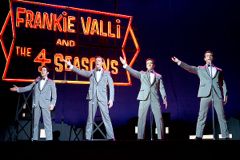 JERSEY BOYS and THINK LIKE A MAN 2 are the big ones opening this week.
The Canadian Inuit film UVANGA also makes its debut.
FILM REVIEWS:
JERSEY BOYS (USA 2014) ***
Directed by Clint Eastwood
Written by Marshall Brickman and Rick Elice and directed by 84-year old Clint Eastwood, JERSEY BOYS the film, based on the 2005 Tony Award Winning musical is pretty much an Eastwood film. It runs just over 2 hours, the running time of the typical Eastwood film is high on human drama never mind it being musical based. Those who have seen the musical may be disappointed but his film, to Eastwood's credit strives to tell the real drama behind Frankie Valli (John Lloyd Young reprising his stage role) and The Four Seasons story.
The film begins in 1951 with pals Tommy De Vito (Vincent Piazza) and Frankie robbing local stores in the night to grab some cash for their own use. Because Tommy is street-smart and looks after Frankie, the two form an inseparable bond which director Eastwood reminds his audience throughout his film that this is the Jersey mentality. They form the Four Seasons and hit it big performance and record-wise till fame gets the better of each member. Frankie gets married with kids but disaster strikes with his daughter, Francine committing suicide, for the reason that her father was never around the family.
There is too much material to be covered and the script tries to include as much as possible instead of concentrating on fewer issues. The film also takes a while to get on its feet. Ironically, this musical drama first starts flying during the performance of their first song "Big Girls Don't Cry", which thankfully, Eastwood allows the full performance on stage. Their second song: Walk Like a Man is done amidst intercutting of the group's parties and Frankie's family gathering during Christmas.
Those expecting a full scale musical will be disappointed. The film is interspersed with songs and ends with their biggest hit "Can't Take My Eyes Off You." But to Eastwood's credit, the best segment is the dramatic showdown, especially the part when fellow member Nick (Michael Nomenda) tells Tommy off, the first time in 10 years.
But Eastwood has clumsy bits of the group members talking to the audience and an odd flashback of two years occurring mid-film when the group runs into financial difficulties.
The one scene where Frankie advises Francine on her singing can be imagined as one Eastwood might heave and advising his own son Kyle regarding the music business. (Eastwood has directed HONKYTONK MAN starring him and his son, Kyle and also the music biopic BIRD). There is also a scene from the TV with a 30 year-old Eastwood from Rawhide.
A lot of effort is put into the creation of the 50's especially in the scenes in which vintage cars fill the road from the huge American clunkers to the old Volkswagon vans.
But the results should have matched the efforts put in. JERSEY BOYS contains enough songs to convert anyone to be a Four Season fan but it will not satisfy the true JERSEY BOYS die-hards. There is enough drama in the film but too much story tackled that clearly shows that there is much more left out.
Trailer: https://www.youtube.com/watch?v=TEGPOa9gAzw
THE LIFE AND CRIMES OF DORIS PAYNE (USA 2014) ***
Directed by Mathew Wilson Pond and Kirk Marcolina
Doris Payne is arguably the most famous diamond thief of all time.
THE LIFE AND CRIMES OF DORIS PAYNE documents how a poor, single, African-American mother from segregated 1930s America winds up as one of the world's most notorious and successful jewel thieves. A glamorous 83-year-old, Doris Payne is as unapologetic today about the $2 million in jewels she's stolen over a 60-year career as she was the day she stole her first carat. The film centres of Doris' trial for the theft of a department store diamond ring. At the same time, the film probes beneath her consummate smile to uncover the secrets of her trade and what drove her to a life of crime. Stylized recreations, an extensive archive and candid interviews reveal how Payne managed to jet-set her way into any Cartier or Tiffany's from Monte Carlo to Japan and walk out with small fortunes. This sensational portrait exposes a rebel who defies society's prejudices and pinches her own version of the American Dream while she steals your heart. The reference to Hitchcock's TO CATCH A THIEF set in Monte Carlo with Cary Grant as a suave suspected jewellery thief is a winning touch.
It is not surprising that the audience would take the side of Payne. The same charms that fooled the jewellery store salespeople are enough to win most audiences to her side. When the verdict is about to be announced at the end of the film, it is not surprising that most would hope she gets off without going to prison. The fact that this incorrigible their would commit the same theft again, as shown at the end of the film just serves to indicate how foolish and sympathetic us human beings are. This is the film's best point.
The problem with this documentary is that there is insufficient material for a 74-minute film. But that does not mean that the film is a below average one. Given the story limitations, directors Pond and Marcolina has still created a comprehensive enough portrait of THE LIFE AND CRIMES OF DORIS PAYNE.
Trailer: https://www.youtube.com/watch?v=WQ5Cwax-aik&feature=kp
OBVIOUS CHILD (USA 2014) **
Directed by Gillian Robespierre
It is a bad habit of poor English when the word 'like' is used in a conversation. Example: Like I am writing this film review, like of a movie of a comedienne, which should like, be really cool. In the film's opening 5 minutes, the protagonist, a stand-up comic, Donna Stern (Jenny Slate) does just that with the word 'like', in her stand-up performance just before going on to a more structured dialogue. The audience then knows exactly when she is winging a dialogue or doing writer/director's Robespierre's script. This happens again in the middle of the film.
OBVIOUS CHILD tells the story of Donna Stern, who gets dumped by her boyfriend, evicted from her apartment, then gets pregnant followed by an abortion on Valentine's Day shortly after. The audience is supposed to root for this character. Whether this happens, of course, depends on how Robespierre treats his heroine. Unfortunately, she gives Donna a bad start. In her beginning comedy routine, she talks about being f***ed up the ass, and then talks about letting go gas walking up the stairs, something not very becoming of someone an audience is to have respect for.
For a film that is supposed to be raunchy, one would expect some nudity in the sex scenes. It feels awkward that Stern makes love with her bra on and her boyfriend with his short pants on.
The film also has a cop-out ending in which Donna's tale receives a happy ending. (No spoiler here on what exactly happens.)
But actress Jenny Slate does a good job as Stern nevertheless. To Robespierre's credit, she achieves a few nice touches involving winning cameos. Richard Kind and Polly Draper are marvellous as Donna's parents as is David Cross (recognizable as the villain Ian in the CHIPMUNK films) as a livable asshole.
The segment in which Stern performs a totally unfunny routine about her failures is painful to watch but it is an honest moment of truth. And a part of the movie that is essential.
The film will appeal to the female target audience whois always happy to see a downed female protagonist get on her feet. The film is not as funny as I expected it to me. I found the standup routines humorous but not laugh-out loud funny.
Trailer: http://www.youtube.com/watch?v=r2GN3wdfqbA&feature=kp
UVANGA (Canada 2012) ***
Directed by Marie-Helene Couineau and Madeline Piujuq Ivalu
There have not been many films set in the Arctic North, so any film set there makes a welcome change. UVANGA is a fiction film about a Montreal teacher Anna (Marrianne Farley) and her teen son, Tomas (Lukasi Forrest). She brings Tomas to Igloolik, Nunavit to learn of his aboriginal heritage as his father is Inuit who has just passed away. Tomas meets his half brother Travis (Travis Kunnuk). The two form a brotherly bond.
The audience learns about the Inuit community - hunting of seals; fishing etc. through the eyes of Tomas. The cinematography is beautiful but simple, as the bare landscape of the North is nothing short of stunning. There a few things about audiences have never seen before such as green quicksand or eating blubber.
The film has a story of family conflict. Anna has to come to terms with her son whether he likes it here or not and also with Travis' mother Sheba (Carol Kunnuk) who was spurned by her husband with Anna's affair. Anna claims she never knew Tomas' dad was married to Sheba. The story is ok and a bit contrived and it gets in the way of the the beauty of the Arctic community.
At its worst, the dialogue goes as Anna says to Tomas: "You and I have both have a lesson to be learnt from this!", as if the audience needs to be refreshed on where the film is leading. A twist revelation at the end of the real reason Anna wanted both their visit here is also unnecessary.
UVANGA can nowhere be compared to Zacharias Kunuk's also gorgeous 2001 Inuit film, ATARNAJUAT: THE FAST RUNNER voted one of the top 10 Canadian films of all time. Still films like UVANGA are a rare gem.
Trailer: http://www.youtube.com/watch?v=mqy-GbXDd5Y&feature=kp
Best Pics of the Week:
Comedy: 22 Jump Street
Action: Edge of Tomorrow
Foreign: Like Father Like Son
Horror: Under the Skin
Animation: The Lego Movie