03
Jul
2014
Details

Category: Movie Reviews
Written by Gilbert Seah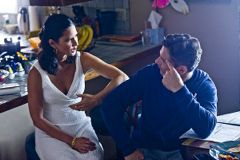 Early Wednesday openings for DELIVER US FROM EVIL and TAMMY. Other openings include the documentary WHITEY UNITED STATES V. JAMES J. BULGER and the romance BEGIN AGAIN.
DELIVER US FROM EVIL (USA 2014) **
Directed By Scott Derrickson
From the hands of producer Jerry Bruckheimer, one can expect DELIVER IS FROM EVIL to get over-the-top in its execution and this it does in a formulaic way, again not uncommon in a Bruckheimer film. The film stresses from start to end that the story is based on actual accounts of a NYPD sergeant, and in the end credits actually gives credit to this sergeant's book "Beware the Night'. But judging from the film that includes an extended exorcism sequence, the writers, including Derrickson (as co-writer) have taken quite the few liberties.
DELIVER US FOM EVIL tells the story of Ralph Sarchie (Eric Bana), a New York cop who meets a Castilian/Hungarian renegade priest, Mendoza (Edgar Ramirez), when he is pulled into a case -- a case which the priest convinces him, against the officer's religious beliefs, is demonically related. Together, they work to solve the case and combat the paranormal forces working against them.
The buddy cop movie begins with Ralph and his partner, Butler (Joel McHale) entering the cop cruiser. There is silence before they immediately start on a rant on the Red Sox, tossing insults and smart remarks, so much that it is obviously fixed to settle the two as good buddies who have worked with each other a long time. Director Derrickson (THE EXORCISM OF EMILY ROSE, SINISTER) gets the audience into the horrors pretty quickly with a beaten wife, a mother throwing her baby into a ditch and corpse eroding with flies emerging from the rot.
Everything that is predictable in a cop or horror movie is here. Ralph does not spend enough time with his wife and daughter. He spends too much time devoted to police work. He has to come to terms with his own sins before dealing with the demon. The Exorcist falls once again into the trap of the demon, distracted by his past deeds as in THE EXORCIST.
Derrickson is good with his scary parts and suspense (the lion and corpse segments deserve mention), but they do not all work. He seems at times, too serious with his material that they turn up funny - unless intentional, which seems unlikely.)
The film is a bit on the violent side and the story includes a bashing to the death of a child molester/killer. So, one might want to leave the kids at home for this film.
The scary scenes include a laughable one in which Ralph's daughter winds up her Jack-in-the-Box before going to sleep. The eerie nursery rhyme heard as the key unwinds together with the sound of her rolling stuff owl's head going 'Ha-ha-Hoo! Ha-ha-Hoo!" is a bit much! This shows to show that there is such a fine line between scary and downright silly.
DELIVER US FROM EVIL delivers an action horror flick that is occasionally a riot. Ha-Ha-Hoo! Ha-Ha-Hoo! as the owl rolls.
Trailer: https://www.youtube.com/watch?v=8TgHldrvLrA
WHITEY: UNITED STATES V. JAMES J. BULGER (USA 2014) ***
Directed by Joe Berlinger
James J. Bulger is U.S. most notorious Public Enemy righter after Bin Ladin. He terrorized Boston as a Mafia boss and has murdered close to a dozen victims including his girlfriend.
Documentarist Joe Berlinger is no stranger to court films. His LOST PARADISE of the West Memphis 3 convictions depicted the weaknesses of the U.S. judicial system and his latest doc about the persecution of notorious Mafia gangster James Bulger treads similar territory. The only difference is that Mr. Bulger is guilty as depicted from the film's first reel. Berlinger makes no excuse to like the guy and Bulger is shown as public enemy number one, a bully, a gangster, a liar and total no-gooder from the start to finish reel.
Berlinger's film often gets lost in the court's technical details. The case contains so many corrupt individuals from the gang to the FBI that it is difficult to keep track of who did what and who shot whom. The film gets more personal and more audience friendly when innocent victims are involved. One is the casual driver of a shooting victim who happened to be at the wrong place and the wrong time. His son and wife are still grieving and give their effective say on how disappointed their are with the government.
Occasionally insightful and revealing (the forging of the informant files; Bulger's personal code of ethics) but also sprawling all over the place (the number of involved associates) at more than 2 hours, Berlinger's film is a mixed bag of tricks.
The final sentence of Bulger life sentences and 5 years for a man who has terrorizes and affected hundreds in his crime life style. It is a pity this unrepentant man will be long dead (but not forgotten) before his life sentence is up.
Trailer: http://vimeo.com/87605552
Best Pics of the Week:
Comedy: 22 Jump Street
Action: Transformers: Age of Extinction
Foreign: Like Father Like Son
Horror: Under the Skin
Doc: Whitey: United States V. James J. Bulger
Romance: They Came Together