24
Jul
2014
Details

Category: Movie Reviews
Written by Gilbert Seah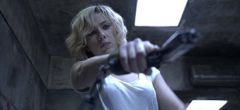 HERCULES and LUCY, two action packed blockbusters open this week.
FILM REVIEWS:
AND SO IT GOES (USA 2014) ***
Directed by Rob Reiner
AND SO IT GOES is billed as a romantic comedy drama. Directed by Rob Reiner (WHEN HARRY MET SALLY, THE PRINCESS BRIDE, STAND BY ME and Meathead in ALL IN THE FAMILY), one can expect the film to waver closer to emotional tear-jerker territory than laugh out loud humour. One wishes Rob had more of his father's (Carl Reiner) sense of humour. The father directed really funny comedies like OH, GOD!, THE JERK and a lot of other Steve Martin comedies.
No luck here, the humour is only slight and Rob Reiner's film leans safely on what works in the past. The script is also careful not to offend anyone. If a black couple is singled out as not good real-estate subjects, the fault is corrected with an intelligent black couple who have all the bright dialogue following. Diane Keaton, who has been starring these days in too many elderly romantic films, does a variation of her ANNIE HALL 'lah-dee-dah' routine that worked for her in the Woody Allen days.
As in Carl Reiner films, Carl always gives himself a small role in his films. Rob follows his dad's footsteps, playing the bumbling not-too-observant pianist for singer Leah (Keaton).
The story concerns an egoistic realtor, Oren (Michael Douglas) who has lost all compassion since his wife passed away from cancer. A twist of fate forces him to look after his granddaughter, Sarah (Sterling Jerins) who takes after Oren's neighbour Leah (Keaton). But this is a romance of when Oren met Leah with slight variations thrown in.
Reiner throws in lots of sentimental songs from "Both Sides Now" to "Shadow of Your Smile". He also required Keaton to cry on cue, which she seems to have no problem doing. JERSEY BOYS fans will like the cameo from Frankie Valli.
As the title of the film goes, AND SO IT GOES. This is not an exceptional film but an ok one, and so it goes!
Trailer: https://www.youtube.com/watch?v=7rNfgLbwJIA
HERCULES (USA 2014) **
Directed by Brett Ratner
The second HERCULES film after the dismal failure earlier this year of Lionsgate's THE LEGEND OF HERCULES is expected to be a hit as Ratner's (X-MEN, RUSH HOUR) film is as formulaic as it gets. The only thing left out is a romantic slant, that no one would want anyway in a film about a macho-man with huge muscles set in Ancient Greece.
Having endured his legendary twelve labours according to legend, Hercules (Dwayne Johnson, looking really ugly unshaven but extremely buffed), the Greek demigod, has his life as a sword-for-hire tested when the King of Thrace (John Hurt) and his daughter (Rebecca Ferguson) seek his aid in defeating a tyrannical warlord. But this is based on the Radical Comics' Hercules by Steve Moore, so this ensemble-action film takes a revisionist take on the classic myth. Whether Hercules here is a God or human is up to the audience to decide, but the formulaic message of being one own hero is a well-worn one.
Hercules appears here with a band of fighters. But they don't seem to do that much and are not that distinguishable one from another, except for Atalanta (Ingrid Bolso Berdal), the only female warrior in the group and the young storyteller, Iolaus (Reece Ritchie).
The film can be seen in 3D as well as in IMAX. Most of the battle scenes are exciting enough and I have never seen that many arrows coming out of the screen as in this film. But once the CGI comes to play, with the thousands of characters seen in battle on screen, the film starts looking ridiculous like a video game.
Ratner plays his film for a bit of fun, so one can hardly tell if he taking the Hercules myth seriously or not. He keeps the film as an action pic, but one remembers that he is a director too, of comedies like the RUSH HOUR movies and the upcoming BEVERLY HILLS COP 4. The script contains a few unexpected plot twists towards the end that keeps the film interesting. But it is basically the same old story, and with an action blockbuster appearing every week, one would expect something fresher than another son of Zeus pic set in ancient time.
HERCULES is a Ratner film. So expect a fast paced action film with humour be it a forgettable one.
Trailer: http://www.imdb.com/video/imdb/vi459057689/
I ORIGINS (USA 2014) **
Directed by Mike Cahill
Originally screened at Sundance, I ORIGINS, the second sci-fi romance from Mike Cahill writer/director of ANOTHER EARTH, I ORIGINS is also a sci-fi romance but tamed down a notch, thankfully from ANOTHER EARTH. I ORIGINS is more credible and the romance more believable while toned down as well.
It all starts at a Halloween party and a sex fling with PHD student Ian Grey (Michael Pitt). The two eventually wed and have a blissful marriage. As he is a doctorate in molecular biology or something, specializing in the 'iris', he photographs her eye. He attains fame while doing research with Karen (Brit Marling), who Sophie (Astrid Bergés-Frisbey), the new wife gets intensely jealous with. The tables are turned when Sophie dies of a freak accident. He marries Karen and they have a child. He finds Sofie's iris in a database with an identical one from girl in India. He travels there to make a remarkable discovery.
The remarkable discovery is revealed (not to be spoiled here) and the film fizzles to the end. Despite the rather ingenuous plot, Cahill's film is extremely slow and 'moody' as its main lead actor Michael Pitt. Pitt loves to brood and brood.
Despite story's inclination to the iris, no reference has been made to the naturopathic subject of Iridology which is the study of a patient's past medical history as captured by a shot of the human iris. Here, the novelty is that no two humans can have the same eye. But hey! No two humans can have the same fingerprint. So a film could have more easily been made about two humans with the same thumbprint.
Another flaw of the story is the sudden shift of focus from the son Tobias's autism tests to the discovery of the Indian girl's identical eye. It seems that Cahill has lost focus of his story which results in the film losing whatever message he wants to deliver.
Trailer: https://www.youtube.com/watch?v=zPuoWzLjhFo&feature=kp
LUCY (France 2014) **
Directed by Luc Besson
Excellent premise and trailer that sadly does not transform into the exciting film that is expected of French Master Luc Besson. LUCY combines the femme fatale of NIKITA and LE CINQUIEME ELEMENT with the innocent Lucy (Scarlett Johansson) forced to transport a satchel of drugs sewn into her body. When her body absorbs some of the chemicals, her brains begin operating at higher capacity from over 10 % to 100% by the film's climax.
To tie in credibility to the plot, the script by Besson incorporates a character who is a professor and expert of brain neurology, Professor Norman (Morgan Freeman). As he lectures his students, the audience is fed cinematic sci-fi bullshit that somehow sounds credible to action movie fans. The audience is delighted then when Lucy uses her super powers to turn the tables on her enemies that include drug dealers, Korean thugs or anyone who stands in her way.
Besson is known for his cinematic excesses. One can become immune to them quite soon. After all the shootings, bloodshed and violence, the segment in which Lucy puts her hand into a carrier's body to retrieve another satchel of CPH4 hardly seems shocking any more. The film works better in the first third where there are lots of action with Lucy thrashing all her Korean captors. Once the film settles into its sci-fi component, the momentum slows down and interest wanes. It is worse when Besson begins displaying his style of philosophy on life, knowledge and the future. The last part of the film, a high adrenaline paced 2001 A SPACE ODYSSEY segment looks silly and does not really come off as believable or innovative. There are points that could have turned the film around. The sweet kiss Lucy plants on her French detective, Pierre Del Rio (Amr Waked) is not developed into any romance. Nothing is known too, about Lucy's family except for a brief call she makes to her mother. The reason she is abroad studying is just left hanging. (All is said in the film is that she has to study for examinations.)
Besson builds up the film's pace with Lucy's brain raging from 20% to 99% to final 100% utilization. But what occurs on screen, action-wise does not match the brain build-up.
Still it is entertaining fun to see an attractive lady (like Anne Parrillaud in NIKITA) kick butt. All else, like the rest of the film looks pale in comparison.
Trailer: https://www.youtube.com/watch?v=RnKVv8Lp_xU
A MOST WANTED MAN (USA 2014) ****
Directed by Anton Corbijn
The film begins with a brutally tortured half-Chechen, half-Russian Issa Karpov (Grigoriy Dobrygin) turning up in Hamburg's Islamic community, laying claim to his father's ill-gotten fortune. Both German and US security agencies take a close interest: as the clock ticks down and the stakes rise, the race is on to establish this most wanted man's true identity - innocent oppressed victim or destruction-bent extremist.
It should be clear to anyone contemplating watching this film that this is a John Le Carre spy adaptation. So, don't expect any James Bond type action fare with pyrotechnics and car chases. In fact the only car chase lasts maybe 20 seconds at the climax of the film. But this is a spy film, in which the pleasure derives from having to decipher a story that is here, compelling to an attentive audience. Still, the film is not as difficult to follow compared to the last Le Carre film SOLDIER, TAILOR, TINKER, SPY.
The script is by Andrew Bovell, responsible for the excellent Aussie flick, LANTANA, a sort of detective whodunit years back. Corbijn's best film is CONTROL which displayed Joy Divison's lead singer's downward spiral from fame. There is much to be praised in the film. One is its meticulously calculated humour. The element of Good Spy, Bad Spy is incorporated in the interrogation of Issa's lawyer Annabel Richter (Rachel McAdams). This, combined with the debate on "Why are we doing all this?" make both good subtle and out-front humour.
The story is centred on Gunther Bachmann (Philip Seymour Hoffman), an out of luck spy in charge of a small, low-profile intelligence, invisible unit dedicated to tracking Hamburg's large Muslim community, in which the terrorists's U.S. attack was plotted. He tracks Issa's arrival. But the other groups are also after Issa, wanting to take him out before more can be used out of the situation. Issa works through a human rights lawyer Annabel Richter (Rachel McAdams) while laying a claim to the contents of his late father's account in a private German bank headed by Thomas Brue (Willem Dafoe).
Hoffman, once again proves himself almost perfect in the role of the tortured hero trying to do his best with limited resources working under extreme pressure and against time. Though his last role is in the upcoming final HUNGER GAMES series, this is his last big leading role. His performance is worth the price of admission, if not for anything else. The supporting cast, both young and older is just as perfect. And the city of Hamburg, with its dull and muted colours add to the perfect picture.
The film's best 2 segments deserve mention. One is the chase on foot between Issa and Annabel and Gunther's men. Both are good sides and the audience is at this point torn to whether they want the two to escape or not to escape. It is an emotion never or very rarely felt in a chase film before. The other is set in a bar where Gunther angrily punches up a another customer abusing his girl, which convinces Gunter's American date/observer to give him more time. in the assignment.
The best thing about this film's is its effectiveness as a thriller despite the lack of a villain. The only evil forces on display are the human elements of pride and impatience which clearly make their point in the film's climax.
A MOST WANTED MAN is a most satisfying spy film that still manages to surprise with a twist ending. As a bonus, a discreet message, not a positively one like the unhappy ending is presented but it is swell observed intelligent one - like Corbijn's film itself. A highly recommended film for the thinking man!
Trailer: https://www.youtube.com/watch?v=cYORzJ3e-Og&feature=kp
Best Pics of the Week:
Comedy: 22 Jump Street
Action: Transformers: Age of Extinction
Foreign: Snowpiercer (South Korea)
Horror: Under the Skin
Doc: Life Itself
Romance: They Came Together