04
Aug
2014
Details

Category: Movie Reviews
Written by Gilbert Seah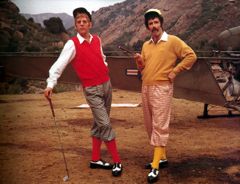 TIFF Cinematheque Presents – Robert Altman
As TIFF Bell Lightbox presents the Canadian premiere of Ron Mann's new documentary Altman on August 1, TIFF Cinematheque presents some of the greatest films from the iconoclastic director's long, rich, and remarkably eclectic career. Films include Altman's breakthrough success M*A*S*H (1970), which firmly established his directorial signatures (long takes, restless zooms, overlapping dialogue, a fondness for improvisation, and a unique degree of collaboration with his cast and crew); his brilliant excursions into genre revisionism McCabe & Mrs. Miller (1971), The Long Goodbye (1973) and Thieves Like Us (1974); the wacky comedy-spoof-fable Brewster McCloud (1970); the panoramic, multi-character masterpieces Nashville (1975), Short Cuts (1993) and Gosford Park (2001); the acclaimed theatrical adaptations Come Back to the Five and Dime, Jimmy Dean, Jimmy Dean (1982) and Secret Honor ( 1984); and his swan song A Prairie Home Companion (2006).
Company Man: The Best of Robert Altman screens from August 7 to 31 at TIFF Bell Lightbox.
Special guests include Ron Mann and Robert Altman's widow, Kathryn Altman, to introduce a one-night only premiere screening of Mann's new documentary Altman, on Friday, August 1 at 7 p.m.; and on Friday, August 8 at 6:15 p.m., Academy Award-winning Cinematographer Vilmos Zsigmond will introduce Altman's McCabe & Mrs. Miller, a hauntingly gorgeous revisionist western that is rightly regarded as Robert Altman's masterpiece.
IMAGES (UK/USA 1972) ***
Directed by Robert Altman
Altman alternates between big budget all start cast productions like GOSFORD PARK, THE PLAYER, SHORT CUTS and small budget indies like THAT COLD DAY IN THE PARK and this film IMAGES. Ironically, his small films are harder to watch than his biggies. IMAGES follows the emotional downward spiral of a children's book writer of unicorns, Cathryn (Susannah York) as she juggles three lovers while trying to remain faithful to one awkward husband , Hugh (Rene Auberjonois). The husband and wife retreat to their secluded cottage out in the beautiful and stunning countryside. What turns up instead is blood in the hall, unexpected guests and images of past lovers. It is hard to make sense of all this except to dismiss the unexplained to the girl's mental state. The scariest segment has a ghost giving the girl a rifle and asking her to shoot him. This is when it dawns on her that she has to kill all her ghost lovers in order for them not to appear again. But can she distinguish reality from images?The film is still a disturbing tale beautifully shot. This is rare Altman rarely seen and my first viewing of this film.
THE LONG GOODBYE (USA 1973) ****
Directed by Robert Altman
Marlowe has only two friends. One is his cat and the other is a murderer. If you enjoyed the smart talking Trapper character in M*A*S*H*, THE LONG GOODBYE contains a full film full of smart-ass dialogue mouthed by Private Investigator Philip Marlowe (also played with relish by Elliot Gould). Marlowe is paid a visit in the dead of night by a friend who he drives to Tijuana. He is arrested the following morning on the account of harbouring a criminal. It turns out according to the newspapers that his friend has beaten up his wife and the committed suicide, a situation that Marlowe does not believe. He takes a case of finding a missing writer who is blackmailed into paying a large sum for this therapy. It turns out that there is a connection. There is much to be enjoyed in this film, besides the wry dialogue. Marlowe's sexy neighbours are always dancing in the nude; there is a twist in the plot that occurs ever so often and the performances are great. Be cautious of the spouts of unexpected violence (the smashing of a bottle on a girl's face, for example), but that should keep the audience on their toes. Film noir – Altman style, and never has it been this effective or distinctive!
M*A*S*H* (USA 1970) ***** TOP 10
Directed by Robert Altman
The film that spurned the famous TV series of the same name, M*A*SH* the film is a black satire rather than the harmless sitcom that most people are familiar with. The Mobile Army Surgical Hospital Unit is assigned two replacements 'Hawkeye' (Donald Sutherland) and 'Duke' Forrest (Tom Skerritt) who arrive in a stolen jeep. They are later joined by Trapper (Elliot Gould). The trio take the unit apart by their womanizing, insubordination, drinking and wild parties. But there are very good at their work as surgeons – so no one can complain. The main victims are religious surgeon Frank Burns (Robert Duvall) and the new head nurse, "Hot Lips' Houlihan (Sally Kellerman). There is much to offend in the movie, politically and religiously especially the staging of a 'last supper' for a suicidal dentist. The climax of the film is the unit winning a football match, by no fair means. M*A*SH* shot Altman (and its three actors) to fame and won the film an Oscar for Best Adapted Screenplay and nominations for Best Picture and Director as well. The film is absorbing from the opening song "Suicide Is Painless by Johnny Mandel with lyrics by Altman's son to the very end. M**S*H* is my best Altman film which I have now viewed 4 times.
Trailer: http://www.imdb.com/video/screenplay/vi3013083417/
MCCABE & MRS. MILLER (USA 1971) ***** TOP 10
Directed by Robert Altman
Deemed by many critics as Altman's Masterpiece, this near perfect anti-western tells the unlikely romance between McCabe (Warren Beatty) and Mrs Miller (Julie Christie). McCabe arrives at a mining town to set up a gambling and whore house. But with the arrival of Mrs. Miller, the two start a strange partnership that brings in more money for McCabe while providing more class to his business. The mining company offers to buy McCabe out, but when he refuses, three bounty hunters are dispatched to kill him. There is much to admire in this western including Vilmos Zsigmond's cinematography (the man will be present to introduce the screening) and Leonard Cohen's music. But it is the climax of the movie that mass the film what it is – a showdown in which McCabe defends himself against the three killers amidst the town putting out a fire in the church.
NASHVILLE (USA 1975) ****
Directed by Robert Altman
NASHVILLE is the ambitious almost 3-hour Altman film made for a paltry $2 million that ended up winning numerous awards. The film takes a snapshot of people during 5 days in Nashville culminating at the outdoor concert at Parthenon. The ensemble cast includes Altman regulars Keith Carradine singing the Oscar winning song "I'm Easy", Shelley Duvall, Elliot Gould (playing himself), and others like Lily Tomlin, Geraldine Chaplin, Karen Black, Julie Christie, Ned Beatty and Ronee Blakley. They play hilarious characters that pop up like running gags in the film. There is the husband that is forever looking for his runaway wife (Barbara Harris) looking for her big break, a girl that cannot sing, an army guy that keeps popping up, a Gospel singer with two deaf children, and a country singer who sleeps around as if it was his last day on the planet. Altman's film contains plenty to laugh at, while remaining true to the spirit of country and Gospel music. The film contains a whole lot of original songs, the majority written and sung by the actors themselves. The film is a good solid look of reality and life, cruelty and hilarity and an altogether unforgettable experience.
SHORT CUTS (USA 1993) ***
Directed by Robert Altman
Based on 9 short stories and a poem by Raymond Craver, and re-set in L.A., SHORT CUTS opens as a fleet of helicopters sprays for medflies, revealing all the characters along the path of their flight. These are the numerous characters in the 3-hour film. Dr. Ralph Wyman (Matthew Modine) and his wife, Marian (Julianne Moore), meet another couple, Stuart (Fred Ward) and Claire Kane, (Anne Archer) at Zoe Trainer's (Lori Singer) cello concert and make a spontaneous Sunday dinner date. Marian's sister Sherri (Madeleine Stowe) is married to philandering cop Gene (Tim Robbins), who makes up unbelievable but humorous stories to hide his affair with Betty Weathers (Frances MacDormand). Betty is in the process of divorcing one of the helicopter pilots, Stormy (Peter Gallagher). Waitress Doreen Piggot (Lily Tomlin) is married to an alcoholic limo driver named Earl (Tom Waits). TV commentator Howard Finnigan (Bruce Davison) lives with his wife Anne (Andie MacDowell) and their young family next door to Zoe and her mother (Annie Ross), cabaret singer Tess Trainer. Their pool cleaner is Jerry Kaiser (Chris Penn), whose wife, Lois (Jennifer Jason- Leigh), works from home as a phone sex operator, tending to the children while she talks off strange men. Jerry and Lois are friends with Doreen's daughter, Honey (Lili Taylor) and her husband Bill (Robert Downey, Jr.), who works as a makeup artist. If all these characters are too many to keep track off, Altman's film is not, with the audience able to to identify with each. Altman divvies almost equal time to each culminating with an earthquake that rocks L.A. that forms the climax of the film. SHORT CUTS is long but watchable but nothing like his other longer classics.
Trailer: https://www.youtube.com/watch?v=aQZD0vKvSJY
THIEVES LKE US (USA 1974) ***1/2
Directed by Robert Altman
Based on the book by Edward Anderson, the three thieves of the film title in question are
Bowie (Keith Carradine), a youthful convicted murderer, and bank robbers Chicamaw (John Schuck) and T-Dub (Bert Remsen). They escape from a Mississippi chain gang in the depression 1930s. They continue robbing banks and show no sign of remorse. When Bowie is injured in an auto accident, he takes refuge with the daughter of the gas station attendant, Keechie (Shelley Duvall) and a love relationship, the key to the film develops. It is hard to feel sympathetic for hard criminals who have no qualms about putting a bullet into their fellow man, but there is something about young lovers that keeps the audience on their side. Altman's film is moody, stylish and realistic and he gets his tale told effectively in what might be described as a disturbing film to watch.