28
Aug
2014
Details

Category: Movie Reviews
Written by Gilbert Seah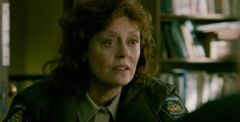 Films opening this week are THE CALLING, THE CONGRESS and LIFE OF CRIME.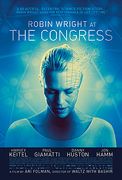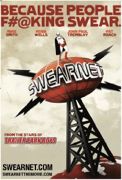 TIFF Cinematheque is running a Robert Altman retrospective and a series on 'sequels'.
THE CALLING (Canada 2013) ***
Directed by Jason Stone
(In THE CALLING, Topher Grace plays a gay detective rookie in Hamilton, Ontario.)
Based on the novel by Inger Ash Wolfe, THE CALLING sees veteran female detective Hazel Micallef (Susan Sarandon) solving a series of murders in a small town.
The Coen Brothers' FARGO immediately comes to mind. But both are highly different films, the only common thread being the female detective in a small town.
The small town in question is Port Dundas (now incorporated into Hamilton) a few hours drive from Toronto. This is a Canadian made and Canadian set story, with murders taking place in all the different provinces of Canada. It appears that the killer is fulfilling a higher calling, and hence the film's title. The result is a mixed horror detective film.
The story is nothing out of the ordinary. In fact, the script by Scott Abramovitch contains nothing that audiences have not seen elsewhere before. Detective Hazel is a hard-drinking detective with a large skeleton in the closet. She defies her superiors, disobeys orders and obviously does not go by the book in solving her case. She is aided by veteran Detective Ray Green (Gil Bellows) who goes by the book and an eager new recruit from Toronto, Ben Wingate (Topher Grace). A mother (Ellen Burstyn) daughter relationship is thrown in as a side plot.
But it is great to see Sarandon deliver an Oscar winning performance in a Canadian film. She also has the choice lines in the film including the words: "f*** you!" Donald Sutherland lands his hand as an elderly priest who helps in the case.
The timeline in Hazel's solution of the case is only indicated by the seasons. But we see only one winter scene - the murder and the dogs eating a victim's stomach on a frozen pond. So, it is assumed the story takes place within a year.
Director Stone does not shy away from violence. There s one scene that will a lost guarantee the audience turn away. (I did, and I can normally take a lot of on screen violence.)
It is surprising that director Stone executively produced the hit Seth Rogen comedy THIS IS THE END. THE CALLING is downright dead serious, like FARGO without the humour. But it is is not a bad movie and though a bit slow moving, THE CALLING is an absorbing watch from start to finish.
Trailer: (No trailer can be found)
THE CONGRESS (France/Lux/Israel/Germany/Belgium/Poland 2014) **
Directed by Ari Folman
Directed by Ari Folman (the equally compacted and animated WALTZING WITH BASHIR), THE CONGRESS is a mixed live action and animation fantasy abut a utopian society acing conscience issues.
The star of this movie is Robin Wright who bravely carries the film against all odds. She delivers a performance in which she is unafraid of growing old (in one interview she confesses she never pumps Botox into her face) though she looks much older abated than in real life. Wright plays a version of herself with her real past as her roles in THE PRINCESS BRIDE bringing hr fame in this story.
It all begins with Robin Wright (Wright herself) decides to take her final job: preserving her digital likeness for a future Hollywood. Through a deal brokered by her loyal, longtime agent (he always excellent Harvey Keitel) and the head of Miramount (name is conned from Miramax and Paramount, obviously) Studios (Danny Huston), her alias will be controlled by the studio, and will star in any film they want with no restrictions. In return, she receives healthy compensation.
The film then shifts to 20 years later and into full animation. This is when director Folman goes crazy with his philosophy animation the film fails. Whatever intrigue was initially generated is dispersed as the audience realizes that whatever happened to Robin Wright has already occurred in animation and stop action animation. Only the public still wants the old actor in person. When Forman takes his film one step further with Wright being offered to become a product, one can only wonder what else Folman ma be thinking.
The romance and animated sex scene between Wright and Joe Hamm feels uncomfortable and unnecessary. Ad why is Wright he only actress targeted. There are man others more famous than her in the field. (Unless they all use Botox)
For those who love to recognize film references, there are many for example the coloured pills in THE MATRIX and the riding of the attic bomb in DR. STRANGELOVE. The Futurological Congress is also populated by the likes of an animated John Wayne, Tom Cruise, Conan O'Brien, Gandhi and even Hitler among others.
THE CONGRESS ultimately gets bogged down by Folman's over ambitious animation, messy story-telling and often incoherent ideas. Instead of his film heading towadsan exciting climx, its gets more boring towards the end.
Trailer: http://thecongress-movie.com/watch-the-trailer.htm?lng=en
LIFE OF CRIME (USA 2013) ***
Directed by David Schechter
The plot: the wife of a wealthy man is kidnapped but he does not want to pay the ransom. This is not the first film to be based on this premise. Bette Midler made her big comeback in RUTHLESS PEOPLE playing one such unfortunate wife who was left in the kidnapper's basement only to lose weight and get fitter with the exercise equipment there.
But LIFE OF CRIME, based on Elmore Leonard's book 'The Switch' is no comedy though dark elements of humour are present. The kidnapped is Mickey (Jennifer Aniston) who is just about to be served divorce papers by her husband, Frank (Tim Robbins reprising his obnoxious husband role from SHORT CUTS) when she is kidnapped. The unlucky kidnappers are Louis (John Hawkes) and Ordell (Mos Def) with a hired Nazi helper hand, Richard (Mark Boone Jr.).
The story works for Leonard's colourful characters. Director Schechter is bright enough to realize this. So he shifts focus from one (or one group) to another. The film begins centring on Louis and Ordell before shifting to the dysfunctional marriage of the Dawsons. Surprises are always on the horizon with the husband cheating with Melanie (Isla Fisher) who is clearly not just a supporting character as envisioned when she first appears. Mickey is no angelic wife either, cheating on the side. The all-star cast inhabiting these roles fare pretty well, delivering caustic yet sympathetic characterizations.
Double crossing, a key element in Elmore Leornard's books is also present here. But there is a lower body count though a little violence is still present that ups the angst in the film. The introduction of a crazed gun-totting peeping Tom (Richard) who has his eye eventually burnt by a cigarette is a nasty but welcome treat.
With a good solid story with plot twists, real life imperfect characters and a solid moody atmosphere, LIFE OF CRIME is a worthy Elmore Leonard adaptation.
Trailer: https://www.youtube.com/watch?v=xnaI-w8h8Ls
SWEARNET: THE MOVIE (Canada 2014) ***
Directed by Warren P. Sonoda
This is officially not THE TRAILER PARK BOYS sequel. This is the premise and the script is written by the infamous trio: Fed up with being censored in their post-Trailer Park Boys lives, the out of work stars/world-renowned 'swearists', Mike Smith, Robb Wells and John Paul Tremblay decide to start their own uncensored network called 'swearnet' on the internet.
It is a simple story that sounds pretty awful on paper for a full length feature. But one can never know what to expect from these overgrown kids.
SWEARNET has the most swearing f**K words recoded in a movie according to the Guinness Book of Records. (The previous holder was the film WOLF OF WALL STREET.) The film is outrageously adult in frontal nudity, high jinx and of course swearing. There is one 'swearoake' segment in a bar in which Swearman (Patrick Roach, who plays the dandy, Randy in the TRAILER PARK BOYS) which is just a blast. The climax of the film is a race in which they boys have to win the prize money in order to pay their loan sharks. Never mind, the sponsored car has been recalled and the drivers are high on acid.
SWEARNET should have enough fans locally and even abroad (heard the boys have a following in Ireland and in the U.K.) for it to do well. Cameos by Canadians Tom Green and Scott Thompson (as Carrot Top) help in the madcap craziness.
The laugh out loud segments (the swearoake, post Acid race, roasting Swearman on the spit, Swearman at the hockey game) are plenty enough and definitely memorable.
SWEARNET is actually really funny. If foul language does to bother you, the film provides quite the different night out at the movies.
Trailer: http://www.hollywoodreporter.com/video/swearnet-movie-trailer-698155
Best Pics of the Week:
Best Film Playing: Calvary
Comedy: 22 Jump Street
Action: Transformers: Age of Extinction
Foreign: Snowpiercer (South Korea)
Horror: Under the Skin
Doc: An Honest Lie
Romance: The One I Love