11
Sep
2014
Details

Category: Movie Reviews
Written by Gilbert Seah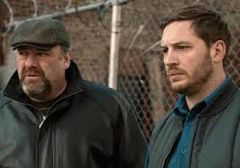 Films opening this week are THE DROP, DOLPHIN TALE 2 and LITTLE TERRORS
FILM REVIEWS:
A DOLPHIN TALE 2 (USA 2014) ***
Directed by Charles Martin Smith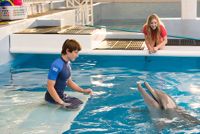 The sequel to A DOLPHIN TALE made in 2011 revolves around more true stories from Clearwater Marine Aquarium, including both Winter (from the first film) and the baby dolphin, Hope. Winter is still be the central dolphin character in the film, now fitted with the prosthetic tale that saved her. Her companion has passed on due to old age and Winter needs another female companion. Enter a rehabilitated dolphin Mandy but hopes are dashed at her being Winter's companion after Clearwater Marine Aquarium successfully releases her back into the wild. They find another damaged dolphin 'Hope' which is Winter's last chance or she would be deported. Like the first film, director Charles Martin Smith (NEVER CRY WOLF) based his script on real events that have occurred at the aquarium.
The human elements are the two returning lead characters, Sawyer (Nathan Gamble) and Hazel (Cozi Zuehlsdorff), who know what is like to lose a parent. The Aquarium/marine hospital is run by Dr. Clay Haskett (Harry Connick Jr.) with his father (Kris Kristofferson). Sawyer is offered a scholarship which his mother Lorraine (Ashley Judd) wants him to accept. But Sawyer is more concerned about being there for Winter who has become more and more aggressive.
Like A DOLPHIN TALE, the sequel is well made animal (or mammal) family fare. Messages are there - like moving on after being too comfortable at one place, care for the injured (both dolphins and humans) and the importance of family values. The camera work and editing are well done so it is difficult to tell when a different dolphin is used to film certain scenes.
The two kid actors Zuehlsdorff and Gamble are truly believable as growing teens torn between their love for dolphins and their careers. The script moves away from any budding romance between the two One close kiss is interrupted by the sudden appearance of Dr. Haskett and another is prevented by the swimming dolphins.
The only flaw is the story's predictability which could be forgiven given the film's good intentions. The film deals with issues too mature for children under the age of 5 to understand, though the film tries its best at including very young children in it - like the very young girl who first notices the injured Hope at the start of the film. DOLPHIN TALE 2 should still be a hit at the box-office given its family target audience and it being wholesome entertainment for the family.
Trailer: https://www.youtube.com/watch?v=ztM-ajPfcfs
THE DROP (USA 2014) ****
Directed by Michaël R. Roskam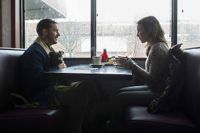 A random bar is picked at a random day for the purpose of what is termed THE DROP. Money from questionable sources are dropped several times at night and collected once done. All this is explained via voiceover by Bob Saginowski (Tom Hardy). "All I do is tend bar and wait!" Bob remarks.
What happens during one of these days is that the bar gets robbed. Marv (James Gandolfini), the bar owner warns the robbers of what they are doing. What transpires is a slow but effective tension build up to the film's climax.
The film's climax does not deliver in terms of action sequences but does in terms of plot twist and shocks. But Roskam's build up of tension during the entire film is nothing short of amazing.
Director Roskam rose to fame years back with his Oscar nominated Belgian film BULLHEAD which had a similar dark thriller theme.
Tom Hardy looks perfectly like the corner neighbourhood bartender. His appearance and mood indicate pent up anger. For one, he attends mass religiously but never takes communion. His humanity is lightened when he starts taking care of a beaten up puppy who he affectionally names Rocco. Noomi Rapace plays Nadia, the slightly nuanced girlfriend while Gandolfini proves once agin he is always good in everything he is in. This is his last film with the film dedicated to him. Matthias Schoenaerts (BULLHEAD, RUST AND BONE) is also particularly menacing as a local hood.
The film is based on the book "Animal Shelter" and one can see the humour in this when one views the film.
One odd thing about the film is the disappearance of New Year's Eve. The film begins on the 27th of December and at another point in the film, Nadia wishes Bob a Happy New Year. NYE is a big celebration everywhere and did the two spend NYE alone?
Roskam's film has an underlying violence. Each character is well written from Bob to Marv to Nadia and each has some skeleton hidden in their closet. The local cop (John Ortiz) is much smarter than he lets up.
For film critics, we do very much the same job as Bob. We watch movies and wait. Fortunately for THE DROP, the waiting in this otherwise slow-paced movie pays off.
Trailer: https://www.youtube.com/watch?v=7lCiDIcqMe0
LITTLE TERRORS (Canada/India 2012) **
Directed by Maninder Chana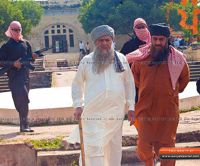 The reason this 2012 film took two years to reach theatres could be the other Indian film THE RELUCTANT FUNDAMENTALIST that dealt with a similar theme and more effectively released in 2012/2013.
The plot involves a 13-year-old American boy recruited by terrorists to bomb a U.S. embassy in Delhi. His brother had already killed himself as an unsuccessful suicide bomber. After being brainwashed he is sent to live with a Muslim family prior to the attack. The film's third act takes an odd turn with the man harbouring him convinces the boy not to go through with the bombing.
In LITTLE TERRORS, it is a terrorist who turns to the other side while in THE RELUCTANT FUNDAMENTAL , it is the other way around. Unfortunately, it is not less interesting to show a terrorist converted, and director does not do that good a job. Chana spends the first half of the movie with the boy trained to be a suicide bomber and the other half convincing the boy to do the opposite. Her film, naturally does not turn out convincing. The terrorist cell training looks like a poor man's Shao-Lin Kung fu training monastery from a bad Shaw Brothers movie. The film also ends with a hollywood style chase that runs in contradiction to the otherwise serious tone of the film.
Performances are passable at best. Veteran Om Puri lands a hand but has only a small role as leader Abdul Kamil.
LITTLE TERRORS turns out to be a false alarm.
Best Film Opening: The Drop
Comedy: 22 Jump Street
Action: Transformers: Age of Extinction
Foreign: Snowpiercer (South Korea)
Doc: An Honest Lie
Romance: The One I Love