02
Oct
2014
Details

Category: Movie Reviews
Written by Gilbert Seah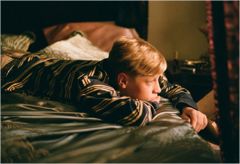 Big Films opening include GONE GIRL and MEN, WOMEN & CHILDREN. Other films opening include TUSK, MY OLD LADY and MOMMY.
2 series begin at Bell Lightbox. TIFF Cinematheque presents Godard Part 2 and Wes Craven.
FILM REVIEWS:
GONE GIRL (USA 2014) ****
Directed by David Fincher
This is a film eagerly awaited by the critics, as GONE GIRL is a mystery suspense thriller in the same vein as the director's best and most critically acclaimed movie SE7EN. GONE GIRL is based on the 2012 novel of the same name by Gillian Flynn who also wrote the screenplay.
The film is divided into days that make the event. The titles that appear on screen indicate that. The film can also be divided into 3 parts, the first when Amy goes missing, told primarily from Nick's point of view. Then the second, though there is an overlap in time from Amy's point of view, and the third when Amy and Nick are in the picture. The first part is titled as the dates, July 5, July 6th etc, the second as day gone 1 day gone 2 and the final as day back 1 etc. A nice trick here devised by the titling department should not go unnoticed just as the product placements (e.g. Netflix) subtly included in the film.
The trailer of GONE GIRL indicate only very little of the story. So, unless one has read the book, a lot of the film's enjoyment derives from not knowing the rest of the plot. (So spoiler alert: Spoiler is outlined in red in the next paragraph.) The brief first part of the story goes like this. Nick Dunne (Ben Affleck) returns home the late morning on July 5th, the day after his wedding anniversary after drinks at his bar that his sister (Carrie Coon) bartends only to find his living room ransacked and wife, Amy (Rosamund Pike) missing. As news spreads, things do not look good for Nick. He become suspect for the murder of his wife. Detective Rhonda Boney (Kim Dickes) and Jim Gilpin (Patrick Fugit) form a good pair of investigating detectives, a kind of good cop, bad cop variation. The plot thickens quite the bit. Director Fincher pulls a plot twist ever so often with the story heading towards a whole different direction.
Affleck delivers an impeccable performance - able to show how to pretend to act and to be actually not pretending as he goes on camera in the film. But it is Tyler Perry (the MADEA films) who steals the show as Nick's Defence Attorney, Tanner Bolt with his cynical and confident outlook of the case. It also helps that the script gives him the best lines. Rosamund Pike does not fare that well in a really difficult role. She has to pass off as a totally intelligent psychopath that can switch from a Dr. Jekyll to Mr. Hyde. She accounts for a few of the film's unintentional laughs. The script by Flynn also does not give her character consistency For someone who has so cleverly masterminded her own disappearance, she is not smart enough to prevent herself from the obvious - getting robbed in her motel room by her new white trash girlfriend (Lola Kirke) and her boyfriend (Boyd Holbrook). Even the audience could see that coming.
At one point in the film, a stranger points at Amy in disguise: "I think I know you." Fincher should not have to resort to cheap shots like false alarms to shock the audience. However, there is one scene in which the question is asked "Does Missouri have the death penalty?" The answer comes 30 minutes later into the film, which is quite clever.
Fincher also directed the hit films THE SOCIAL NETWORK, FIGHT CLUB and THE GIRL WITH THE DRAGON TATTOO. Though GONE GIRL is not the perfect film with a few flaws, it still stands as one of the more memorable mystery suspense thrillers of 2014.
Trailer: http://www.imdb.com/video/imdb/vi2583211289
KITE (USA 2014) **
Directed by Ralph Ziman
A live adaptation of the anime film which is based on the 10-year old anime of the same name by Yasuomi Umetsu, KITE plunges the audience in the over-used apocalyptic landscape in which post-finance, security and order have collapsed. The hero or heroine of the piece is Sawa (India Eisley), beautiful but emotionally detached, who lives a secret life as a covert assassin. The daughter of a police detective involved in the investigation of human trafficking, she was orphaned at the tender age of 12 when an unknown assailant targeted both of her parents. Now 18, Sawa is a human time-bomb undercover, intent upon eliminating members of the flesh-cartels whom she presumes murdered her family—men who exploit the defenceless children of a collapsed society for the pleasure of high-paying, foreign clients.
Though girl action heroines were rare only a few years back, they have recently saturated the big screen with films like LUCY and KICK-ASS which has a heroine closer in age to Sawa. In fact, Eisley bears quite the resemblance in looks and body to Chloe Grace Moretz. Female acton heroines have never been that popular, as is evident in flops like SUPERGIRL AND CATWOMAN. There needs another edge (LUCY has her increasing the capacity of the brain's utilization) to keep audience's interest.
But KITE offers nothing new. The surroundings and atmosphere are grey and bleak, looking like any apocalyptic horror film such as the RESIDENT EVIL films. The occasional set deign (at the film's start for example) impresses. Samuel L. Jackson, though always a welcome entry this time as Sawa's quirky boss offers nothing really new either. He is not as mean, edgy or violent as in his other roles, particularly UNTHINKABLE.
The result is a very average film in a well worn genre. But anime diehards might be pleased. The film is dedicated to David Ellis of SNAKES ON A PLANE the original director chosen for the film but died prior to the film's start.
The film has a limited run at the Royal Cinema in Little Italy, Toronto.
Trailer: https://www.youtube.com/watch?v=l0l7uphJ-Wg
MOMMY (Canada 2014) ***1/2
Directed by Xavier Dolan
Xavier Dolan (J'AI TUE MY MERE, LAURENCE ANYWAYS, TOM A LA FERME) returns with another emotionally drama about a mother and son.
The niche in the film is that Dolan has shot the film in a 1:1 screen ratio, a narrow frame that intensifies any dramatic motion. Close-ups are aplenty and any emotional scene is heightened. Lots of shouting, letting loose and a bit of domestic violence like slitting of wrists re allowed. There are two occasions when Dolan widens the screen, when things appear king rosy for his characters. The best segment in MOMMY is the one in which MOMMY freaks out, just like the best one in LAURENCE ANYWAYS when the woman protagonist freaks out as well. Dolan does well in the film, as h has polished his material and his art.
Dolan does not star in this film. He gives the young acting honours to Antoine-Olivier Pilon who does a pretty good job as a emotionally challenged boy.
At times, the film feels like a personal battle between mother and son, sort of like WE NEED TO TALK ABOUT KEVIN, but Dolan style.
Steve (Pilon) is a troubled teenager. When his mother, Diane (Anne Dorval), picks him up from a government institution to care for him at home, it is an act of deep maternal commitment — and a huge risk. Although he can be sweet as an angel, Steve is volatile. As Diane tries to manage her son's mood swings at home, it's clear that she's not exactly serene either. A working-class Quebec woman with a messy personal life, she's barely keeping it together. So when their shy neighbour Kyla (Suzanne Clément) takes an interest in mother and son, a surprising trio develops.
All three actors deliver intense performances. Quebec star, Patrice Huard (STARBUCK) has the small role of Paul, a lawyer. The story leads to a dead end with little joy in between. So, don't expect a feel good Dolan film, though there exists moments of warmth. The same can be said of his other 4 features.
Dolan shared the Special Jury Prize at Cannes for MOMMY. Is MOMMY a masterpiece or classic? No, but his fifth film is still a pretty well made, intense film. Dolan has not really covered any new territory with the subject matter. In fact the film could also be called J'AI TUE MON FILS. Dolan is more controlled and the film contains no bouts of cinematic excesses. It is a character driven film, extremely well acted but not an easy watch.
Trailer: https://www.youtube.com/watch?v=d7rtSqI0ZeA
MY OLD LADY (USA 2014) **
Directed by Israel Horowitz
MY OLD LADY is 70's playwright Israel Horowitz's directorial debut. To get a perspective of his film effort, it would be good to bear in mind that the man has written seventy odd plays including the screenplays for the films AUTHOR! AUTHOR! and SUNSHINE.
It is understandable that his film often feels stage bound, There are two segments near the end where the actors go at each there. One can imagine a stage being in right in front in place of the screen. Horowitz does not modify this play much to take the action out to the open. All we seen are the surroundings outside the flat.
It all begins when New Yorker Mathias (Kevin Kline) journeys to Paris after learning that he has inherited a spacious apartment from his estranged father. Mathias hopes to liquidate his new property and return home, but his plan hits a snag when he discovers that the elderly Mathilde (Maggie Smith) and her daughter (Kristin Scott Thomas) are inhabiting the space and have no inclination to leave. The apartment, he learns, is what the French call a viager, which, in accordance with centuries-old tradition, will not revert to his possession until its present occupant passes away. But Mathilde is 90 and totally healthy. As he attempts to sell his contract — and even resorts to blackmail — to profit from a losing deal, Mathias comes to learn more about Mathilde, and his father, than he'd ever intended. Yes, Mathilde and Mathias, the closeness in names indicates she is his real mother. But things get worse. He sleeps with the daughter after being warned and then worries if there is a possibility of incest.
It does not help that this is a film based on quite the nasty play. The characters are not nice people at all. They go at each other's throats, sleep around, attempt suicide and do the worst in order to survive. The play has hardly a happy moment, so it is a not a pleasant sit-through for the tim either. Though advertised as a comedy drama. the comedy is caustic at most.
The one thing Horowitz gets right is the casting for the film. Kevin Kline (Oscar winner for A FISH CALLED WANDA), Maggie Smith (Oscar winner for THE PRIME OF MISS JEAN BRODIE) and Oscar nominee Kristin Scott Thomas (THE ENGLISH PATIENT) are all excellent. Kline does Jack Lemmon, only less annoying. In fact in certain segments, the similar looks to Lemmon are uncanny. Smith is just wonderful as usual, looking really frail playing a woman of 90 (10 years over her age), but she still gets ones blood flowing when she tells the Kline character off.
One wonders of Horowitz's purpose of writing a play such as this one that has no message and displays the worse in people. Fortunately, Thomas, Kline and Smith rise above their material but is is still not good enough a reason to sit through the film.
Trailer: https://www.youtube.com/watch?v=qucX6pdg36Q
TUSK (USA 2014) **
Directed by Kevin Smith
Popular podcast Wallace Tusk, note the name, (Justin Long) gets transformed into a walrus in this odd horror mix comedy from writer/director Kevin Smith (CLERKS, DOGMAN RED ALERT).
Wallace (Justin Long) co-hosts a popular podcast in the U.S. with his pal Teddy (Haley Joel Osment), focusing on cruel, mocking cringe humour as part of their mission to keep it "real and raunchy." Unfortunately their real and raunchy turns out to be silly and unfunny. After his trip to Winnipeg to interview the "Kill Bill Kid" — a teen whose unfortunate samurai-sword video has gone viral — comes up empty, Wallace decides to make the trip worth his while and find a good story north of the forty-ninth parallel. A handwritten flyer he finds in a pub bathroom leads him to a grizzled old swab (Michael Parks) full of tall tales to share from his life of adventure at sea .
This is where Smith's film turns into a horror movie as Wallace's voyage to the Great White North descends into straight-up madness.
Though Smith is no stranger to comedy. TUSK demonstrates how difficult it is to elicit laughs. The first 15 minutes generate not even a chuckle less a smile. Smith allows what is supposed to be a funny comedic duo, the podcasts to have their time, but - no funny! Even the viral Kill Bill Kid episode on the internet, supposed to be laugh out loud hilarious is pitiful.
Smith's idea of podcasters being allowed to say anything or show anything uncensored is not a new idea. The Trailer Park Boys' film SWEARNET dealt with the similar theme. But Smith's idea of infusing the horror theme and the Canadian Great White North running joke including a cameo from SCTV's Martin Short to provide other themes does not help the film either. His wry observations of Canadian culture have already been used in other films. But the convenience store segment where Canadian meets American is quite funny. But the film's laugh out loud parts can be counted on the fingers of one hand.
The funniest bit in TUSK is the character of ex-cop Guy Lapointe (played with comedic gusto by Johnny Depp). A side joke is that Lapointe is also the name of hockey player defence man for the Montreal Canadiens. Depp, speaking in a Quebecios accent is given lengthy nonsensical monologues which allows him to demonstrate the phrase 'chewing up the scenery'.
The walrus make-up is intentionally funny but a little scary as well, Smith probably glad with the combination of the horror comedy concept.
Kevin Smith has made one of the funniest films ever DOGMA which is also his best film. The humour, jokes and intelligence of DOGMA is oddly completely missing in TUSK.
Trailer: https://www.youtube.com/watch?v=83rI4jPlsJ0
BEST BETS:
Best new Film Opening: Gone Girl
Best Suspense: Gone Girl
Foreign: The Notebook (Le Gran Cahier) (Hungary)
Action: The Equalizer
Drama: Mommy
Family: The Boxtrolls