02
Oct
2014
Details

Category: Movie Reviews
Written by Gilbert Seah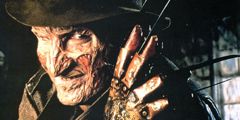 WES CRAVEN - Dreams, Screams and Nightmares
Wes Craven, Master of the Macabre and Father of Freddy (Nightmare on Elm Street films), receives a TIFF tribute with this series that includes the modern horror classics A Nightmare on Elm Street, The Hills Have Eyes and Scream. Along with George A. Romero, Tobe Hooper and John Carpenter, Craven helped reshape the American horror film not only through the intensity of his imagery, but the intellectual depth he brought to a once disreputable genre.
Even though audiences flocked to Craven's films for the surface pleasures of gore, shocks and suspense — and make no mistake, he's a master of all these modes — it was the imaginative hold that the films exerted over their psyches that kept them coming back. Tapping into some of our most potent primordial fears — particularly, in his iconic dream-haunting ghoul Freddy Krueger, the childhood terror of falling asleep — Craven also explored numerous social, philosophical and intellectual themes in his work. Whether it be the suburban nightmare of child abuse in A Nightmare on Elm Street, the condemnation of nuclear testing in The Hills Have Eyes, the satire of Reagan-era rapaciousness in The People Under the Stairs or the playful and provocative deconstruction of the horror genre itself in Wes Craven's New Nightmare and Scream, in Craven's hands he horror film is far, far more than disposable entertainment.
Presented almost entirely in 35mm prints, this series brings the work of a true American master back to the big, bloody screen where it belongs.
(Above writeup taken from: tiff.net Programmer's Essay in the Wes Craven series.)
(Credit: Todd Brown)
Capsule Reviews of three films from the series:
THE HILLS HAVE EYES (USA 1977) ***
Directed by Wes Craven
Remade in 2006 which spawned a sequel after, Wes Craven's 1977 original THE HILLS HAVE EYES is the cult cheap horror classic that delivers scares, violence and gore perfectly. the victims are the Carter family traveling on vacation, towing a travel trailer from Ohio to Los Angeles; parents Bob (Russ Grieve) and Ethel (Virginia Vincent) are driving, accompanied by their teenage children Bobby (Robert Houston) and Brenda (Susan Lanier), eldest daughter Lynne (Dee Wallace), Lynne's husband Doug (Martin Speer), their baby daughter Katie, and their dogs, Beauty and Beast. They stop at Fred's Oasis for fuel, and Fred urges them to stay on the main road. Later, they skid off a desert road and crash, due to what is later revealed to be a booby trap, and Bob walks back to Fred's Oasis to get help. The predators are an incest family that aim among other things, to have the baby for dinner. Craven utilizes the surroundings for maximum effect - Doug tossing rocks from the hill at his predator; a snake's bite used to save a victim and falling off the top. But still, this is a predictable slasher film with the slasher given many lives before being destroyed.
THE PEOPLE UNDER THE STAIRS (USA 1991) ***1/2
Directed by Wes Craven
Surprisingly effective horror slasher film with sufficient camp humour to both entertain and scare. The only known name actor is Ving Rhames who is done with early in the film. The main hero is a black boy, the actor playing him likely costing peanuts. Poindexter Williams (Brandon Adams), known as "Fool", is a resident of a Los Angeles ghetto. He and his family are being evicted from their apartment by their landlords, the Robesons. Leroy (Rhames), a professional criminal, suggests to Fool that they rob the Robeson's residence for money. They break into the house and discover people under the stairs. It is an outrageous story involving incest, cannibalism and more. The Robesons believe in 'see, hear and do no evil'. So, they butcher their children's tongues and imprison them in the cellar. One got away and is hiding in the walls of the house. Only Alice (A.J. Langer) is allowed to roam the house as she says and hears nothing. Craven incorporates another incest crazed family similar to he one on THE HILLS HAVE EYES. Craven also brings in problems of the ghetto with a current film that climaxes with pyrotechnics and all the evil destroyed.
SWAMP THING (USA 1982) **
Directed by Wes Craven
SWAMP THING is a homage to the dc comic books and the monster/mad scientist low budget B-horror films of the 50's. Alice Cable (Adrienne Barbeau) is a government agent sent to replace a man who has disappeared while guarding a secret experimental lab in the middle of the Louisiana bayous. Comically and out of place dressed in heels and a skirt, Cable professes unease at her strange new surroundings, but she is soon wooed by Dr. Alec Holland (Ray Wise). Holland is working on a concoction that combines plant and animal cells. Arcane (Louis Jourdan) is the criminal mastermind who is trying to steal the secret recipe for the potion. Dr. Holland is killed and accidentally doused with his own formula and bursts into flames, then dives into the swamp, transforming into the SWAMP THING. The film is unintentionally hilarious. It is not easy to make a horror film with a man in a monster suit playing the monster and the villain (Jordan) speaking with a French accent. It does not help either that the monster is the good guy helping Alice against the bad guys. The monster is also invincible able to survive bullets and grenades. So-so entertainment but Craven has made better films.