16
Oct
2014
Details

Category: Movie Reviews
Written by Gilbert Seah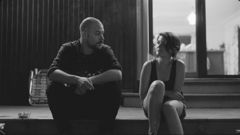 Big Films opening include FURY and THE BOOK OF LIFE. Other films opening include documentaries THE GREEN PRINCE and WATCHERS OF THE SKY.

2 series continue at Bell Lightbox. TIFF Cinematheque presents Godard Part 2 and Wes Craven.
FILM REVIEWS:
THE BOOK OF LIFE (USA 2014) ***1/2
Directed by Jorge Gutierrez
THE BOOK OF LIFE begins awkwardly enough like A DAY AT THE MUSEUM. A bunch of pesky kids - detention type arrive at the museum when a schoolteacher/guide (Christina Applegate) takes them on a tour. The story unfolds then into the one in the film. Why is this distraction needed? Well, the explanation comes as a nice surprise at the end.
The story is the journey of Manolo (Mexican actor Diego Luna from Y TU MAMA TAMBIEN) , a young man who is torn between fulfilling the expectations of his family and following his heart. In love with the beautiful Maria (Zoe Saldana), yet having to battle with the affections of the charming Joaquin (who else but Channing Tatum?), to win her heart, the spirits La Muerte (Kate del Castillo) and Xibalba (Ron Perlman) bet on who will win Maria. Afraid to lose the bet after Maria falls for Manolo, Xibalba sends a snake to kill Manolo, hoping that will result in Joaquin becoming Maria's lover. In order to return to the human world and to Maria, Manolo embarks on an incredible journey that spans three fantastical worlds where he must face his greatest fears armed with only his wits, his guitar, and his two swords.
The tale has most of the elements of a good fairy tale - romance, magic, evil spirits and a journey to be travelled. The lack of a good evil villain is missing and noticeable.
Unlike recent animation features, THE BOOK OF LIFE contains quite the few songs. This is acceptable as the lead character is supposed to be a crooner with a guitar (Manolo). The songs and music, a good mix of old and new by Gustavo Santaolalla and Paul Williams are actually quite good, lifting the film up above the average. "Always sing for the heart", is an advice given in the dialogue and taken true in the songs.
The film also has that 'art of' look of the actual book. It was reported that Gutierrez insisted on this look, which resulted in a lot of hard work put in. But well worth it!
Gutierrez also opts more for goofy humour, which works well considering for example Maria's pet piggy, Manolo's side-kicks and the over confident Joaquin bragging his head off.
Gutierrez also made sure the film has a Mexican look and feel. A lot of humour is also put in with dialogue like: "Why is there so much death in Mexican stories", uttered by one school kid. The Mexican myth of spirits and dead especially of the well-celebrated holiday on November the 2nd is well emphasized.
THE BOOK OF LIFE is shot in 3D. Besides a few objects shot out of the screen, the film is charming enough and pleasant to survive with 2D animation.
THE BOOK OF LIFE comes at a time when there are countless animated features. The few things standing out include - the film is an original, not a sequel; there are no silly animals in it; it has a foreign spin which makes it educational and broader in scope and the animation is artfully colourful.
Trailer: https://www.youtube.com/watch?v=4kCkVDma8Sg
FURY (USA 2014) ****
Directed by David Ayers
The word FURY is painted on the gun of a Sherman M4A3E8 tank. The tank is the home of Wardaddy (Brad Pitt) a battle-hardened U.S. Army sergeant in the 2nd Armoured Division.
FURY is David Ayers' (END OF WATCH, SABOTAGE) 2-hour very angry war epic with a minimal story line but more than made up by wrenching human drama. The film is set during the last month of World War II in April 1945. As the Allies make their final push into Nazi Germany, Wardaddy commands the tank and its five-man crew on a deadly mission behind enemy lines. Outnumbered and outgunned, Wardaddy and his men face overwhelming odds in their heroic attempts to strike at the heart of Nazi Germany.
From the very first killing in which Wardaddy stabs the eye of a German soldier, the audience is immediately put into preparation of more horrors to come. But the violence is not so disturbing as the lost of innocence as experienced by a rookie drafted into fighting, Norman (Logan Lerman from the PERCY JACKSON films). He hesitates firing at a young German that causes the life of one of his own troops and refuses to kill a German as he cannot go against his conscience. This is contrasted by the other crew of the tank who almost rebels agains Wardaddy. But as Norman loses his innocence and finally accepts 'killing the Nazi bastards' , Ayers' message has come through.
Shia LaBeouf who plays Boyd 'Bible' Swan, the bad boy of movies, reportedly slashed his own face with a knife and had a dentist remove one lower tooth to look the part of his role. The performances are undoubtedly top-notch by LaBeouf, Pitt, John Bernthal, Michael Pena and notably Lerman.
The camera work is tricky, especially filming in the confined spaces of the tank. The action segments are as thrilling as any war film can get, and it is not long before the audience would be cheering to kill the Nazi bastards.
For a deadly mission like this one, one can expect a huge casualty rate. So, the more Germans that get killed the better. Ayers displays a whole lot of dead bodies surrounding the tank at the end of the film.
FURY is a character driven film. The incidents are there to illustrate the different behavourial traits of Wardaddy and his five-men crew. Ayers achieves his goal and FURY is likely his best film to date.
Trailer: https://www.youtube.com/watch?v=p1xli7OTE_0
THE GREEN PRINCE (UK/Israel/Germany 2014) Top 10 *****
Directed by Nadva Schirman
The first thing that comes to mind regarding the subject of Palestinian/Israeli conflict in the West Bank is - not another film on the conflict! But if one keeps ones options open, and take a chance with Schirman's THE GREEN PRINCE, one will be more than pleasantly surprised, for this is one of the best docs and best films I have previewed this year.
Firstly, a bit of background is required for the film. But don't worry, a voiceover explains all at the start of the film. The Israelis are at war with the Palestinians. The Palestinians have a hard-core terrorist group called Hamas that among other activities, recruit suicide bombers to carry out their cowardly acts in the name of patriotism. The Israelis has a secret service called the Shin Bet that do questionable acts to keep the peace.
THE GREEN PRINCE is Hassan Yousef, the eldest son of one of the prime founders of Hamas. When his father was arrested and returned a year and a half later only to be arrested 6 hours later, Hassan purchases guns. When arrested and the guns found, he is recruited by the Shin Bet as a snitch (informant). Ben Yitzhak serves as his handler.
Schirman's film contains a fair amount of time on Hassan (the film is based on his best selling novel) and Yotzhak speaking to the camera. The interviews are intercut with their stories. When Hassan speaks of the imprisonment of his father for example, there are shots of prison as well as shots of his father in the shadows. It is all good editing in which a story can be made up based on voiceover, images and what the director thinks the audience will, putting the bits together.
The results are amazing. What Schirman has concocted is a Hollywood styled suspense thriller, told in chronological order in which the audience is always at the edge of their seats. At the same time, Schirman asks the audience to question their values, especially what is perceived as normal, as well as what is reality and what is a dream. He also questions in turn the myth of what the two groups are fighting for.
The film also addresses fear and hate. Fear is not knowing. When Hassan is first imprisoned and tortured, he does not know the time of day, what is going to happen with half his body numb and the other in pain. As for hate, "My father did not teach me to hate. But I was 17 and I did not know how not to feel that way," Hassan admits.
The film contains interviews, archival footage aided by enactments. The actor used for the role of Hassan looks quite different from him, so it is not difficult to tell the enactment portions (the parts where Hassan is in the U.S.)
Once in a long while comes a film that will move one so much that one will leave the theatre a different person looking at life in a whole new light. THE GREEN PRINCE is that rare film, a documentary demonstrating the trump of the human spirit that is a Must-See! The film won the Sundance award for Best World Documentary.
Trailer: https://www.youtube.com/watch?v=FclTE28oI3Y
THE GUEST (USA 2014) ***
Directed by Alan Wingard
British actor Don Stevens (DOWNTON ABBEY) plays the handsome guest that appears from nowhere to change the lives of an entire family. The film reminds one of the 70's film SOMETHING FOR EVERYONE, in which a handsome Michael York appears and changes the lives of the aristocratic family headed by Angela Lansbury.
Son dies in Iraq war; mother devastated; enter stranger who claims knows Caleb; befriends and helps each member of family; things go wrong; guest might not be who he seems; guest turn from saviour to devil; someone has to slay him to save the day. If all this sound predictable, it is and I could guess what happens right down to the detail of who puts out the final lights out for THE GUEST.
Still, this horror/action flick is entertaining enough, as director knows when to press the right buttons. The last segment in a Halloween maze is a nice touch.
Trailer: https://www.youtube.com/watch?v=-psayRM1XqU
ST. VINCENT (USA 2014) ***
Directed by Theodore Melfi
Preteen boy is babysat by grumpy old man who teaches the boy new tricks while he himself learns not to be so mean. Sounds awful? But the film is much better than the story sounds.
It does not a genius to guess the outcome of this predictable story. As 12-year old Oliver (Jaedan Liebrher) is given the assignment of talking about current saints by his teacher (Chris O'Dowd), he is going to pick his baby sitter, the grouchy old Vincent (Bill Murray). Hell, even the title ST. VINCENT gives the plot away.
The story involves Maggie (McCarthy), a single mother, who moves into a new home in Brooklyn with her 12-year old son, Oliver (Lieberher). Forced to work long hours, she has no choice but to leave Oliver in the care of their new neighbour, Vincent (Murray), a retired curmudgeon with a penchant for alcohol and gambling. An odd friendship soon blossoms between the improbable pair. Together with a pregnant stripper named Daka (Watts), Vincent brings Oliver along on all the stops that make up his daily routine.
How can Murray turn down a role of a grumpy old man who hires hookers and gambles and drinks half the time only to be hailed a saint? He did not and the result is his role of a lifetime. Murray, who is in almost every scene, steals the show from everyone else. Melissa McCarthy is also great as Oliver's mother, better when she delivers more controlled comedy. Melfi also draws a controlled performance for O'Dowd (he appeared with McCarthy in BRIDESMAIDS) who plays Father Geragthy, Oliver's teacher.
It helps too, that there is a laugh-out loud line in almost every scene. From the first sound of the boy's voice to which Vincent responds: "Really? Take me, God, don't play with me." to the emotional talk given by Oliver on what Vincent had done for him, these are all quite moving stuff.
The film is a story about losers. Vincent is dead broke, old, has a dying wife and only has Oliver and a cat as his only friends. Maggie has to work to keep Oliver whose father cheated on her. Oliver, is small built and bullied. Even Oliver's bully is tormented by racial slants. For that very reason alone, the well intentioned film which everyone can relate to, at some time or other, charms.
It is really amusing to see how often director Melfi milks the audience's emotions. If Oliver's talk on Vincent's sainthood does not do it, the death of Vincent's wife would make the eyes swell.
A problem of the film is the choice of songs that determine exactly how the audience should feel at various parts of the movie.
But flaws aside, ST.VINCENT both touches and makes the audience laugh - a rare thing these days at the movies.
Trailer: https://www.youtube.com/watch?v=jyI3Kn7HyOk
THESE FINAL HOURS (Australia 2014) **
Directed by Zak Hilditch
Western Australia has been taken as the backdrop of THESE FINAL HOURS, a new apocalyptic end of the world dramatic thriller. Amidst all the mayhem, James (Nathan Phillips) is coming to terms with his crazy life and finds redemption by looking after a pre-adolescent girl, Rose (Angourie Rice).
But the trouble is that THESE FINAL HOURS treads on all too familiar territory in a well-worn genre. THESE FINALS HOURS suffers from too little data given on the current situation which makes the audience care less for the characters. No scientific explanation is given as to the reason of the world's end or why some people live and others die. There is little background given too of James' life, except that he has two girlfriends one crazy and the other left behind as she got pregnant. Needless to say, caring for Rose brings James closer to his responsibility of a father.
Fo a low budget film, the special effects are impressive, right down to the reddish explosion by the beach. As Western Australia is pretty sparse, it saves on location costs. The big end of the world party looks like something right out of a rave party, complete with original party mixes.
THESE FINAL HOURS can nowhere be compared to the best in the genre like Danny Boyle's 28 HOURS LATER. That one helped, for example, with spectacular deserted scenes of London as Don McKellar's LAST NIGHT has overturned streetcars in Toronto. THESE FINAL HOURS do not have these devastated sights. It trusts the audience to take what is happening as the Gospel truth and follow the hero James to his destiny. But it helps if writer/director Hildtich would help provide more credibility by giving more story and details. The film just ends up a journey that literally leads nowhere.
Trailer: https://www.youtube.com/watch?v=jozEpGIrzeU
TU DORS NICOLE (NICOLE IS SLEEPING) (Canada 2014) ****
Directed by Stephane LaFleur
TU DORS NICOLE is a 35mm shot black and white small budget feature with no stars and in which nothing much happens. It also happens to be the most delightful experience and surprise of a Canadian feature this year.
To Quebec director LaFleur's (A FILM WITHOUT GUNS) credit, his characters are likeable which helps his film - unlike those of Xavier Dolan's (the recent MOMMY) but just as complicated in one way of another.
The central character is a 20-something Quebecoise, Nicole (Julianne Cote) who lives at her parents and has nothing much to do every day. By Choice. She never completes her parents' list of chores and works at a dead end job in a charity clothing shop. In the film, she is seen mostly hanging around with her best friend, Veronique (Catherine St-Laurent).
Other characters in the picture include Nicole's older brother, a quick-tempered rocker Remi (Marc-Andre Grondin) and band members JF (Francis La Haye) and Pat (Simon Larouche). At the parents' house, they record an album, ensuing events test Nicole and Veronique's longtime friendship.
There is much to enjoy in LaFelur's observation about nobodies in a small town. LAFleur fills his film with metaphors (Nicole's fence locked up on a fence with other bikes) which are nifty to pick up. His film is filled with small town nuances which are funny - deadpan Aki Kuarismaki style. Example: Nicole using a vacuum to suck up dog poo, as she is too flustered to use her hands. His film is also very well photographed and framed, just like the two paintings in the house where Nicole wakes up at the start of the film. And the back and white look of the widescreen shots is gorgeous.
TU DORS NICOLE is a wonderful film celebrating the simplicity of what life offers. Skip the Hollywood blockbusters and see this gem of a movie, which was a hit at Cannes this year.
Trailer: https://www.youtube.com/watch?v=w--5auC1yr8
WATCHERS OF THE SKY (USA 2014) ****
Directed by Edet Belzberg
The chief Watcher of the Sky is Belrarus born Raphael Lemkin - the man who invented the term genocide in order to persecute anyone who used it.
The 2-hour documentary is taken from a reported 800 hours of original and archival footage. It not surprisingly won the editing award at Sundance.
Lawyer turned human-rights advocate Raphael Lemkin, spent most of his life trying to convince the international community to specially prosecute such crimes against humanity; his work is paralleled by that of four modern-day champions of justice in an era when such murderous "cleansings" seem increasingly frequent. In the first half of the film, the work is intercut with the atrocities - wholesale slaughter of Armenians (in 1915 Turkey) and Assyrians (in 1933 Iraq) - to underline the work's importance. The second brings in the other 4 workers, with them referencing Lemkin's work. Despite such then-recent events, systematic large-scale executions of specific minorities had been considered too much of an aberration to warrant sweeping legal classification.
The other 4 are: Emmanuel Uwurukundo who survived ethnic genocide in Rwanda and who now oversees massive border camps of refugees fleeing violence in Darfur; Luis Moreno-Ocampo who is chief prosecutor of the Intl. Criminal Court, which in theory (if not necessarily in authority) realizes many of Lemkin's hopes for a global justice system; Ben Ferencz who served the same role for the U.S. Army at Nuremberg and Samantha Power who began her career as a journalist covering civil war and ethnic cleansing in Yugoslavia. Her book "A Problem From Hell," about American foreign policies toward global genocides, was a partial inspiration for the film, and she narrates Lemkin's life story in voiceover.
The film title comes from the astronomist who asked to be given a telescope and laboratory. He was set up on an island and he spent countless hours, days and years recording the movement of the stars in 93 volumes. He could tell their movements in detail after years of work. When asked on the purpose of his work, he said that he looks to find the meaning of the universe. He said that if he did not find the answer, he would have saved the one who did 25 years of documentation. His work was eventually carried on board by the astronauts who first landed on the moon. And the heroes in this documentary are the WATCHERS OF THE SKY, starting the often thankless work that would begin the groundwork of others to finally put an end to genocide, if not at least be able to punish those responsible for it.
WATCHERS OF THE SKY is a well documented, educational and inspirational documentary that would force one to wonder at the extremes - why there are such bad people and good people on the planet. But it also demonstrates the number of others that just sit around and do nothing when something urgent needs be done. A film that should be seen by all!
Trailer: https://www.youtube.com/watch?v=M25r0dWtWmg
BEST FILM TO SEE: The Green Prince
Best Suspense: Gone Girl
Foreign: The Notebook (Le Gran Cahier) (Hungary)
Action: Fury
Drama: Mommy
Animation: The Book of Life
Documentary: The Green Prince
Comedy: St. Vincent