23
Oct
2014
Details

Category: Movie Reviews
Written by Gilbert Seah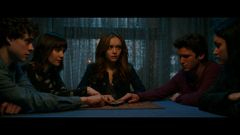 Films opening include OUIJA and BIRDMAN.
Toronto's After Dark Film Festival also begins.
FILM REVIEWS:
ABCS OF DEATH 2 (UK 2014) ***1/2
Directed by 26 different directors
The second anthology horror after THE ABCS OF DEATH sees 26 new and different directors. I have not seen the first, which did not get a North American theatrical release but this one is quite good fun. Though touted as horror, the majority of the shorts are darkly funny bordering on 'deranged' while a large number appear to have the aim to gross out the audience.
The 26 shorts from 26 directors each last about 4 minutes each. Each director is given a letter which they form a word of their choice for their short. So from A is for Amateur to Z is for Zygote make 26 shorts. Obviously there are good and bad ones. Fortunately, if one bad one comes, a good one can be expected soon after. But the number of good ones far outweigh the other. The result is an overall good gross-out fun horror time.
The shorts are framed by animated sequences that work like a (ABC) lesson for pre-school kids with title and director's name appearing at the end of each short. Example A is for Amateur directed by E.L. Katz.
There is no point in describing all the shorts as part of the fun lies in discovering the surpassing gems. As the titles come after the short, a good game would be guessing the short's title.
My favourite ones are the funniest ones such as B is for Badger directed and starring Julian Barratt and E is for Equilibrium by Alejandro Brugues, which had me in stitches. There animated shorts as well, these being the most gross such as Robert Morgan's D is for Deloused.
The ABCS OF DEATH 2 is available on Demand and iTunes Oct 20 and rolls out in Theatres starting Oct 31 in time for Halloween.
Trailer: https://www.youtube.com/watch?v=w9eP4GEXM1w
BIRDMAN OR THE UNEXPECTED VIRTUE OF IGNORANCE (USA 2014) ***
Directed by Alejandro González Iñárritu
Washed-up actor Riggan Thomson (Michael Keaton), who became famous for playing an iconic superhero, BIRDMAN in the movies, decides to stage a comeback in a Broadway play. The story is not far from home considering Keaton has disappeared from the limelight after BATMAN and BATMAN RETURNS.
Pressures mount leading up to the play's opening night as Riggan battles his ego and tries to win back his family, at the same time re-establishing his career and finding himself in the process. Co-written and directed by Alejandro González Iñárritu (BABEL, AMORES PERROS), the supposedly show business satire plays more like absurdity drama. And not a pleasant want at that. Consider Riggan's obstacles. He is out of cash, his new actor, Mike Shiner (Edward Not on in his sexiest role) wants control of the play and begins hogging the limelight, his daughter, Sam (Emma Stone) who works as personal assistance gives him a hard time and his love life with actress Laura (Andrea Riseborough) is not giving him the light of day either. His only friend is the producer (Zach Galifianikis) who lies to keep the play afloat.
BIRDMAN OR THE UNEXPECTED VIRTUE OF IGNORANCE has a lot of screaming, arguing, fighting and bouts of anger. The humour might be hilarious to some, depending on ones sense of humour. The BIRDMAN of the past, Riggan in bird outfit (played by Benjamin Kanes) returns to haunt him and give him more spite than advice. Riggan often goes to the roof of the theatre (Broadway's St. James Theatre). It does not take much for him to dive off it. But what happens next moves the story into surreality mode.
The pains of launching a successful play are clearly on display here. But it is not what audiences have not seen before. With Iñárritu's long takes, repeated scenes and caustic dialogue, BIRDMAN is not always a pleasant watch. But it is a well made film that achieves its aims.
Trailer: https://www.youtube.com/watch?v=2bqh-UCY6Zg
ETERNITY: THE MOVIE (USA 2014) **
Directed by Ian Thorpe
ETERNITY is a spoof or attempt to be a spoof of the 80's music scene as seen through the eyes of two losers trying to be 'bodacious'. Todd (Barrett Crake) moves to L.A. and meets B.J (Myko Olivier) while working at a discount fashion store also called B.J.'s. They form a R&B duo called Eternity, trying to make it big.
But the silly story line and sorry characters do not help the film at all. Or a spoof, it is neither funny or insightful. The atmosphere, colours and mood are not captured in the least. Perhaps the blame could be on the film's low budget, or in the director's lack of talent. And yet the story has to lead the audience to believe that Eternity is a huge success -despite the errible songs.
Dialogue is inane. Example: "You back (from work) early?" BJ asks Todd to which the rely is: "I worked an extra hour." Another: "You should not be afraid of women, but of ninjas."
The film tries to satirize the 80's fashion and music scene while being funny or cool, but nothing works at all. It all looks as if the entire target is missed. The subplots of the bromance between the two buddies and the romance between Gina (Nikki Leonti) and Todd fall flat as well. It is clear that the bromance is to look intentionally gay, but that is too obvious, not to say silly.
It is also an art for actors to play annoying characters while not annoying the hell out of the audience. The two lead actors Crake and Olivier do to have it. Eric Roberts, Martin Kov and John Cries have cameos in the film.
The rest of everything is not only silly but annoying. Their hit songs are pathetic. The two dorky characters stick worse than leeches. BJ looks out of place with the moustache while Todd looks ridiculous intentionally with his lipstick and cross ear-ring but the novelty wears off.
The running gag of the two leads behaving as if they were a gay couple always spewing dialogue with sexual innuendo might have been a good idea, but does not work at all. Two pansies prancing around feeling sorry for themselves is not what an audience like watching for 90 minutes.
The film's title is appropriate. ETERNITY feels an eternity to watch.
LAGGIES (US 2014) **
Directed by Lynn Shelton
LAGGIES is all about Megan (Kiera Knightley). It is her coming-of-age story, though she should have come of age years back. She has trouble with everything from her friends, family, career and relationship with her fiancé, Anthony (Mark Webber). She takes into hiding with a new adolescent friend, Annika (Chloe Grace Moretz) until caught sleeping over by Annika's dad (Sam Rockwell). She has an affair with him while lying to her fiancé.
To like the film, one has first of all to dismiss all of Mega's faults and root for her philosophy of life. Which is never to make a rigid plan, but to do what makes one happy and to just float, though it may screw everyone she knows up. Next, one has also to like Kiera Knightley. She is in almost every scene in the film. She can be the most annoying actress alive. In LAGGIES, her acting consists of gritting her teeth, flicking her hair and trying to look as cute and young as her co-star Moretz.
For a comedy drama, director Shelton misses all the comedic opportunities. For example, the set-up in which Megan pretends to be Annika's mother at a school counsellor's meeting could have been milked for some humour while still keeping the dramatic impact. The same can be said for the party and prom segments.
Director Lynn Shelton based on Andrea Seigel's script has directed a very difficult movie to identify with and to like. Hats off to her for trying.
Trailer: https://www.youtube.com/watch?v=NWOYMCAh-vo
OUIJA (USA 2014) *
Directed by Stiles White
Audiences shrug when a film is based on a video game. OUIJA is based on a board game, the Hasbro's game, so audiences should shrug even more. And with reason.
As the game is not that popular (but imagine a film called MONOPOLY - horrors), the script (co-written by director Stiles White) can make up rules as the film goes. The 3 rules of the Ouija Board are: never play alone; never play in a graveyard and always say goodbye at the end of the game. But the lazy writing of the film never really adheres to the rules. The rules are broken or even when played in a group not in a graveyard, the game incurs trouble. The game opens a portal for the dead.
The film centres on Laine (Olivia Cooke) whose best friend Debbie (Shelley Hennig) is brutally killed in an accident by a dark spirit after playing the game. Laine enlists a group of close teenage friends to confront their most evil and demonic fears when they awaken the dark powers of an ancient spirit board by attempting to contact their friend. They soon realize that the Ouija Board is not just a game; it's real life.
If the story sounds lame, it is, coupled by lazy writing. For example, Laine and boyfriend Trevor (Daren Kagasoff) were supposed to go on a surfing weekend but nothing even came out from the discussion. Also, Debbie's mother takes off conveniently after her death, so the entire house is available or the teens to look around. Even Laine's parents conveniently take off. This leaves the film full of screaming teenagers. The film shows Laine's big sister in conflict with her rebellious younger sister, Sarah (Ana Coto), but this interesting subplot is just left hanging. At one point, perhaps the most interesting part of the film, Laine screams at a car parked outside the house - apparently at Sarah's older boyfriend, who takes off in the car.
The only thing memorable about the film is the lighting. The darkness and light are effectively used in the enclosed spaces in the house. But when Debbie is hung by indoor lights in the house at the start of the film, one wonders who has indoor lights up when it is not the Christmas season. Also, why visit Debbie's house during the night and not during the day?
There is nothing really new or shocking about the film. Director White relies on false scares (sudden appearances of characters, sudden loud noises, sudden lighting of the stove) to generate a fair portion of the scares. The film is not violent or really frightening and seemed aimed at the younger teens that play boardgames.
But the film is surprisingly slow moving. For example, when the spirit decides to give the message: "Hi Friend" to the teenagers, it is done one by one. With five teenagers, it is 5 minutes for the delivery of each message.
The film was originally slated as a $80 to $100 million blockbuster but scaled down to this low budget mess. That is the only good thing about the film. From the looks of it, OUIJA should not have cost more than $3 - $5 million to make. This way it cannot go broke. At the end credits when the name Michael Bay came up as one of the producers, someone at the promo screening said out loud: "That explains it!" That was the wittiest and funniest line for the film.
Trailer: https://www.youtube.com/watch?v=xBLmBdn2QF8
THE TALE OF PRINCESS KAGUYA (Kaguya-hime no Monogatari) (Japan 2013) ****
Directed by Isao Takahata
The second most famous animator after Hayao Miyazaki at Ghibli Studios, Isao Takahata, responsible for GRAVE OF THE FIREFLIES besides ONLY YESTERDAY and POM POKO creates another timeless story based on the 10th Century Japanese folktale The Tale of the Bamboo Cutter.
Okina (voiced by Takeo Chii/James Caan) is a bamboo cutter in ancient rural Japan. One day in the forest, he finds a tiny baby in the folds of a bamboo shoot. He brings the creature home to his wife Ounaa (Nobuko Miyamoto/Mary Steenburgen) and they decide to keep her and raise her as a princess. She is clearly not of this world. Kaguya (Aki Asakura/Chloe Grace Moretz) grows at an unnatural rate, soon maturing into an uncommonly beautiful young woman. Since Okina has now also found a cache of gold and treasure in the forest, every suitor wants Kaguya. Okina moves the family to the capital so that Kaguya can learn to become a princess while being suited by the most prestigious men. But this is not a fairytale of courtship and marriage.
The best parts of the film revolve around the princess' training under a Lady hired by Okina. The princess is playful and disobeys under instruction but when Okina shows up, she behaves like a real lady displaying all the lady etiquette she has learnt. The film's humour is gentle and returns later on in the film when Kaguya is offered expensive gifts to show her suitors' earnestness in love.
It should be noted that there is the original Japanese version with English subtitles and a dubbed English version with voice characterizations by Caan, Mortz and Steenburgen. But as good as Hollywood actors go, they cannot mimic true Japanese expressions especially when they indicate awe with their 'Whoa's and 'Oh's. So, a lot will be lost in translation. This review is based on the original Japanese version which I have viewed twice.
Takahata's animation is nothing short of visually stunning. It is a hand drawn masterwork done with the look of water colours using subdued colours for example in light green, beige and purple.
There are no monsters, action fights, or explosions in this tale. In fact, many of the questions like: "Why did she choose to come to earth?", "What was her sin and why was she punished?" are not answered, if they ever needed to. It is a tale of human longing, tradition and folklore and very Japanese in its roots. But it suffers from being to whimsical. Other Studio Ghibli successes like SPIRITED AWAY and HOWL'S MOVING CASTLE had elements of danger while this one has very few. The film has to rely on its basic roots to charm. Takahata know this and uses charm to its maximum. This might turn out to be a it too much for audiences not used to too much niceness. The songs, corny dialogue and frolicking in the forest are examples.
The details and care that went into the making of this film are evident. Studio Ghibli has in the past year run into financial problems as it has kept its highly paid older animators and allowed them to run into days with minimal results. It did not help that the Studio did not come up with a moneymaker last year. TALE OF PRINCESS KAGUYA has done moderate box-office so far and hopefully the Studio can continue to spurn out classics in the true Japanese tradition.
Trailer: https://www.youtube.com/watch?v=vvpaBoj14W0
A THOUSAND TIMES GOODNIGHT (Ireland/Norway/Sweden 2013) ***
Directed by Erik Poppe
A THOUSAND TIMES GOODNIGHT is a drama that questions the actions of Rebecca (Juliette Binoche), a photojournalist who juggles the danger of her job with her family responsibilities.
Rebecca (Binoche) is a photojournalist obsessed with reporting in dangerous war zones. At the film's start, she documents a group of female suicide bombers in Afghanistan. She accompanies one of the suicide bombers to Kabul, where the premature detonation of the bomb severely injures her. While recuperating at her home in Ireland, she is confronted by her husband Marcus (Nikolaj Coster-Waldau) and her daughter Steph (Lauryn Canny), who force her to choose between covering war zones, or prioritizing her family. She chooses her family.
The film warrants the side the audience would take. The film would have worked better if the audience was on the journalist's side. Nobody can forgive any person who would put their family in danger for their career. Rebecca almost does this, but goes alone instead, still an unforgivable act. But with the audience against her, all her dedication, actions and words become detestable. The audience is mostly against her, even when she sincerely explains her case. The only time Poppe tries to carry the weight to her side is when in a vehicle, her colleague mentions in passing that her photos will get more U.N. protection. But the line sounds so artificial.
It is difficult to like a film with a detestable heroine. It works worse when she makes up her mind to be with her family and switches to her job again when events turn and the attraction of dangerous news tempts her. No doubt one can argue that this is the way the woman is. But Poppe's film to his credit, is definitely effective and the segments of the shootings and explosions look like something right out of the war zones. It is also good that the script uses the Rebecca's daughter Steph to put the lot of the drama into perspective.
Steph is intrigued by her mother's photographs and interested in humanitarian work in Africa, so Rebecca proposes a photography trip with her daughter to a refugee camp in Kenya. Marcus agrees, assuming that the trip will be safe. Instead, the camp is attacked by an armed group that begins murdering people in their tents. Her husband finds out and this is when all hell breaks lose.
The film is likely autobiographical as director Poppe began his carrier as a reporter photographer, working in dangerous areas such as Central America and Africa. It is not surprising that the film cannot help but feel too close to home.
The film ends with a questionable 'closed' ending. But besides the story that has transpired on screen, it is 'obsession' that needs to be controlled.
Trailer: https://www.youtube.com/watch?v=hl4jDts4sB0
WHIPLASH (USA 2014) ***** Top 10
Directed by Damien Chazelle
WHIPLASH is the name of a piece performed by Fletcher's (J.K. Simmons) elite ensemble in the film drama on the pursuit of excellence.
In his second feature film, writer-director Damien Chazelle pits revered and feared jazz conservatory instructor Terence Fletcher (J.K. Simmons) against drumming prodigy Andrew Neyman (Miles Teller). Vying for a core position in Fletcher's elite ensemble, and aspiring to no less than greatness, Neyman will do anything to secure first chair. Before long, reason is abandoned and civility deserted, and the blistered and bleeding Neyman succumbs to Fletcher's abusive teaching techniques. But Neyman has a couple of surprises up his sleeve, and things will get progressively nastier — both on and off the stage — before their scorching musical showdown, which has to be seen to be believed.
Just enough information is provided on Neyman's family background - his disapproving family - but one wishes more of the same on the Fletcher character. Though, his a supporting character, it is one that is in rainy the more intriguing one.
Miles Teller has come a long way since playing his annoying characters from teen comedies like TWO NIGHT STAND. A new player to be reckoned with, he stands tall to J.K. Simmons (more often playing comedy) who has always be excellent (BURN AFTER READNG, CONTRABAND, JUNO). The two make the perfect sparing duo. Neyman passes off more than believable as a maestro drummer as Simmons in his conducting. The two in the dragging or rushing scene will be remembered in movie history.
Chazelle appears to be having a field day with his camera. His close ups of Neyman's drums reveal drops of blood followed by sweat washing off the red. In the climatic segment, he whizzes the camera alternatively to and from Neyman and Fletcher's face instead of cuts.
Winner of both the US Grand Jury and Audience Awards at this year's Sundance Film Festival, and executive-produced by Jason Reitman, WHIPLASH proves director Chazelle as one of the most exciting talents to emerge from the US in recent years. As his film proves fierce and precise, the film demonstrates how far Chazelle must have gone to achieve perfection. One can only cringe at the number of takes Chazelle must have made his actors go through in the making of this fine film.
WHIPLASH is absorbing life drama at its very best - and is one of the best films of year!
(Watch the trailer below to check out the intensity of the film)
Trailer: https://www.youtube.com/watch?v=MfXemr222ek
BEST FILM opening: Whiplash

Best Suspense: Gone Girl
Foreign: The Notebook (Le Gran Cahier) (Hungary)
Action: Fury
Drama: Mommy
Animation: The Tale of Princess Kaguya
Documentary: The Green Prince
Comedy: St. Vincent