30
Oct
2014
Details

Category: Movie Reviews
Written by Gilbert Seah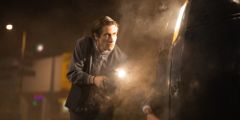 New films opening this week inlcude BEFORE I GO TO SLEEP and NIGHTCRAWLER.
FILM REVIEWS:
BEFORE I GO TO SLEEP (UK 2013) **
Directed by Roland Jaffe
The subject of a protagonist with amnesia recalling his/her life has always made intriguing and successful movies like Hitchcock's SPELLBOUND, THE BOURNE IDENTITY or more seriously, Christopher Nolan's MEMENTO. BEFORE I GO TO SLEEP, based on the British Author S. J. Watson's best selling novel combines the horror slasher genre with an amnesiac hero, in this case a 40-year old Christine (Nicole Kidman).
When the film starts, Christine Lucas wakes up in bed with a man she does not know, in an unfamiliar house. The man explains that he is her husband, Ben (Colin Firth), and that she suffered brain damage from a car accident ten years ago. Christine wakes up every morning with no memory of her life from her early twenties onwards. Every morning, after she wakes up, Ben has to explain to her what has happened. The plot thickens when Christine receives a call from Dr. Nasch (Mark Strong), a neurologist at a local hospital, who tells her he is treating her. He gives her a camera for her to record her thoughts and progress at the end of each day, and calls her at home every morning to remind her to watch the video in the the camera. Dr. Nasch also instructs Christine to keep the camera hidden from Ben. It is revealed that Christine was beaten up resulting in her memory loss.
At this point, the audience can draw the inevitable conclusion that one of these two men must be the villain responsible for Christine's accident. Who it could be is actually hard to guess, as director Joffe delivers a lot of misleading incidents. He also resorts to cheap scares such as the sudden appearance of a vehicle in front of Christine, for no reason at all.
The novel provides a so-so story but the story does not prove strong enough a film. The fact that a woman wakes up day after day only to forget everything she has learnt the day before is downright silly. It also does not take a genius to guess that at the end of the movie, she can suddenly remember more a day's memory.
Director Jaffe who made the sharp drama BRIGHTON ROCK seems to have lost control with this larger production involving bigger stars. Nicole Kidman has not got a hit for the longest time and she does nothing to improve the film's blandness. Colin Firth and Mark Strong provide ok supporting performances.
Jaffe relies on both the twist in the story and graphic violence to bring the film to a climatic end. But unfortunately none of the two prove a good enough punch. BEFORE I GO TO SLEEP is a sub-par mystery thriller, best forgotten before one goes to sleep.
Trailer: https://www.youtube.com/watch?v=OtSzAEvBIK0
FORCE MAJEURE (Swe/Den/Nor/Fra 2014) ***
Directed by Ruben Oslund
A hit at Cannes, Östlund's FORCE MAJEURE is a moral tale that examines the breaking down of a family due to unexpected behaviour resulting from an impending catastrophe.
It begins with a family's skiing vacation in the French Alps. The scenery is breathtakingly captured on film.
Tomas (Johannes Bah Kuhnke) and Ebba (Lisa Loven Kongsli) are enjoying lunch with their two children when their meal is suddenly interrupted by thunderous booms emanating from the mountain above them. The complacent Tomas initially dismisses the possibility of danger — but when it appears that there may be an avalanche, he grabs his cellphone and bolts, leaving his wife and children to fend for themselves. Later, he denies running away and calls the bluff by his wife. But she has proof. The fallout is both scary and occasionally funny.
Oslund pulls a good one at the end with fate turning the tide on the wife. The film is slow paced like a ticking time bomb, but it pays off. A thinking person's family drama!
Trailer: https://www.youtube.com/watch?v=fm7Ux_SkG78
MAP TO THE STARS (Canada/Germany 2014) ***
Directed by David Cronenberg
David Cronenberg tries something more daring in his latest film MAP TO THE STARS. He dissects Hollywood according to a script by novelist Bruce Wagner that results in savage satire of show business.
The film begins with the innocent arrival of Agatha (Mia Wasikowska) from Florida when she is picked up by a limo driver struggling actor, Jerome (Robert Pattinson). It turns out that Agatha is a destructive pyromaniac who almost destroys her family which she tends to visit. She gets hired as a persona assistant for Havana Segrand (Julianne Moore). Lives criss cross with often disastrous results.
The script unveils the worst in each character. Agatha's father (John Cusack) beats her up. Agatha's brother, Benjie Weiss (Evan Bird) is a spoilt child star, verbally more acerbic than Baby Jane Hudson. He sees visions that almost results in him committing murder. There are threesomes, hilarious massage sessions, multiple incests, a burning, suicides and much more. The script tells the story in a deadpan way. Cronenberg has made another disturbing thinking movie like COSMOPOLIS and to a lesser extent A DANGEROUS METHOD.
This is the first film Cronenberg has shot in the U.S., though a lot of the scenes were still filmed in Toronto. (It is not possible to make a film about Tinseltown totally shot in Toronto.)
The trouble is that there is no morality in the entire story and the film just ends after the series of incidents have unfolded. Though quite a huber of these incidents are downright silly, but Croneberg and his actors play everything dead serious deadpan, which works for the film. Still, this is arguably Cronenbrg's most difficult film.
Julianne Moore is just excellent as the Freudian mess. She won this year's Best Actress at Cannes. All the actor perform their evil characterizations to much realist, but mention should be made of child star Evan Bird s the spoilt kid actor of hypothetic hit BAD BABYSITTER films.
Also missing in the satire is the wicked humour that normally goes with it. Cronenberg, a master in horror and violence is not known for comedy.
MAP TO THE STARS is an ugly, difficult to watch film with mostly detestable characters. I loved it despite its flaws!
Trailer: https://www.youtube.com/watch?v=fwxmnyoofPs
NIGHTCRAWLER (USA 2014) ****
Directed by Dan Gilroy
Jake Gyllenhaal's NIGHTCRAWLER (he is one of the producers and the main actor) is an action thriller that ends with a twist of satire tied in. Wickedly entertaining with a know-it-all smart talking protagonist, the film hits all the right buttons.
Gyllenhaal plays Lou Bloom. He is a NIGHTCRAWLER, who merges at night when dusk falls on L.A., to roam the streets, camera at the ready. Lou, enlists the help of Rick (Riz Ahmed, THE RELUCTANT FUNDAMENTALIST) and together outrace ambulances to get to the scene of an accident or crime first, looking to bag footage they can sell to local television stations.
But Lou treats Rick as an inferior, abusing him as an employee, right up to the very end. But one of the film's best pleasures is the scene in which Rick stands up to Lou, admonishing him that he is not a people's person, a fact so true but oblivious to him.
But the script too conveniently disposes of Lou's stiff competition, Joe Loder (Bill Paxton), a seasonal professional with police contacts, latest equipment and a nasty personality. By having Joe gone, Lou is numero uno in the field and the conflict gone. Also noticeably absent is the sex scenes between Lou and his reliable TV producer buyer, Nina (Rene Russo), whom he abuses as well. One can only imagine the nastiness that goes on in that bedroom. Perhaps it is better that the sex occurred off screen.
For a story like this one, Gilroy's script avoids cliched territory. One would have expected to see Lou's greed cause his downfall. No such luck! The risk taking script take Lou further into his ambitions with the film entering into a little farce.
The action segments, especially the car chases are effective and shot with continuity in the editing, unlike a lot of car chase films theses days - The FAST AND FURIOUS films are particularly guilty. But it is the character of Lou Bloom that is on display here. Lou has a nose for blood. He is reckless as hell. His rise from petty thief to moneymaker and formation of his own company are all compelling stuff. The point of different crimes being recorded proves a bit more excitement like an anthology of crime shorts, with the latter ones in the film topping the earlier.
Lou Bloom is perhaps Gyllenhaal's best role so far. Ahmed, playing his unfortunately sidekick, shines as well and it is good to see Rene Russo playing a tough bitch who meets her match, on the screen again.
For a film with a dislikable protagonist, NIGHTCRAWLER is surprisingly able to get the audience (maybe except a few) on his side. One wants him to get away with it, though he is indeed unscrupulous, murderous and without conscience. One reason is that he is an individual fighting a system, be it the L.A. police, the network protocol or the employment system. NIGHTCRAWLER is creepy but the film delivers.
Trailer: https://www.youtube.com/watch?v=DtWaDylmDRo
YOUNG ONES (USA 2014) **
Directed by Jack Paltrow
Jack Paltrow's YOUNG ONES has been described as a futuristic western. For one the film is set in the future and because of the earth's draught, the barren landscape allows the film to look like a western and a spaghetti western at that.
When the film begins, Paltrow gives the audience, the state of the planet and the state of his characters. Which is set in a near future when water has become the most precious and dwindling resource on the planet and one that dictates everything from the macro of political policy to the detailed micro of interpersonal family and romantic relationships. The land has thus withered into something wretched. The hardened survivors of the loss of Earth's precious resources scrape and struggle. The film settles on the family of Ernest Holm (Michael Shannon), who lives in this harsh frontier with his children, Jerome (Kodi Smit McPhee) and Mary (Elle Fanning). He defends his farm from bandits, works the supply routes, and hopes to rejuvenate the soil with the water. Enter Mary's boyfriend, Flem Lever (Nicholas Hoult), who has grander designs. He wants Ernest's land for himself, and will go to any length to get it.
The trouble with a film like this is that Paltrow, who also wrote the script, setting the rules. As his story is set in a future, he can totally dictate what can happen. He also invents his own machines and gadgets including their capabilities and limitations. So, there is not much suspense as Paltrow can do away with anyone he desires, be it a supporting or even main character.
The water rights cause the film to become a poor man's CHINATOWN in which the moguls in that film were also fighting for water rights. But Paltrow also introduces too many issues into his story. There is the father/son relationship, daughter/father with boyfriend conflict as well as Jerome's coming-of-age awakening.
His film benefits from above average performances including his young actors. Michael Shannon as the father delivers a disturbed and complicated performance that is expected from his past roles.
Paltrow's film looks good though his theme is most reminiscent of another apocalyptic futuristic film THE ROAD, which was also not that good. Perhaps too ambitious, YOUNG ONES also ends up as the conflict among the young people - Jerome, Flem and Mary. But the film leads nowhere as is also evident in the cop-out ending. A grim future depicted in a grim movie!
Trailer: https://www.youtube.com/watch?v=mH9_tU5PbGs
BEST BETS OF THE WEEK:
Best Film Opening: Nightcrawler
Best Suspense: Gone Girl
Best Animation: Tale of Princess Kaguya
Best Documentary: The Green Prince
Best Foreign Language Film: Mommy