06
Nov
2014
Details

Category: Movie Reviews
Written by Gilbert Seah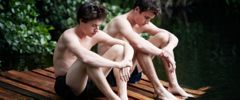 THE EUROPEAN UNION FILM FESTIVAL 2014
Celebrating their 10th Anniversary, the official European Union Film Festival (EUFF), a not-for-profit organization, strives to reflect the excellence, innovation, and diversity of European cinema in Toronto, the world's most multicultural city. Founded in 2004 as a salve to Hollywood monotony, this free festival has grown to now showcase 28 contemporary films drawn from each of the EU's member countries. The EUFF is a unique festival and the only one in the world to bring together disparate EU Consulates and local cultural institutes for collaboration. Represented countries: Austria, Belgium, Bulgaria, Croatia, Cyprus, Czech Republic, Denmark, Estonia, Finland, France, Germany, Greece, Hungary, Ireland, Italy, Latvia, Lithuania, Luxembourg, Malta, Netherlands, Poland, Portugal, Romania, Slovakia, Slovenia, Spain, Sweden, United Kingdom. http://www.eutorontofilmfest.ca/
The full line up: Full line-up:
Austria – TWO SEATER ROCKET, Directed by Hans Hofer *Canadian Premiere*
Belgium – THE WORLD BELONGS TO US, Directed by Stephan Streker *Toronto Premiere*
Bulgaria – JULY, Directed by Kiril Stankov *Canadian Premiere*
Croatia – VIS-À-VIS, Directed by Nevio Marasovic *Canadian Premiere*
Cyprus – BLOCK 12, Directed by Kyriakos Tofaridis *Canadian Premiere*
Czech Republic – CLOWNWISE, Directed by Viktor Taus *Toronto Premiere*
Denmark – THIS LIFE, Directed by Anne-Grethe Bjarup Riis
Estonia – FLOWERS FROM THE MOUNT OF OLIVES, Directed by Heilika Pikkov
Finland – ROAD NORTH, Directed by Mika Kaurismäki
France – ONE OF A KIND, Directed by François Dupeyron *Toronto Premiere*
Germany – WEST, Directed by Christian Schwochow *Toronto Premiere*
Greece - A PLACE CALLED HOME, Directed by Maria Douza *Toronto Premiere* CLOSING
Hungary – THE AMBASSADOR TO BERN, Directed by Attila Szász *Toronto Premiere*
Ireland – BALLYMUN LULLABY, Directed by Frank Berry
Italy – FASTEN YOUR SEATBELTS, Directed by Ferzan Ozpetek *Canadian Premiere* OPENING
Latvia – PIANO PLAYER, Directed by Ilona Bruvere *International Premiere*
Lithuania – HOW TO STEAL A WIFE, Directed by Donatas Ulvydas *Canadian Premiere*
Luxembourg – THE ROAD UPHILL, Directed by Jean-Louis Schuller
Malta – SAUL: THE JOURNEY TO DAMASCUS, Directed by Mario Azzopardi
Netherlands – BOYS, Directed by Mischa Kamp
Poland – LIFE FEELS GOOD, Directed by Maciej Pieprzyca
Portugal – THE GILDED CAGE, Directed by Ruben Alves
Romania – I'M AN OLD COMMUNIST HAG, Directed by Stere Gulea *Toronto Premiere*
Slovakia – THE CANDIDATE, Directed by Jonás Karásek *North American Premiere*
Slovenia – EXIT, Directed by Dejan Babosek *Canadian Premiere*
Spain – ALL THE WOMEN, Directed by Mariano Barroso *Canadian Premiere*
Sweden – THE LAST SENTENCE, Directed by Jan Troell *Toronto Premiere*
United Kingdom – GOOD VIBRATIONS, Directed by Lisa Barros D'sa, Glenn Leyburn
Box office info.
General Admission to EUFF screenings is FREE
Availability works on a first-come, first-served basis.
Seats to any screening can be secured by booking in advance
Advance Reservation: $10 (all service fees included)
Opening Night Reception + Film: $25
Advance reservations and tickets to Opening Night will be available at eutorontofilmfest.ca
FILM CAPSULE REVIEWS:
ALL THE WOMEN (TODAS LAS MUIERES) (Spain 2013) ***
Directed by Mariano Barraso
The film is an adaptation from the TV series of the same name in which veterinarian Nacho (Eduard Fernández) interacts with a different woman in each episode. Director Mariano Barroso's film compresses the story in which Nacho meets a series of women that come to play in his life after a theft of bullocks from his father-in-law goes wrong. ALL THE WOMEN he encounters include his lover, his wife, an ex-girlfriend who he asks for legal advice, his mother, his sister-in-law, and finally a psychologist who he hopes will label his behaviour 'temporary insanity. The latter woman nails it on the head. Nacho does not solve his problem but creates a so-called solution that itself causes a problem with the result in an unending set of problems. This is an interesting film aided by Fernandez's performance. Though the film might sound like a comedy, the film is not, though there are comedic touches. This is a serious dramatical character study of a man who would be a textbook case for a psychiatric medical course. The film is compelling and works. It is the best of the few films I have seen in the EUFF so far.
Trailer:http://hanoigrapevine.com/2014/08/screening-film-todas-las-mujeres-women/#.VFUlDvTF968
BOYS (JONGENS (Netherlands 2013) ***
Directed by Mischa Kamp
BOYS (JONGENS) tells the story of Sieger (Gijs Blom), a sporty, rather quiet 15-year-old boy who discovers love during the summer holidays. Sieger is training in the new athletics team for the national relay championships and meets the intriguing and unpredictable Marc (Ko Zandvliet). The friendship that develops seems nothing out of the ordinary, but Sieger secretly harbours stronger feelings for Marc. Yes, this is a youth gay story. Though the coming out and coming of age story is not new fodder, BOYS is earnest in its story telling. A subplot involves a conflict between Sieger's elder brother and their father. It takes a while before the relationship unfolds, which might be taken by impatient audiences as teasing. Still, BOYS, actually a TV movie, is a pleasant, entertaining and light love and coming of age story.
Trailer: https://www.youtube.com/watch?v=Nn8rVEFurBE
CLOWNWISE (Finland, Slovakia, Luxembourg, Czech Republic, 2014) **
Directed by Viktor Taut
For a movie about clowns, Taut's comedy drama is not the least bit funny, not even the clown routines. Here are the stories: Oskar, Max, and Viktor were a celebrated clown trio in Czechoslovakia 30 years ago. At the height of their popularity Oskar leaves the group to seek fame and fortune elsewhere in Europe. The breakup was not on the best of terms, and now Oskar is coming home. Max, a sly Oldrich Kaiser, has fathered two children with a much younger wife who has just been diagnosed with colon cancer. A robust Jiri Labus plays Viktor, whose wife and former clown partner, delicately played by Kati Outinen (the Aki Kaurismaki films), is now suffering with Alzheimer's. The film is confusing at the beginning with the 3 characters - who is who and who is with whom. Life is the comedy - yes, we get the obvious metaphor. And what could be sadder than a comedy about clowns? CLOWNWISE is a clichéd drama with good intentions, but that is not enough.
EXIT (IZHOD) (Slovenia 2013) **
Directed by Dejan Babosek
Bored twenty somethings take things in their own hands to make a difference in this lazily written and awfully acted film, The actors appear to mistake screaming and shouting for acting. Peter and his girlfriend Lara and Andrej and his girlfriend Sara come to a realization that they do not want their lives to continue in the same direction. They make the first step toward changing their lives by investing all of their inherited money, but when they want to collect it they find that the bank manager swindled them. In despair they decide to rob a bank and get their money back with interests. The robbery is shown at the start of the film and returned with the robbers' story told in flashback. Judging from their care-free and silly actions, no one would really be on the side of the robbers. The only interesting characters are the older Inspector Hocevar (Ludvik Bagari) and the reckless Detectic Coiz (Yuri Bradac) who bungle up the hostage situation.
(Opening Night Film)
FASTEN YOUR SEATBELTS (Allacciate le Cinture) (Italy 2013) **
Directed by Ferzan Ozpetek
The opening film of the EU Film Festival is Ferzan Ozpetek's (FACING WINDOWS, STEAM: THE TURKISH BATH) new comedy drama that was shortlisted as one of Italy's entries to the Oscar's Best Foreign Film nominations. As the title FASTEN YOUR SEATBELTS implies, life is no easy ride, especially not for Elena (Kasia Smutniak). Elena is free-spirited and drawn towards her best friend's Antonio (Francesco Arca) who is conservative, hard-edged, and openly homophobic. But Elena ends up 13 years later married to her boyfriend named Giorgio (Francesco Scianna). and have two children together. But the film takes a dramatic turn with Elena contracting breast cancer. The film is shot in the sun-drenched scenery from the Apulia region of Southern Italy. The trouble with this film is that Ozpetek has to much up his sleeve and too many incidents happen with him trivializing issues like death, homophobia and friendship. If everything turns up with laughter, its is acceptable to him. The mix of drama and comedy does not flow well, with the dramatic turn in the second half of the film creating too tense an atmosphere. The jagged time-line storytelling is odd too, with him placing Elena's confrontation with her best friend placed as the climax of the film.
Trailer: https://www.youtube.com/watch?v=50v5h3qSE5M
ONE OF A KIND (MON AME PAR TOI GUERIE) (France 2013) ***
Directed by Francois Dupeyron
An odd drama about a faith healer. Frédi (Gregory Gadebois, nominated for Best Actor Cesar) is a born healer who can save people by touching them with his hands. His mother bequeathed this gift to him. When she dies honours her by putting his aptitude to good use. But the film is not about faith or faith healing, but how Fredi learns about love and life despite the ailures of everyone around him, including his disported father (wonderfully portrayed by
Jean-Pierre Darroussin). Yves Angelo's camera loves to blind the audience with the bright sun, likely reflective of the gift that Fredi possesses. There is noclimatic ending to this tale, just an observation and mediation on life. You take what life gives you and make the best use of it.
Trailer: https://www.youtube.com/watch?v=7XwBILnvhY8
VIS-A-VIS (Croatia 2013) ***
Directed by Nevio Marasovic
Marasovic has been praised as Croatia's rising director with his latest film as one of the best Croatian films. But since Croatia has a small film industry compared to the world, all the praises should be taken with a grain of salt. VIS-A-VIS tells the story of a director who plans to make a movie on the island of Vis. Puzzled by some issues with the screenplay, he visits the island to isolate himself with his leading actor. He plans to see whether this person is suitable for the project and make corrections to the screenplay as well. But instead of working on the aforementioned problems, the characters begin to open up to each other, and their private issues come to the forefront. The film is all right but not exceptional nor the idea novel. It is another case of art imitating life and vice versa. Marasovic started this film with no synopsis and his film shows. It sort of rambles around. He does not make it a point to make his characters likeable or the audience to connect with them. The positive result is a kind of authenticity to his characters.
Trailer: https://www.youtube.com/watch?v=qF6zOQ0C0No