09
Nov
2014
Details

Category: Movie Reviews
Written by Gilbert Seah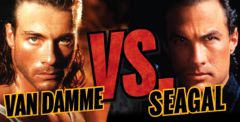 TIFF Presents - VERSUS
The first edition of TIFF's knock-down, drag-out audience-participation series VERSUS pits two titans of the action genre against each other for a high-kicking, forearm-snapping, ponytail-pulling fight to the finish.
Van Damm versus Seagal
Special: pre-screening debate on November 11 between film critics Calum Marsh and Andrew Parker, who will make their case for why their contender is the champ!
Audiences can pick the winner by purchasing tickets or voting online at tiff.net/versus starting November 11.
For complete program listing, ticket pricing and venue, check the Cinematheque website at:
CAPSULE REVIEWS: (2 Van Damme, 2 Seagal films)
BLOODSPORT (USA 1988) ***
Directed by Newt Arnold
Jean-Claude Van Damme's first and one of his most successful box-office features. Not anywhere close to a masterpiece of any kind, BLOODSPORT has its entertainment value in terms of cheesiness, violence, the choreographed fights and silliness. Supposedly based on true facts told by a real Frank Dux, the Dux here is a U.S. Army Captain Frank Dux (JCVD), trained from his youth in the ways of Ninjutsu by a Japanese master of the art, Senzo Tanaka. Dux travels to Hong Kong to participate in the Kumite — an illegal and underground, freestyle, single-elimination and occasionally deadly full-contact martial arts tournament, to which the world's best martial artists are secretly invited every five years. When Dux's superiors (one of whom is played by Forest Whitaker before he became famous) learn of his invitation to the Kumite, they chase after him in Hong Kong with unfunny results. The villain of the piece is Chong Li (an excellent Bolo Yeung who seems to have appeared here right out of a Shaw Brothers film), a fighter with a savage streak who finally fights Dux. The friendship between Dux and a cocky fellow American fighter, Ray Jackson make a hie touch. But the most oddest thing of it all is that nowhere in the film is Dux's French accent addressed.
HARD TARGET (USA 1993) ***
Directed by John Woo
Woo and JCVD. Stylized violence Hong Kong director John Woo's first Hollywood feature is an ok feature considering a script with a very slim story line and no character development. The villain of the piece is a wealthy sportsman Emil Fouchon (Lance Henriksen), who, along with his cronies, hunts homeless men as a form of recreation. JCVD is Chance Boudreaux, a down-and-out Cajun merchant seaman, who, after saving a young woman, Natasha Binder (Yancy Butler), from a gang of thugs on the streets of New Orleans, agrees to help her search for her father (Chuck Pfarrer), a homeless Vietnam vet who has become the latest homeless victim. The father is killed and Natasha and Chance become the next targets. That is as far as the plot goes. It really does not matter as the stylized slow motion kicks pyrotechnics, chases are what action fans pay to see anyway.
HARD TO KILL (USA 1990) **
Directed by Bruce Malmuth
L.A. detective Mason Storm (Seagal) records on video a senator meeting a mob for political support. Mason gets caught and his wife killed and him shot. His wife dies. But Storm goes into a coma for 7 years and emerges still taking on the bad guys. Hence the title, HARD TO KILL. Storm's son survives and has possession of the tape which the crooks are after, the chase forming the climax for the film. Though credibility is not a must for a Seagal film - take the over the top plot in his best film UNDER SIEGE - HARD TO KILL also pushes the limit. The segment of Storm using acupuncture and whatever oriental cure to recover is more laughable than anything else. It does not help that the villains played by lesser known actors are unmemorable either.
UNDER SIEGE (USA 1992) ***1/2
Directed by Andrew Davis
Nicknamed Die HARD ON A SHIP, UNDER SIEGE is Steven Seagal's best film, which is not saying much. The film provides lots of senseless action and violence which is what is expected from a male chauvinistic audience. The action takes place on the battleship USS Missouri, about to be decommissioned from service after a visit from George Bush. Yes, there is added footage of Bush. Seagal plays the ship's cook Ryback, who happens to be an ex-SEAL.
When Bush departs the vessel, a band of terrorists overcome the remaining skeleton crew and take over the ship, under the ruse of holding a surprise birthday party for the ship's commander, Captain Adams (Patrick O'Neal). The band is led by Strannix (Tommy Lee Jones), a disgruntled ex-CIA operative and ex-Seagal's boss), and his right-hand man, the psychotic Krill (Gary Busey). The romantic lead is provided by a busty Erika Eleniak who is hired to jump out of the Captain's birthday cake but gets caught in the action. Ryback uses his SEAL skills to save the day. Mindless fun that is surprisingly entertaining. The only thing missing in this film is Seagal's ponytail.