13
Nov
2014
Details

Category: Movie Reviews
Written by Gilbert Seah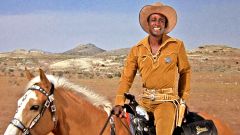 TIFF Presents - Mel Brooks
Mel Brooks has been crowned the King of Comedy and hence the title of TIFF's retrospective of Brooks films "It's good to be King". Brooks uses the line in HISTORY OF THE WORLD PART 1. Brooks is the King of spoofs, spoofing spy films in the long running TV series GET SMART (writer) and also in every one of his films.
But a word of warning! Brooks was at the height of his success and inventiveness in the 70's but had also, unfortunately a load of duds that were silly and unfunny.
The series runs from November the 15th to December 20th.
For complete details of program, venue, ticket pricing, check the Cinematheque website at:
Brooks MUST-SEE Best of the Lot comedies: (all capsuled reviewed below)
BLAZING SADDLES
HIGH ANXIETY
SILENT MOVIE
YOUNG FRANKENSTEIN
BLAZING SADDLES (USA 1974) *****
Directed by Mel Brooks
To me, BLAZING SADDLES is the funniest of the entire lot. It is also blatantly racist (Brooks gets away with it for there are underlying good intentions), absurd (the end fight spills out into a Hollywood set), musical (Madeline Kahn's rendition of 'I'm Tired' ), inventive but mostly really, really funny. Sheriff Bart (Cleavon Little) is a black railroad worker hired as sheriff to piss off the white folk of a town the railroad needs. Bart enlists the help of a drunk sharp-shooter, the Wako Kid (Gene Wilder, in a role obviously fashioned from Lee Marvin's Kid Shelleen in CAT BALLOU) to help the racist town of morons and save the day. Mel Brooks himself plays dual roles in the movie - a cross-eyed womanizing Governor and Red Indian chief who speaks Yiddish. Slim Pickens, Harvey Korman ,Alex Karras (as Mongo - the funniest character) and yes, Count Basie add to the hilarity. What more can one ask for in a comedy? BLAZING SADDLES is Brooks in his top form, parodying westerns at his best.
HIGH ANXIETY (USA 1977) ****
Directed by Mel Brooks
For Master of Spoofs Mel Brooks, who better to parody than cinema's Master of Suspense Alfred Hitchcock? The lead character played by Brooks himself is Richard Thorndyke (name after Cary Grant's role of Richard Thornhill in NORTH BY NORTHWEST) who at the start of the film takes over the Psycho-Neurotic Institute for the Very, Very Nervous. (Gregory Grant takes over as head of a medical faulty in SPELLBOUND). Something is amiss as the leading doctor (Harvey Korman) and head nurse (Cloris Leachman) have other plans (besides their S&M outings) of taking over the place and money. They have already murdered the previous head and others and will stop at nothing to get what they want. Thorndyke is framed for murder at the airport, shot just as in NORTH BY NORTHWEST style, shat upon by birds (THE BIRDS style), attacked with a newspaper by the bellboy (PSYCHO-style) and suffers from high anxiety (VERTIGO style). There are lots of Hitchcock nods to identify, which makes the film much more entertaining. Yes, and the film is still very funny, directed by Brooks when he is working at his hilarious best.
THE HISTORY OF THE WORLD PART 1 (USA 1981) ***
Directed by Mel Brooks
A mixed bag of tricks is this lesser known comedy that tells stories of man from The Stone Age to the French Revolution. Brooks directed an co-wrote besides playing several roles the best of which is Comicus a stand-up philosopher in ancient Rome. Some skits work and some don't. The Stone Age skits are the worst of what Brooks has to offer - silly, childish and unfunny. Unfortunately even the great Sid Caesar as the chid caveman is unable to bring forth any laughs. The best bit is the Roman Empire segment especially the one in which several Romans go to a booth to collect unemployment. Brooks' regulars Madeline Kahn, Harvey Korman, Cloris Leachman and especially Dom Deluise (as Caesar) try their best. Fortunately or not there is no Part 2 sequel to this, though the film ends with a teaser trailer for Part 2.
SILENT MOVIE (USA 1980) ****
Directed by Mel Brooks
Film producer Mel Funn (Brooks himself) makes a silent movie to prevent a studio takeover. For the film to be a success, he has to get a host of stars to agree to be in his picture. Simple story but it requires quite a few visual gags to have the film work in silent mode. The film consists of Funn and friends (Dom DeLouise and Marty Feldman) chase after a host of stars that includes Burt Reynolds, James Caan, Liza Minneli, Anne Bancroft (Brook's late wife), Paul Newman and French mime Marcel Marceau. Bernadette Peters is a real hoot as Funn's girlfriend in the film singing out 'baba-loo' to seduce him. Comedic legend Sid Caesar plays the studio boss. So, the film is not without its impressive cast of stars. The film is not really a silent film, only in looks as there is accompanying soundtrack and music to the film and yes, one word of dialogue. At the end, Funn's film is a hit and the studio is saved. Just like SILENT MOVIE is a comedic hit.
ROBIN HOOD: MEN IN TIGHTS (USA 1993) *
Directed by Mel Brooks
There is one point in the film when the Sheriff of Rottingham is asked to bring bad news in a good way to Prince John. So, he delivers the bad news, laughing all the way only to be told at the end that bad news cannot be told in a good way. So, this Mel Brooks film, ROBIN BOOD: MEN IN TIGHTS is really bad, surprisingly bad and there are no two ways about it. The jokes hit miss ratio is close to zero. Robin Hood (Cary Elwes) returns from the Crusades only to find his land taken away. He woos Marian and meets his merry men which include Little John and a few new unfunny characters like Ahchoo (Isaac Hayes). None of the Brooks' regulars of his past hits are in this film and sadly, none of his wit and hilarity are in here too.
YOUNG FRANKENSTEIN (USA 1974) ****
Directed by Mel Brooks
The story of Frankenstein - an abnormal brain put by accident into the monster; a hunched back assistant, Igor; a mad scientist intent on creating life; stealing a corpse from a graveyard - contains elements that could make very funny comedy. Mel Brooks, the master of comedy parodies, utilizes those elements in one of his most successful comedies, YOUNG FRANKENSTEIN, which he co-wrote with Gene Wilder who plays Young Frankenstein. Dr. Frederick Frankenstein (Gene Wilder) is a physician lecturer at an American medical school and engaged to the tightly wound actress Elizabeth (Madeline Kahn). Frederick travels to Europe to inspect the property of his grandfather . At the Transylvania train station, he is met by a hunchbacked, bulging-eyed servant named Igor (Marty Feldman) and a lovely young personal assistant named Inga (Teri Garr). Before long, Frederick is ready to re-animate his creature (Peter Boyle), who is elevated on a platform to the roof of the laboratory during a lightning storm. The film is shot in black and white with the props looking very much like the original FRANKENSTEIN movie. The comedy is fast and hilarious with a high hit and miss ratio. The supporting cast that includes Marty Feldman (as Igor), Kenneth Mars, Cloris Leachman and Gene Hackman (as a blind man) are nothing less that comedic perfection.